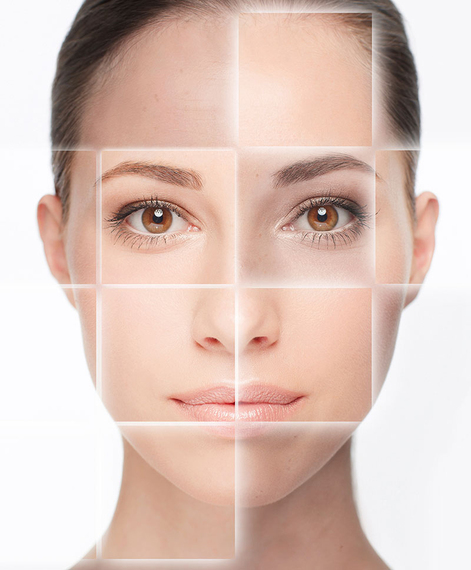 Throughout our 20's our skin is able to renew and maintain itself quite easily. However, as we get older we need more help to maintain the health and appearance of our skin. Between not drinking enough water, the stress of daily life, poor diet and the effects of the environment, including the sun and the wind, not to mention the indoor hazards of ultraviolet light, poor air circulation and drying heat, we wreak havoc on our skin. Thankfully, we can do a lot to help re-charge and rejuvenate our largest organ through the innovative use of multi functional skincare and cosmetics. Before we get to various tips for transforming your face, eyes, nose, and lips, we must determine what kind of skin you have.
Our skin, like the weather and our moods, does change. Rarely will you always be only "dry" or "oily." Changes in weather, diet, hormones, emotions or time of the month can cause your skin to feel drier, oilier or even more acne-prone. If you experience dry or flakey patches and oily skin at the same time, you are not alone. Most of us do tend to experience some sort of combination skin the majority of the time.
Those of us with oily skin don't appreciate the fact that oil production helps maintain a youthful look and keeps us wrinkle free longer than most. All we see is that shiny nose, the glowing forehead, and the shadow of another zit ready to surface. As we try to dry out the oils by using harsh drying cleansers and applying products with alcohol to strip away the shine, we achieve a temporary effect of an oil free, matte finish. In the long run, however, this actually exacerbates the situation, by causing the sebaceous glands of the skin to produce even more oil. We are now learning the importance of incorporating "good oils" in our routines. Those of us with oily skin should consider these products and follow this advice:
1.) Use a regular cleanser without harsh chemicals to dry out the skin.
2.) If you like the feelings of a toner, use a PH balanced one.
Use a moisturizer with a combination of well-balanced ingredients and good oils. Even oily skin needs to be properly hydrated. Avoid thick creams with petrolatum. Try ones that when penetrated and dry leave your skin with a matte finish.
3.) Use a non-greasy foundation that will also help balance out your skin with hydration. Dewy is good...looking greasy, not so much. Opt for a foundation that dries to a matter finish.
4.) Avoid eye shadows that feel greasy or contain glitter; they can cause you to look a bit shiny instead of the desired "dewy" effect.
6.) When your face is shiny, use oil absorbing products instead of layers of powder, which can look cakey with build up.
An anti-shine or Invisible Finish can also be applied along your hair line and on your scalp to absorb excess oil or shine. I use it often on bald men. Especially under hot lights and weddings.
Eve's Tip: If you're at an event and you feel your face getting oily, instead of using a traditional powder and powdering over the oil, try to first use your napkin (hopefully it's clean) to dab off excess oil. You can also use a tissue, toilet paper, or cloth. Then use your Invisible Finish Powderless Powder with a sponge (in the large compact) or when using the Travel size...use your fingers. This will prevent the layering of oil and powder on your face and keep your skin from appearing shiny.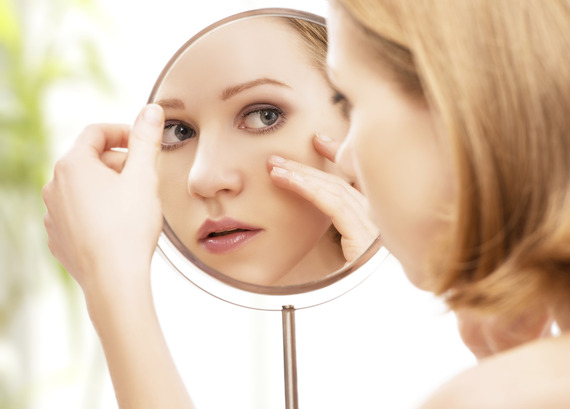 I believe most of us are in this category. Our skin tends to be oilier in the T-zone (the area across our forehead and down the nose to your chin) and dry around the edges. Combination skin creates confusion among women and men since we are not sure if we should continue to moisturize or not - especially where our skin is oily. Remember, whether you have dry or oily skin most of the time, we all need to hydrate and moisturize around our eyes and lips to prevent those crow's feet (wrinkles) from developing. The other places in need of attention are our neck and décolletage area. And don't forget your hands. Here is some advice for combination skin:
1.) Use a gentle cleanser.
4.) Blotting papers or Invisible Finish are great for absorbing oil and mattifying excess shine for touch ups.
5.) Continue to moisturize all over your face. Apply a thinner coat in oilier areas. There are moisturizers available with ingredients that will help balance your skin, leaving it smooth for makeup application.
6.) Change moisturizers every now and then; Use a thicker cream around the eyes at night and thinner during the day. Check the ingredients and look for a good combination of antioxidants, oils and actives.
Many of us have experienced an unpleasant reaction to skin products at one time or another. Those of us with sensitive skin must be diligent in our search for hypoallergenic cosmetics in order to prevent skin reactions from occurring. Here is some general advice for those with sensitive skin:
1.) Avoid products containing fragrance, live plant extract, lanolin or alcohol.
2.) "Fragrance Free" does not mean allergen or chemical free. Check the label.
3.) Avoid harsh cleansers and exfoliants.
4.) Use mild or PH balanced skin cleansers. Try ones that say "soothing" or "calming". They should do just that.
5.) Avoid setting sprays on your skin and be aware of the hair products you use, especially if you have long hair and it touches your face.
It is important to consider your skin type. If you have dry skin you should avoid oil-free and oil absorbing makeup, which will give your skin a parched, flakey finish. For those with oily skin, avoid moisturizers and makeup that look and feel greasy or do not allow your skin to breath. Normal and combination skin types should stick with well-balanced skincare and makeup formulations. No matter your skin type, use well-balanced, multifunctional products. Look for skin care with color and makeup with skincare. Having said all that...the one thing we all have to remember while hydrating, treating and moisturizing our skin... DRINK lots of WATER!!