It's fair to say photographer Seth Casteel now understands the power of the social web.
On Thursday night, the Los Angeles-based photographer received a couple of emails informing him that photos he had taken of dogs underwater had been posted to Reddit and Google+.
"I woke up to a bunch of money in my bank account," the photographer told The Huffington Post in a telephone interview, saying that he had received so many orders for prints that his newly established online store was experiencing stability issues.
Only months ago, Casteel struggled to pay his bills after he splurged on a waterproof camera case, making it possible for him to take these pictures.
Now, it seems like the purchase has paid off.
An album of photographs from his underwater dogs series that were posted to Facebook have garnered nearly 30,000 "likes" and have been shared almost 22,000 times.
His website, which is typically handles around 200 visitors a day, is now overloaded with more than 100,000 daily visitors.
In addition to orders for prints, Casteel said he's received nearly a thousand inquiries for private client shoots from all over the world.
More information about the photos and Seth Casteel below the slideshow.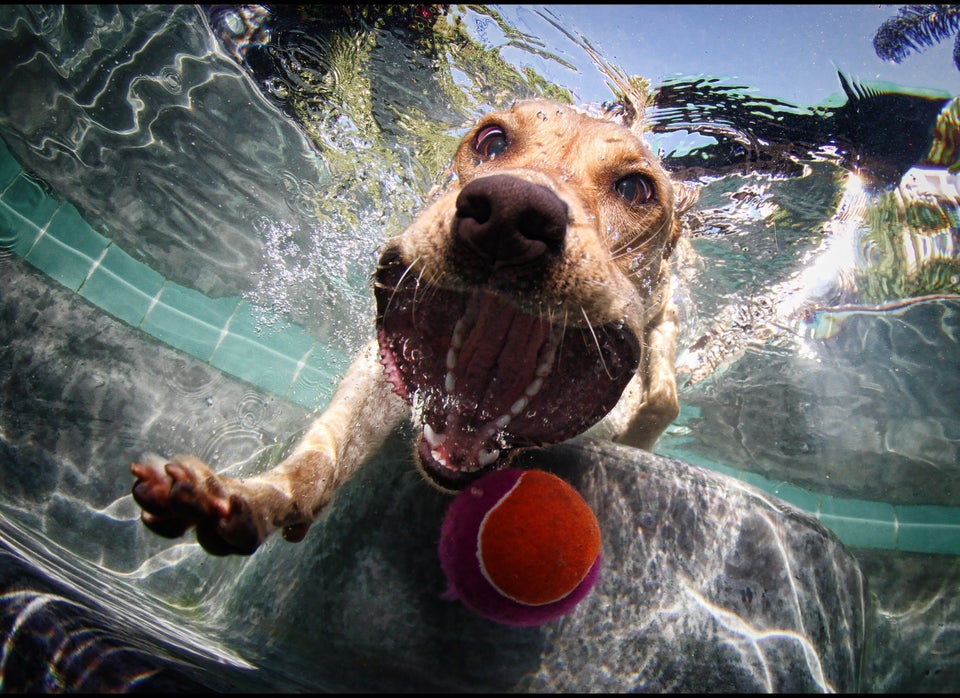 Underwater Photos of Dogs
Casteel, who, naturally, has two dogs of his own (a mini Labradoodle and a Norwich terrier), said that he's drawn to underwater dog photography because the photos show a side of dogs that people may have never seen before.
"Over the course of several thousands of years, we've taken wolves and made them Boston terriers," Casteel told HuffPost. "But still, at the heart of it, dogs have wild instincts. For me, it's all about seeing those wild instincts come through underwater. They're getting back to being wild. They really love being wild. And under water, they have the best chance of doing that."
"Whether it's silly, whether it's focused, whether it's terrifying. You see that underwater," he added.
Casteel thinks the photos have resonated so well because of the special relationship humans have with dogs.
"People identify with dogs because they share a similar range of emotions that human beings do," Casteel said. "They understand us, we understand them, and together we have this fantastic relationship."
Despite the success of these photos, Casteel, who has a calendar, "Ruff," coming out soon and is in talks with publishers and agents for a book, said that for him, it's all about the artwork.
He recalled debating over the summer whether or not he should spend several thousand dollars to buy the underwater casing for his camera.
"I have to pursue this. The creative opportunities are too important to me," he recalled saying to himself. "I thought it was worth it creatively to me. Even if I don't make a dime off it, it's something I have to do."
Related
Popular in the Community