Looks like one of the world's most famous natural wonders has some pretty impressive competition.
This week, researchers in Australia announced the discovery of a coral reef with such diverse and thriving marine life, it rivals that of the Great Barrier Reef.
"It's a wild and dynamic environment," Steffan Howe, Parks Victoria's marine science manager, told The Huffington Post.
The Wilsons Promontory National Park sits on a peninsula in Victoria, Australia's southernmost state, and is surrounded by the Bass Strait, which separates the mainland from the island of Tasmania. The peninsula used to form a land bridge to Tasmania, according to Howe.
"Part of the area we are looking at was actually above sea level during the last ice age," he said.
The research team uncovered stunning physical features in the marine park's deep waters, including boulders the size of houses, underwater sea caves and 100-foot high sand dunes shaped by the ocean currents.
Physical features aside, what really makes the marine park's seafloor comparable to the Great Barrier Reef is the "spectacular invertebrate communities and abundant fish communities within these areas," Howe explained.
"It looks like a biodiversity hotspot in Victoria, or even possibly nationally."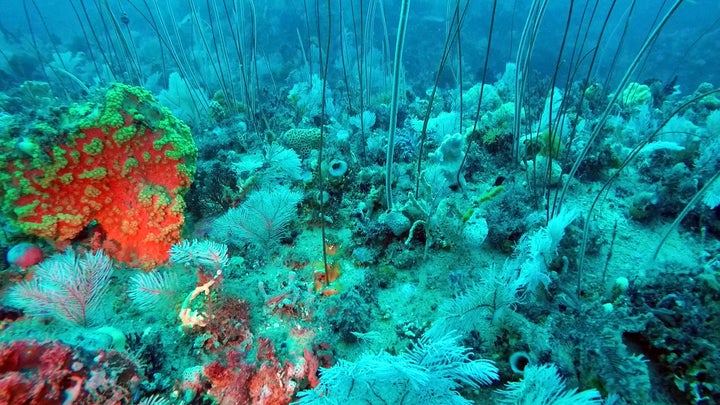 Although the area is only 150 miles from Melbourne, scientists previously knew very little about the marine life in Wilsons Promontory, Howe told HuffPost. The area is remote and the weather is unpredictable, making it very difficult to access.
With advanced technology like the robotic vehicle and underwater cameras, the habitats can be observed by humans, perhaps, for the first time ever.
"It's fair to say that the majority of what we're seeing here hasn't been seen before," Howe said.
"We're still analyzing a lot of the video footage, which will take some time," he added. "But given the diversity of the marine life we've seen, I wouldn't be surprised if there were some species that we haven't seen before."
With the plethora of new information, researchers can better understand the region's biodiversity and better protect the marine reserve to "minimize impact and threats to these sort of communities," Howe said. But the scientists want to encourage recreational diving in the area.
Parks Victoria officials still need to collect and analyze more video to determine which areas might be safe for scuba divers, Howe said.
"We really hope that this will stimulate a lot of interest amongst divers," he said, "and give them some appetite to explore this area."
Below, explore the newly discovered depths of Wilsons Promontory Marine National Park -- the Great Barrier Reef's newest competition.