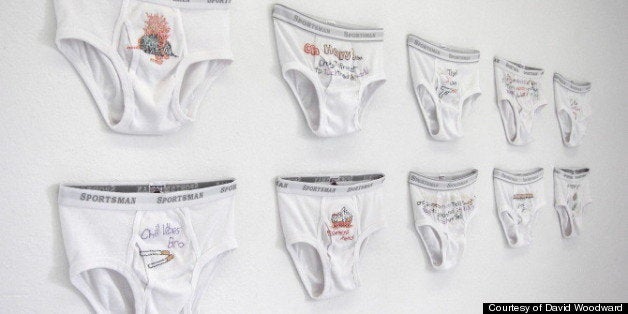 David Woodward, a Queen's University fine arts student, planned to display 10 pairs of underwear at a university donor appreciation event. But when he arrived, the Toronto Star reports school officials quickly told him to get rid of them before the event at the Kingston, Ontario, school began.
The 10 pairs of white men's briefs were part of an art display by Woodward, a graduating senior, titled, "All I Am is What I've Felt." Each pair is embroidered with various images and words, and is a take on sexuality and intimacy. Woodward described it to The Huffington Post as examining the "fickle nature of the brain when it comes to romance."
Less than a half hour before the event was scheduled to begin, school officials asked him to remove the display because it would make attendees feel "uncomfortable." Woodward obliged and chose to leave the event, but feels the situation was handled unfairly.
"Censorship of artwork is never OK, and that's a discussion that needs to be had at the administration level to make sure this doesn't happen in the future," Woodward told HuffPost. "I was proactive in asking for specifications regarding the work for this event and in sending my website link to the organizers beforehand, but I was told that it was up to me what I wanted to bring -- just no larger that 3 x 4 feet."
Woodward displayed it once before at a class exhibition in April, where he said he received mixed reactions. He acknowledges that some people consider the project "strange" and "inappropriate," but said some had "very emotional reactions to it."
Tom Harris, vice president of advancement at Queen's, told HuffPost in a statement that he has since apologized for the incident. He said they do not have guidelines to determine what kind of artwork is accepted at donor events.
"The request for students to display artwork at the event did not include parameters surrounding the artwork and its subject matter," Harris said. "I have shared concerns I have regarding what transpired with my staff, and will continue to look at what kind of processes might be put in place to ensure that a similar situation doesn't happen again. We are also looking at how we can better build understanding amongst our staff."
Woodward told HuffPost he heard thirdhand that the university wants to facilitate a conversation between him and those who censored the display, but hasn't been contacted by anyone at the school since May 30.
Woodward said he thinks it's ironic that the university asked him to remove this particular display because it was uncomfortable.
"I think a lot of what it is to be human is to be uncomfortable and nothing's gained unless we're asking ourselves where that's coming from; most of the time I find it coming from a place inside," Woodward told HuffPost. "Any conversations about the art that may have been had at this event were essentially murdered when I was told the work had to come down."
This post has been updated to include comments from the university.
Close up photos of the briefs featured in David Woodward's art project: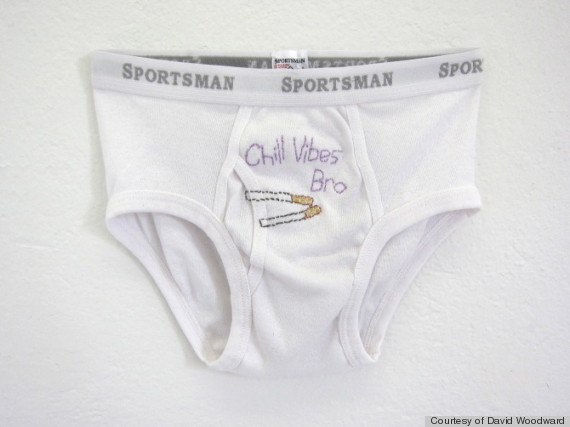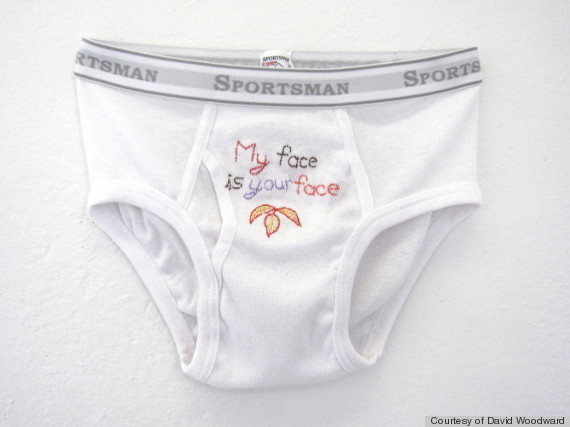 More photos of the display is available at David Woodward's website.
Calling all HuffPost superfans!
Sign up for membership to become a founding member and help shape HuffPost's next chapter
BEFORE YOU GO
PHOTO GALLERY
Coolest On Campus Art Installations