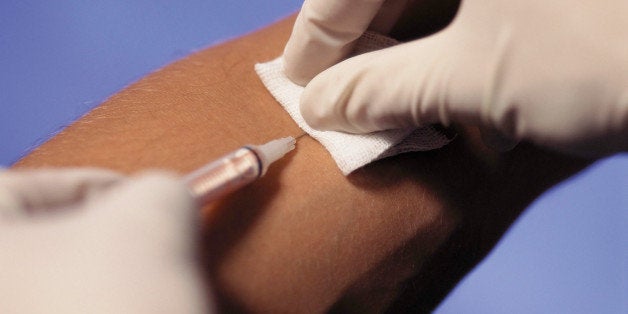 With the news spreading across the Web of the PARTNER study showing that no HIV-positive individual with an undetectable viral load has transmitted HIV within the first two years of the study, HIV-positive men are tossing out their condoms and celebrating. All online profiles are immediately being changed to say "negative," and the fear of ever having to disclose their status is now a thing of the past. Let that sink in for a moment. Now, how stupid does that sound?
Well, you most likely won't be surprised by the reactions from the haters and skeptics to this monumental news. This news has been long-awaited by those who know their positive status, are taking medication and are taking care of themselves. Is it a license to be reckless? No, but it is a reassurance that treatment as prevention does work.
As someone who happens to be HIV-positive, my major fear regarding the disease is passing it on to someone else. My second fear is the rejection I could possibly face with disclosure. Do I disclose before being intimate? If a partner asks me upfront, I am always honest right back, and when the topic is left up to me to bring up, I'd say that I do initiate the conversation the majority of the time. But in the back of my head, I always would reassure myself that my viral load is undetectable and most likely would not be putting anyone at risk. With this landmark finding, is it possible that everyone, especially gay men, will be more inclined to get tested, know their status and be upfront and open about it all the time?
In a perfect world, everyone would get tested, know their status, and take the appropriate steps thereafter. The shame and stigma that surround HIV would diminish, and the world would go on as normal, and HIV would be controlled and the spread of the virus contained. Having an undetectable viral load would be sexy. Knowing your status and getting tested regularly would be, well, regular. Being HIV-positive and having an undetectable viral load would be considered the same thing as being HIV-negative. Instead, we would frown upon those who don't know their status. Being HIV-positive and having an undetectable viral load would be accepted, especially within the gay community.
So will all this happen overnight? Will Grindr or other dating apps see an increase in gay men changing their status to say, "Undetectable as of..."? In this dream scenario, HIV-positive people who are on treatment and taking care of themselves by maintaining an undetectable viral load would feel more empowered to come out and show everyone their A-plus report card each time they have their labs done, wearing those test results with honor and being proud for being healthy.
Unfortunately, unless those of us who are HIV-positive become more open about our status and stop hiding behind the stigma, things most likely won't change overnight. We can all already hear the naysayers with the release of the first two years of this second study. And at the same time, we shouldn't automatically ditch the condoms or all our safe-sex practices. As we all know, there is a world of other communicable infections.
What I hope will not happen is for HIV-positive people with undetectable viral loads to hide behind these results and live life as if they were HIV-negative. Not being able to transmit the virus is the only thing the two types of individuals have in common. An undetectable viral load is not to be used as a justification for not disclosing your status before engaging in unprotected sex. Instead, these results should build up your confidence so that you can be more open about your HIV status and, if you are HIV-positive, keep up on maintaining your undetectable viral load as well as being healthy.
The more we open up and discuss what it means to be HIV-positive with an undetectable viral load, the more society, especially those within our own community, will begin to understand, learn and accept. With advancements in antiretroviral therapies, attaining and maintaining an undetectable viral load is not difficult, especially if treatment is started immediately after learning of a positive HIV status.
The more information is put out there for the world to know and learn from, the easier it will become for the ignorance and discrimination surrounding HIV to be eliminated. So all my HIV-positive brothers and sisters who are on treatment and have reached an undetectable viral load, take a moment to breathe a sigh of relief. If you are like me and our first major fears align, this news will certainly help lift that extra weight that we had pushing us down. Be proud of having an undetectable viral load!
Calling all HuffPost superfans!
Sign up for membership to become a founding member and help shape HuffPost's next chapter