When it comes to the very best European destinations, bigger does not always mean better. While travelers typically gravitate toward larger cities like London and Paris, some of the region's most rewarding and best-kept secrets are alternatively set well off-the-beaten path. From a tiny Albanian cliff town with stunning mountain vistas, to a Swiss mountain village known for its beer and cheese, it's well worth the extra effort to get to any of our 15 picks for the best undiscovered European destinations.
1) Porto Palermo, Albania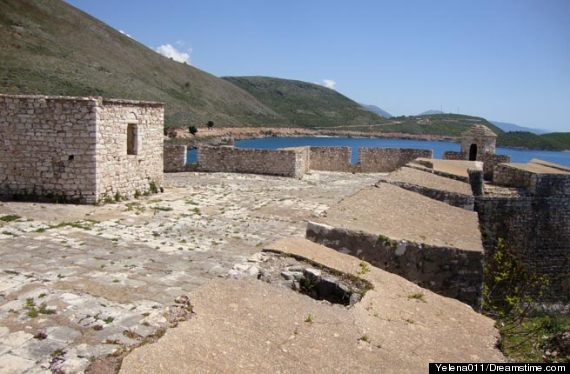 Nestled among rolling green hills just south of the town of Himarë is Porto Palermo. This Albanian village keeps a low profile, but features a towering 18th-century castle that overlooks a sparkling bay. Visitors can explore its well-preserved grounds, and take in the coastline's picturesque scenery.
Photo Credit: Yelena011 | Dreamstime.com
2) Sainte-Agnes, France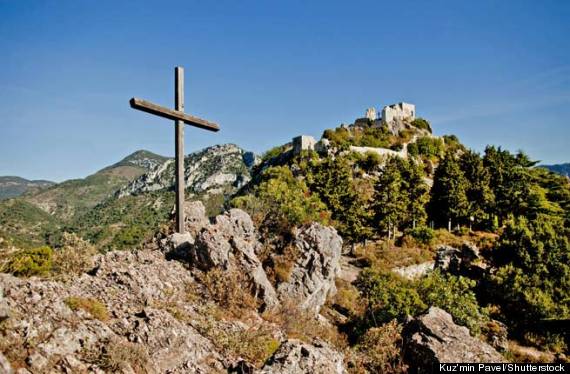 Narrow stone-paved streets, arched passageways, and spectacular views make Sainte-Agnès one of Southern France's hidden gems. This tiny seaside village comes perched atop a mountain, offering visitors a lookout over stunning Mediterranean vistas. Climb its hills to see the ruins of a 9th-century chateau, or stop by the Maginot Line fort for panoramic views of the water.
Plan Your Trip: Visit Fodor's France Guide
Photo Credit: Kuz'min Pavel/Shutterstock
3) Coimbra, Portugal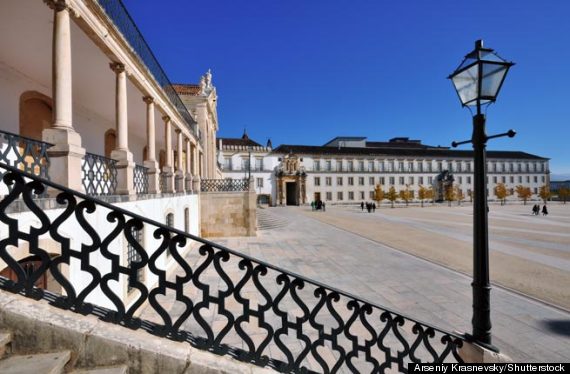 Once a bustling capital city, Coimbra is now a vibrant university town touting plenty of historical attractions. Located halfway between Lisbon and Porto, this Portuguese town boasts one of the oldest academic institutions in Europe, and visitors here can partake in lively local festivals and traditions. Visit vibrant cafés and bars to hear authentic fado music, or take a tour of one of the city's ancient cathedrals.
Plan Your Trip: Visit Fodor's Coimbra Guide
Photo Credit: Arseniy Krasnevsky/Shutterstock
4) Kotor, Montenegro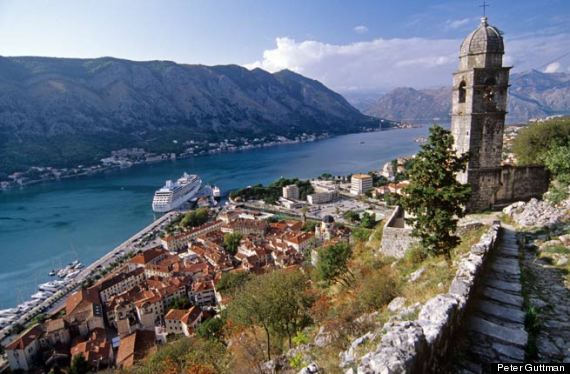 Tucked away in a secluded channel of a Montenegro bay, Kotor exudes picturesque scenery and natural beauty. Visitors can walk through a maze of winding, cobblestoned streets, and tour buildings that date back to medieval times. For unparalleled views of the mountains and water, climb 1,350 steps to the town's ancient fortifications. Adventurous souls can also opt to paraglide from atop the surrounding cliffs.
Plan Your Trip: Visit Fodor's Kotor Guide
Photo Credit: Peter Guttman
5) Warsaw, Poland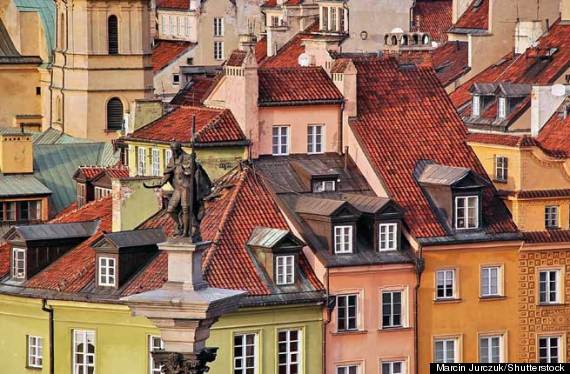 Known as the "Phoenix City," Warsaw has experienced its fair share of change. The Polish capital was practically demolished during World War II, but has since reinvented itself as an up-and-coming metropolis. Visitors can browse upscale shops near the city's Palace of Culture and Science, or take a stroll around the majestic Royal Castle and Old Town Square. For a taste of local culture, visit the buzzing Praga District on the city's right bank, known for its lively bars, art galleries, and underground theaters.
Plan Your Trip: Visit Fodor's Warsaw Guide
Photo Credit: Marcin Jurczuk/Shutterstock
6) Appenzell, Switzerland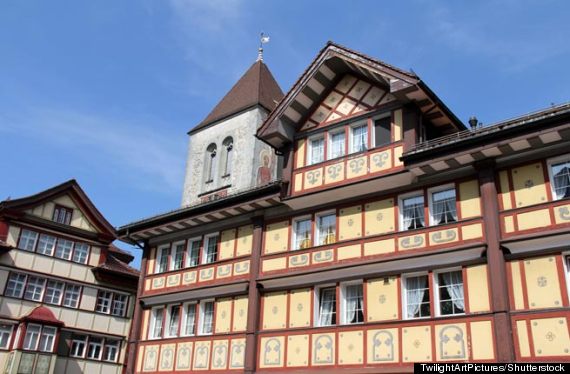 Step back in time in Appenzell, one of Switzerland's least explored regions. Located at the foot of the Alpstein mountain range, the area boasts delicious beer and cheese, quirky residents, and traditions that date back centuries. Explore streets lined with colorful houses and stop by a bakery to sample local confections like pear bread and almond and honey cakes.
Plan Your Trip: Visit Fodor's Appenzell Guide
Photo Credit: TwilightArtPictures/Shutterstock
7) Smolare, Macedonia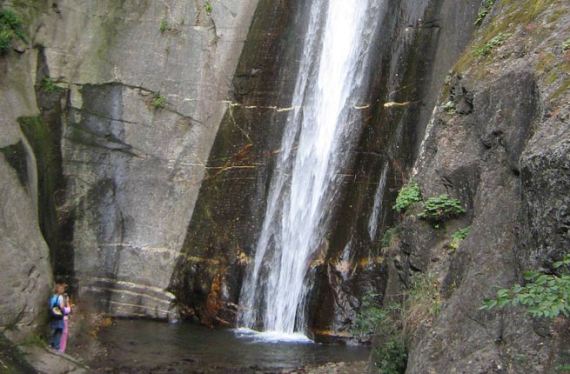 Small, landlocked Macedonia is often overlooked by travelers, but passing by the country would be a mistake. Visitors here can take in stunning mountain ranges, sparkling lakes, and architecture dating back to the Byzantine era. Stop by the tiny village of Smolare to see the country's tallest waterfall: Located 130 feet above the town, travelers can walk up 300 stone steps to gaze at the sparkling blue falls from a wooden bridge.
Plan Your Trip: Visit Fodor's Macedonia Guide
Photo Credit: Smolare_Watterfall by Attribution-NonCommercial-ShareAlike License
8) Sibiu, Romania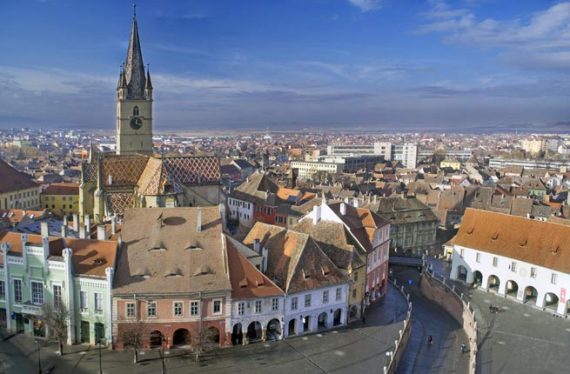 Built in the 12th century, the Romanian citadel city of Sibiu is an ideal destination for history buffs. Still boasting many of its original fortifications, visitors can walk through mazes of stone staircases and archways to explore the area's rustic architecture. Stop by Grand Square to visit Brukenthal Palace, a majestic 18th-century Baroque mansion that houses one of the oldest museum collections in the world.
Photo Credit: Boerescu/Shutterstock
9) Kosice, Slovakia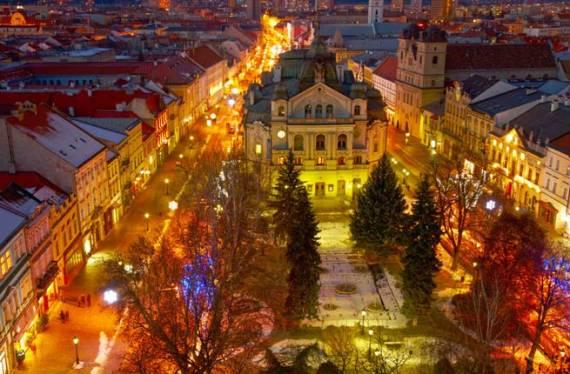 While the capital of Slovakia, Bratislava, garners most of visitors' attention, travelers would be remiss to skip over Košice, the country's second city. Located on the eastern side of Slovakia, Košice boasts beautiful gothic architecture, carefully preserved buildings, and plenty of historic charm. Stop by the Villa Cassa to see Europe's oldest coat of arms, or take a stroll through the city center, with its medieval houses and palaces.
Plan Your Trip: Visit Fodor's Slovakia Guide
Photo Credit: silver-john/Shutterstock
10) Korcula, Croatia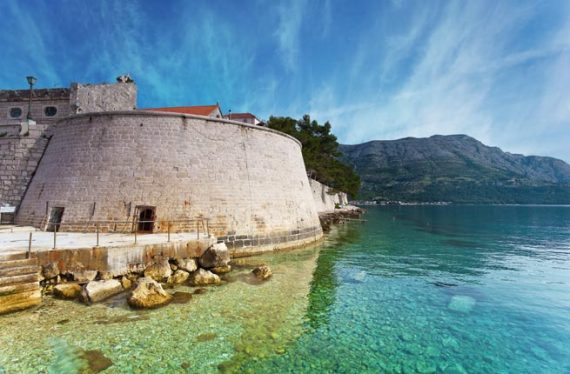 Breathtaking scenery and rich local culture are what draw visitors to Korčula, Southern Dalmatia's largest island. Also known as "Black Corfu," the densely wooded islet boasts secluded beaches and bays, and verdant green hills perfect for hiking. The main town--also named Korčula--is the purported birthplace of Marco Polo, and features winding streets, medieval stone fortresses, and atmospheric red-roofed buildings.
Plan Your Trip: Visit Fodor's Korčula Guide
Photo Credit: Phant/Shutterstock
11) Bolgheri, Italy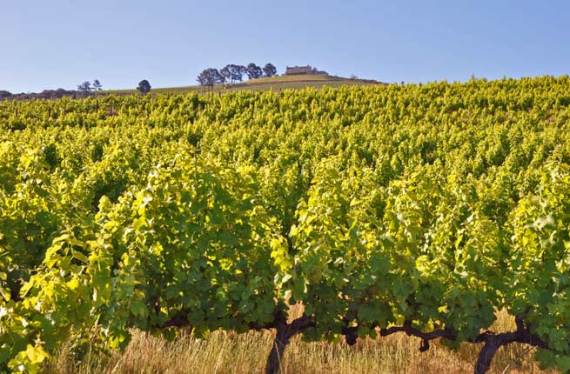 Rolling green hills, blossoming vineyards, and winding pathways make Bolgheri one of Tuscany's most enchanting villages. Visitors drive past centuries-old cypress trees to reach the village center, where they're greeted with a view of the Bolgheri Castle. Nature lovers will enjoy the bucolic scenery, and wine enthusiasts can get a taste of the area's internationally renowned vintages.
Plan Your Trip: Visit Fodor's Italy Guide
Photo Credit: Bigpressphoto | Dreamstime.com
12) Folegandros, Greece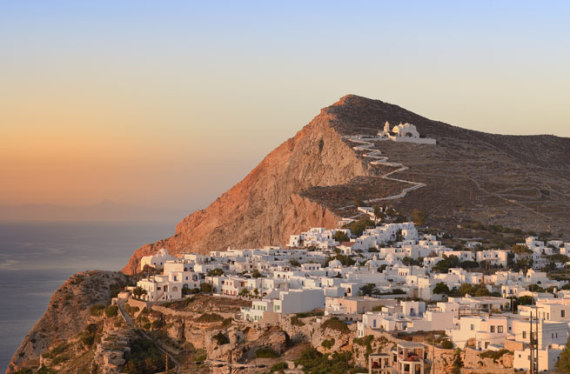 Often overshadowed by neighboring Santorini, Folegandros proposes a welcomed escape from the hustle and bustle of more popular Greek islands. Perched on a towering seaside cliff, the island doesn't offer much in the way of attractions--but makes up for it with local charm. Visitors can explore untouched beaches, sample traditional food, and spend quiet evenings contemplating the breathtaking, sun-touched cliffs.
Plan Your Trip: Visit Fodor's Folegandros Guide
Photo Credit: jcfmorata/Shutterstock
13) Azores, Portugal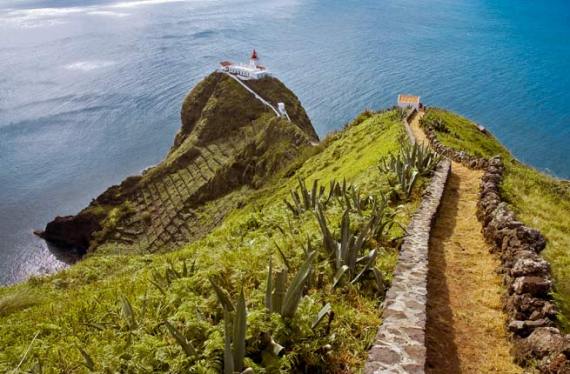 Visiting the Azores feels a bit like stepping into paradise: Located midway between New York and Lisbon, the lush, volcanic archipelago is best known for its sapphire blue waters, colorful scenery, and majestic cliffside manors. Visitors can explore quaint seaside towns, take a dip in hot mineral springs, or hike through the island's verdant hills.
Plan Your Trip: Visit Fodor's Azores Guide
Photo Credit: Anibal Trejo/Shutterstock
14) Malaga, Spain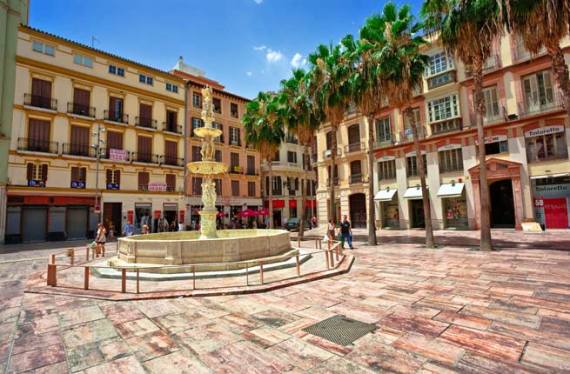 As the capital of Spain's Costa del Sol, Málaga enchants visitors with its ancient streets, picturesque villas, and lush vegetation. The city averages 324 days of sunshine a year, making it a perfect destination to explore by foot. Take a stroll through palm tree-lined streets and stop for a drink in the city's old quarter. Art enthusiasts will enjoy the Picasso Museum, which features a chronological exhibition of the late artist's work.
Plan Your Trip: Visit Fodor's Málaga Guide
Photo Credit: Kushch Dmitry/Shutterstock
15) Kutna Hora, Czech Republic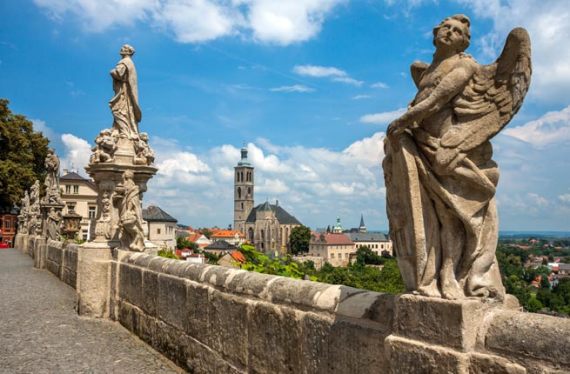 History takes center stage in Kutná Hora. This small Czech town began as a medieval mining village, and still retains much of its original architecture. Stop by St. Barbara's Cathedral for an up-close look at Gothic sculpture and panoramic views of the city. More morbid-minded visitors will enjoy the Sedlec Ossuary, or "bone church": One of the Czech Republic's most famous sights, this small chapel is decorated from floor to ceiling in human bones.
Plan Your Trip: Visit Fodor's Kutná Hora Guide
Photo Credit: Beneda Miroslav/Shutterstock
Related