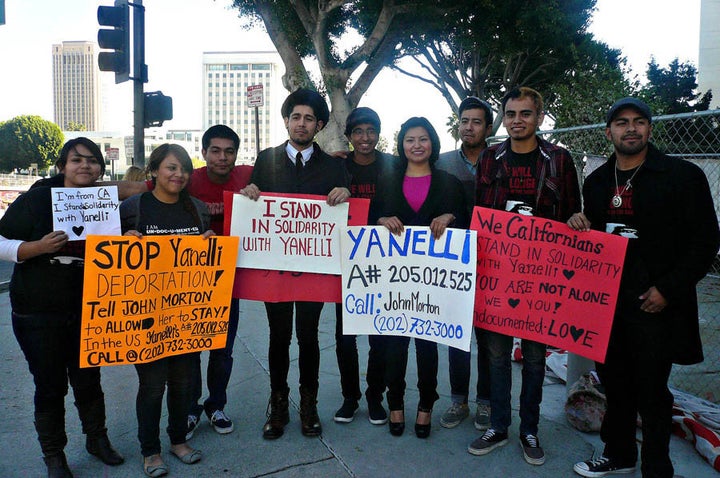 Yanelli Hernandez, 22, tried to commit suicide while in immigration detention. Twice.
She was doing everything she could to prevent authorities from deporting her to Mexico, a country she never knew and a place where she has no one.
In her support, and as part of a wider movement for immigration reform, immigrant rights activists from the Inland Empire Immigrant Youth Coalition (IYC) gathered in Los Angeles this week to decry anti-immigrant sentiments and policies that they say have taken a toll on the mental and emotional health of their communities.
They held posters that read "We Love You Yanelli," and others that listed the telephone number of John Morton, the director of U.S. Immigration and Customs Enforcement (ICE).
"If there's anyone out there who feels alone, it's time for us to come out of the shadows!," said Alex Aldana, 25.
Aldana is one of 10 undocumented immigrant rights activists who was arrested last week during two peaceful sit-ins in California's San Bernardino County. They were protesting Secure Communities -- a federal program that enhances information sharing between ICE, the FBI and local police -- and trying to highlight the need for immigration reform for undocumented youth who were brought to the country as children, raised here, and consider themselves American. They were also agitating for the DREAM Act, which would bring many of them back from the shadows and legalize their immigration status.
Aldana introduced himself as "queer, undocumented and unafraid."
He immigrated from Mexico legally as a child and grew up in the Coachella Valley in California, where his mother worked on agricultural farms. Now a case manager with LGBT Latino youth in HIV prevention and education, he called the double closet of being LGBT and undocumented "a difficult process."
"When it came to my legal status, it definitely brought depression," Aldana said. "It was a sense of hopelessness about not knowing what was going to happen with my life. And resentment. It brought back resentment to my sexuality when my aunts and uncles would say: 'You know English, you're really smart, all you have to do is marry a woman.'"
"But what kind of message do we send to the community when it comes to equality and human rights? What if I don't want to marry a woman? What if I want to marry a man that I love?"
"We see barriers we didn't see when were young," said Martha Vasquez, 23, an organizer with the Inland Empire IYC. "A lot of us go through depression in the transition from high school to college and adult life when we see the barriers of our undocumented status."
Last November, the suicide of 18-year-old Joaquin Luna Jr., in Mission, Texas, drew national attention to the psychological impact of the immigration debate on undocumented youth. The young man was reportedly despondent over the college application process, during which he experienced firsthand the barriers that being an undocumented immigrant placed on his dreams of attaining a higher education degree.
For Claudia Ramirez Hernandez, 25, the pressures of living undocumented culminated in a suicide attempt five years ago after learning of the court challenge to AB-540, the California state law that allows some undocumented students to pay in-state tuition.
Ramirez called on students to begin the process of de-stigmatizing their immigration status. "Come out to a teacher or a friend. You never know, if you just tell one person," she said.
In a 12-minute video uploaded to the UndocuHealth YouTube page, Ramirez spoke about how she and her mother overstayed their visas to take care of her injured father, how she was bullied at school, and how she set aside enough money for funeral expenses for her family before trying to take her own life.
But depression in the community doesn't stop there. "I see it in my parents. They feel like they have no rights... they're also getting depressed because we've all been in limbo," Vasquez said.
The plight of undocumented youth -- children brought to the country by their parents who do not have a viable pathway toward citizenship -- has sparked a sense of urgency and activism that repeatedly resurfaced last week during the arrests in Southern California.
For many of these young people, torn between their identity and their legal condition, the DREAM Act is a question of life and death.
Popular in the Community