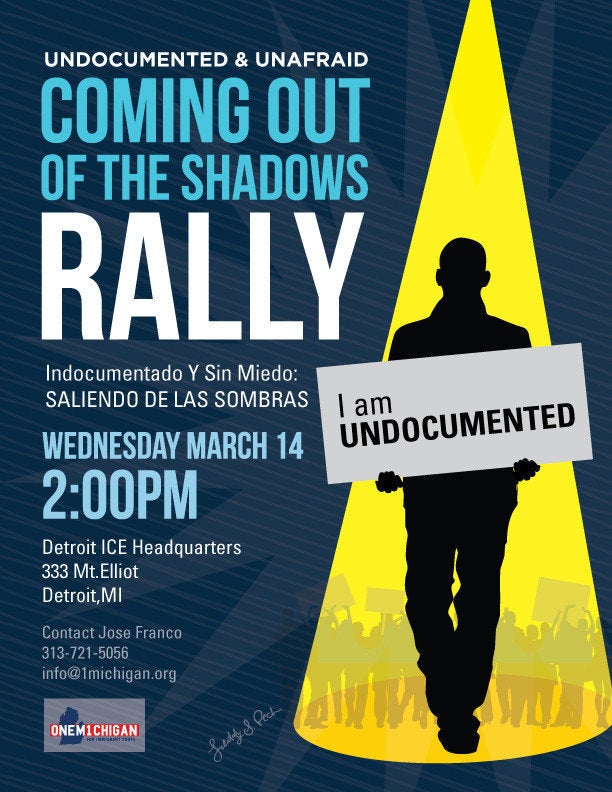 A group of high school and college students rallied outside regional headquarters for U.S. Immigration and Customs Enforcement (ICE) in Detroit Wednesday afternoon to publicly tell their stories of living in the city as undocumented immigrants.
"By all of us coming out we can come together as a community and defend ourselves ... and our families from being separated by these immigration laws," said the rally's organizer, Jose Franco.
While some expressed concern about the possible repercussions of making their undocumented status public, Franco said attention actually keeps people safe; he feels ICE will not take action against high school and college students under the public's watch.
"With the entire community behind us we can stop deportation," Franco said.
"ICE fully respects the rights of all people to voice their opinion without interference," ICE Public Affairs Officer Khaalid Walls said in a statement. He said ICE's approach to enforcement "includes comprehensive reform of the detention system and the establishment of clear enforcement priorities, targeting criminal aliens and those who put public safety at risk, as well as those who threaten border security and the integrity of the immigration system."
Franco heads One Michigan, a Southwest Detroit group run locally by undocumented youth.
One Michigan concentrates on education and the rights of young people, both working in the community and on policy, including pushing for the DREAM Act, which would make it easier for undocumented immigrants who came to the U.S. when they were young to get residency and attend college.
Currently, members are working with longtime immigrant rights advocate State Rep. Rashida Tlaib (D-Detroit), who Franco says will introduce a bill in the next several months that would allow undocumented immigrants who graduate from a Michigan high school the right to pay in-state tuition at Michigan colleges and universities.
"A lot of [undocumented] students give up because they think they can't go to college, so we tell them there is a possibility," Franco explained. "We motivate them to begin the process of going to college."
The group is also working on a first guide to help undocumented Michigan youths navigate high school, get good grades, and apply to college and for scholarships.
Franco founded One Michigan three years ago, when he says he noticed little activism around immigrant rights happening in Detroit. Now, the group has 10 local organizers.
"People see it as something courageous, I guess." Franco said. "This is the just the type of thing that needs to get done."
Related
Popular in the Community