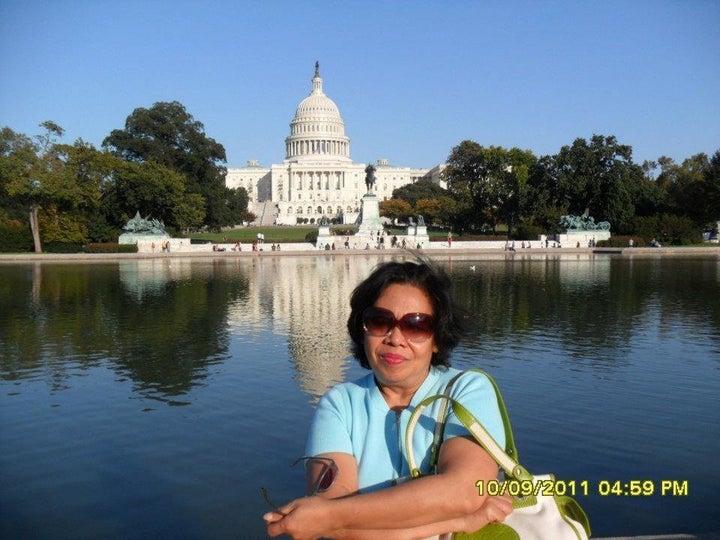 Kalsum Pangkey, a 56-year-old undocumented immigrant from Indonesia, went to an Immigration and Customs Enforcement office on April 25 to report that she was ready to leave the U.S. and pay her way back to her country.
The authorities locked her in detention, where she remains. She had gone to the ICE office to say she would voluntarily depart and asked for a stay of deportation for a few months to arrange for the move.
"She told them she has the money, she wanted to pay the ticket, and the government still kept her," said her nephew, Arthur Jemmy, 36, who also fled Indonesia. "That's terrible."
Pangkey entered the U.S. legally on a six-month tourist visa in 1997, but her immigration status lapsed because she missed a one-year deadline to apply for asylum. She works here and sends money back to family in Indonesia, part of the reason why she asked to be allowed to stay for a few more months.
That request for a stay of deportation was denied by ICE last week, immediately sending Pangkey into immigrant detention. She is one of thousands of Indonesians who fled to the U.S. in the late-1990s and early-2000s because of violence against ethnic Chinese Christians and others. Many are now in the U.S. without documents because they failed to apply for asylum within the eligibility period.
When immigration agents told her she would be detained, she and a friend immediately tried to call an airline to arrange a flight back to Indonesia, hoping Pangkey could avoid ICE custody. They found a flight for the next day, but an immigration agent told them Pangkey would have to be detained until then, the friend, who asked not to be named because she did not wish to be publicly involved, said in a letter provided to HuffPost.
If she left the next day, Pangkey would need to buy her own ticket. But the ICE agent told her that if she stayed in detention for a week, the government would pay her way back, according to the friend's letter. Pangkey decided to take the free trip.
Nine days later, though, she is still in detention, even though she has a clean criminal record and could be eligible for alternatives to detention, such as an ankle bracelet, or prosecutorial discretion by President Barack Obama's administration that allows some immigrants to stay.
ICE spokeswoman Barbara Gonzalez said she couldn't comment on a specific detention case. She said the agency bases detention decisions on a number of factors and "is committed to ensuring that its limited resources are focused on the removal of those who pose a threat to public safety such as criminal aliens and national security threats, as well as repeat immigration law violators, recent border entrants, and fugitives from immigration court."
Pangkey is being aided by a small movement led by a New Jersey pastor, the Rev. Seth Kaper-Dale, to help Indonesian immigrants who are slated for deportation. His church, the Reformed Church of Highland Park, has welcomed five undocumented immigrants to live there. Law enforcement and immigration agents typically won't enter churches searching for suspects.
Kaper-Dale, along with Reps. Carolyn Maloney (D-N.Y.) and Chris Smith (R-N.J.), is pushing legislation that would allow Indonesians who entered the U.S. from January 1997 to November 2002 to have their asylum cases considered, despite missing the one-year ICE deadline.
Pangkey's detention adds to recent disappointments for the Indonesians in the U.S. Six Indonesian immigrants who lived near the church were deported recently and two others left for Indonesia on their own. Others under the church's protection are doing better. Saul Timisela has lived in the church for more than two months and Arthur Jemmy and Silfia Tobing, who are married, entered the church in mid-April. Jemmy, Pangkey's nephew, has been staying in the church for about two weeks.
The immigrants living in the church are all Christians who left Indonesia and entered the U.S. legally after violence against Christians in their homeland. Pangkey is Muslim, but has many Christian family members, including Jemmy.
Kaper-Dale said cases like Pangkey's make him question whether ICE is focused on removing people who pose a U.S. threat.
"What it shows us is that any thought that there is a case-by-case reality to this has sort of gone out the window," Kaper-Dale said. "When somebody who is ready to leave and comes in showing the money that she's ready to leave is still sent away, that suggests to us that at this point we can't really work with ICE."
Popular in the Community