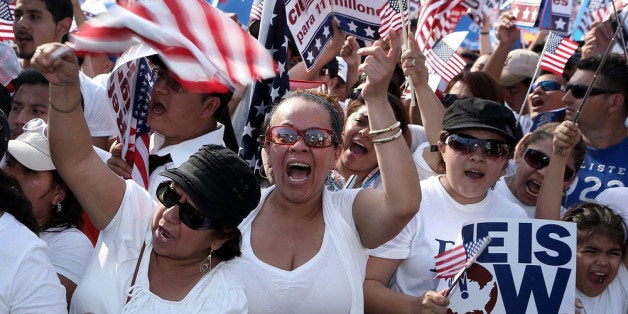 WASHINGTON -- The undocumented immigrant population rose to an estimated 11.7 million in 2012, up from 11.5 million one year before, according to a Pew Research Center Hispanic Trends Project report released Monday.
As Congress considers whether to give a path to citizenship -- or just legal status -- to undocumented immigrants, the numbers could make a difference in showing how many people are in the U.S. and who might be allowed to stay, should reform pass at all.
The numbers also show that laws meant to drive away undocumented immigrants, such as Arizona's SB 1070 in 2010, did not lead to a broad decrease in the general undocumented population, despite lawmakers' intentions.
The undocumented population declined during the recession, as many people left or decided not to come at all due to the bad economic climate. There were an estimated 12.2 undocumented immigrants in the U.S. in 2007, but the number decreased to 11.3 million by 2009, according to Pew.
Pew noted that the increase in its estimate doesn't necessarily mean a huge increase in the undocumented population, or that the trends have definitively reversed. "Although there are indications the number of unauthorized immigrants may be rising, the 2012 population estimate is the midpoint of a wide range of possible values and in a statistical sense is no different from the 2009 estimate," the report reads.
After 2007, Pew found that the number of unauthorized immigrants from Mexico -- about half of the total undocumented population in 2012 -- had decreased at higher rates than the general group. There are now about 6.05 million Mexican undocumented immigrants in the U.S., according to the Pew 2012 estimate.
Jeffrey S. Passel, a senior demographer at Pew, explains how researchers estimate the unauthorized population here.
It's not clear how many undocumented immigrants would actually seek citizenship if given the chance. Pew put out a report in June noting that although most Hispanic immigrants say they want to become citizens, only 46 percent who currently could become citizens have done so. Nearly half of those who did not become citizens despite eligibility said it was either for personal reasons or administrative ones, such as the high cost, according to a 2012 Pew report. Still, a strong majority -- more than 90 percent -- of Latino immigrants who had not naturalized said then that they would become citizens if they could.
The June report also noted that the Deferred Action for Childhood Arrivals program -- which grants two years reprieve from deportation concerns to undocumented young people who came to the U.S. as children -- saw a sizable number of applications, but not as many as Pew researchers estimated would be eligible.
The Senate passed a bill in June that would allow undocumented immigrants to gain legal status and eventual citizenship, but for now, it's not clear the House of Representatives will pass, or even vote on, such a bill this year. Instead, the House may pursue smaller measures to increase border security and enforcement, legalize undocumented young people and change the high-skilled work visa system.
Clarification: This piece has been updated to clarify Pew's adjustments to its 2011 numbers subsequent to the publishing of that year's report. This article previously listed the initial estimate for undocumented immigrants in 2011 as 11.1 million; Pew had since updated its estimate to 11.5.
Calling all HuffPost superfans!
Sign up for membership to become a founding member and help shape HuffPost's next chapter
BEFORE YOU GO
PHOTO GALLERY
U.S. Capitol Photos