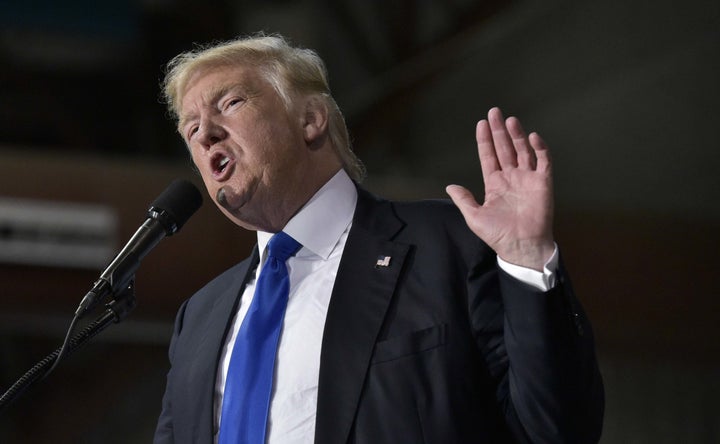 The undocumented immigrant population isn't growing, despite Republican presidential nominee Donald Trump's insinuation that unauthorized immigration is out of control and getting worse.
"The government has no idea," he said last year. "We have lost control of our country. We have lost control of our borders. The government has no idea how many illegals are here."
That's not true: The undocumented population has remained stable since 2009, according to a report released on Tuesday by the Pew Research Center. The report, based on government data, gives a more complete picture of the current state of unauthorized immigration ― and the people Trump hopes to drive out.
Pew estimates that there were 11.1 million undocumented immigrants as of 2014, down from a peak of 12.2 million in 2007. The number of Mexican undocumented immigrants decreased to an estimated 5.8 million people in 2014.
That's not to say that unauthorized immigration and illegal border-crossings are no longer a problem. The number of undocumented immigrants from Central America, Asia and sub-Saharan Africa grew from 2009 to 2014, according to Pew estimates. Some of that growth can be attributed to individuals overstaying their visas; an estimated 500,000 undocumented immigrants from India lived in the U.S. in 2014, up by 130,000 from 2009, according to Pew. 
Border officials apprehended more Central Americans than Mexicans in the 2014 fiscal year for the first time since the government began keeping records in 1992, thanks in part to a surge in families and unaccompanied minors coming to the U.S. to ask for asylum or other relief. That reversal didn't continue into the next year, however ― border agents apprehended more Mexicans than non-Mexicans in the 2015 fiscal year.
Overall, though, more Mexican nationals are leaving the United States than coming to the country, according to a previous Pew Research Center report.
Most Mexican undocumented immigrants in the U.S. have deep roots here ― as of 2014, 78 percent of them had been in the country for 10 or more years, the new Pew Research Center paper reported. That's also true for 66 percent of the undocumented population as a whole.
If Congress enacts immigration reform that allows some undocumented immigrants to stay ― something Democratic presidential nominee Hillary Clinton says she supports ― those who have been living in the U.S. for longer periods would be most likely to get relief.
Trump has indicated that even undocumented immigrants with longstanding ties to the U.S. would be forced out if he becomes president ― if not by mass deportation, then by policies that would make it more difficult for them to stay. 
But Trump's unlikely to believe estimates on the undocumented immigrant population anyway. He has repeatedly claimed that the size of the undocumented population is unknown, even though multiple sources have estimated it's around 11 million people. 
"Honestly, we've been hearing that number for years. It's always 11 million. Our government has no idea. It could be 3 million. It could be 30 million," Trump said earlier this month. "They have no idea what the number is. Frankly, our government has no idea what they're doing on many, many fronts, folks."
Calling all HuffPost superfans!
Sign up for membership to become a founding member and help shape HuffPost's next chapter
BEFORE YOU GO
PHOTO GALLERY
The Obama Administration's Controversial Use Of Family Immigrant Detention