"It feels good to be heard, whether you love him or you don't. I felt heard," Wilkerson said at a Senate Judiciary Committee hearing, thanking Trump for his remarks.
At the emotional and sometimes tense hearing, Wilkerson and five other people pleaded with senators to do something -- anything -- to get undocumented criminals off the streets, which they said could have saved their children, husbands, nephews and brothers. Had the Obama administration and local officials done more to detain and deport criminal undocumented immigrants, they said, their family members would still be alive. The sentiments were echoed by Republican members of the committee.
At one point, audience member Don Rosenberg began to yell about the death of his 25-year-old son, Drew, who was hit and killed in 2010 by an unlicensed driver who was in the U.S. under temporary protective status. Police arrested Rosenberg and escorted him from the room.
The hearing came in the wake of the fatal shooting of 32-year-old Kathryn, or Kate, Steinle in San Francisco earlier this month. An undocumented man named Juan Francisco Lopez-Sanchez, who has been deported five times, was charged in Steinle's murder. Her death launched a debate over whether undocumented immigrants should be released by so-called sanctuary cities such as San Francisco, which do not fully cooperate with federal immigration enforcement. Steinle's father, Jim, was among those who testified at the hearing.
Lawmakers have introduced a spate of anti-sanctuary city bills following Steinle's death. Most recently, Senate Judiciary Committee Chairman Chuck Grassley (R-Iowa) introduced a bill on Tuesday that would require all jurisdictions to cooperate with Immigration and Customs Enforcement or risk losing access to federal law enforcement grants. This has been the focus of most of the other legislation, including bills from Sens. Rand Paul (R-Ky.), David Vitter (R-La.) and Tom Cotton (R-Ark.), as well as one from Rep. Duncan Hunter (R-Calif.). Hunter's bill is scheduled to receive a vote in the House this week.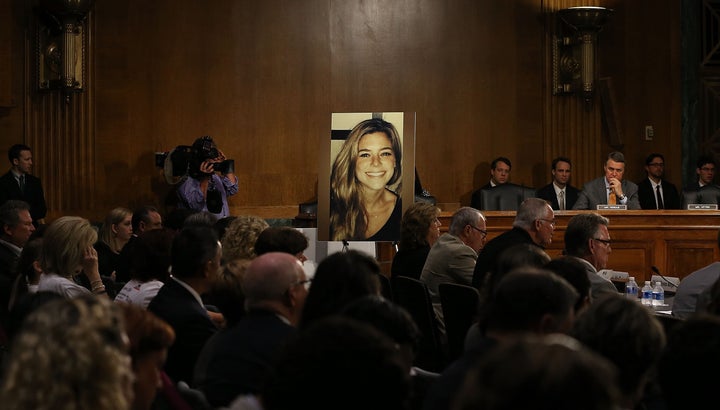 Those bills would penalize the more than 300 jurisdictions where officials argue that limiting cooperation with ICE helps them protect the community and doesn't shield criminals. Law enforcement leaders, along with the U.S. Conference of Mayors and National League of Cities, are urging federal lawmakers to let localities craft their own policies, including declining to cooperate with federal programs that they say make people afraid to work with police and can lead to unconstitutional detentions.
In addition to mandating cooperation with ICE, Grassley's bill would also establish a mandatory minimum of five years before deported immigrants can return to the U.S., a provision Fox News host Bill O'Reilly
has been pushing
 as he urges Congress to pass legislation he has dubbed "Kate's Law." Lopez-Sanchez had served multiple prison sentences, and was most recently sentenced in May 2011 for illegal re-entry after deportation. The city of San Francisco released him in March of this year after that sentence.
At the hearing, "Kate's Law" received the endorsement of Jim Steinle, who said his family "realizes the complexities of immigration laws, however, we feel strongly that some legislation should be discussed, enacted and/or changed to take these undocumented immigrant felons off our streets for good." 
"We would be proud to see Kate's name associated with some of this new legislation," he said. "We feel that if Kate's Law saves one daughter, one son, a mother or a father, Kate's death won't be in vain." 
Although most Democrats at the hearing disagreed with their Republican colleagues about the solution, they agreed that Kate Steinle's death needed to be addressed. Sen. Dianne Feinstein (D-Calif.), said she is working on a less stringent bill that would require local law enforcement to notify ICE before releasing undocumented immigrants, which didn't happen in the case of Lopez-Sanchez. The San Francisco Sheriff's Department released him without alerting ICE after prosecutors declined to pursue a 20-year-old marijuana possession charge.
ICE is currently rolling out a policy called the Priority Enforcement Program, under which the agency would request notifications from local law enforcement about pending releases. PEP is meant to replace the Secure Communities program, which the jurisdictions declining to fully cooperate with ICE have partially rejected. ICE officials have said they are soliciting the cooperation of 49 priority jurisdictions, of which 33 have agreed and 11 are still deciding.
Later in the hearing, ICE Director Sarah Saldaña urged senators to allow her agency to try to convince localities to participate in PEP before imposing laws that would force their compliance, which she and other officials have said would be counterproductive.
"I am hopeful that I don't have to hit somebody over the head with a federal hammer and work with these state and local jurisdictions who have their own specific problems to address," Saldaña said.
Calling all HuffPost superfans!
Sign up for membership to become a founding member and help shape HuffPost's next chapter