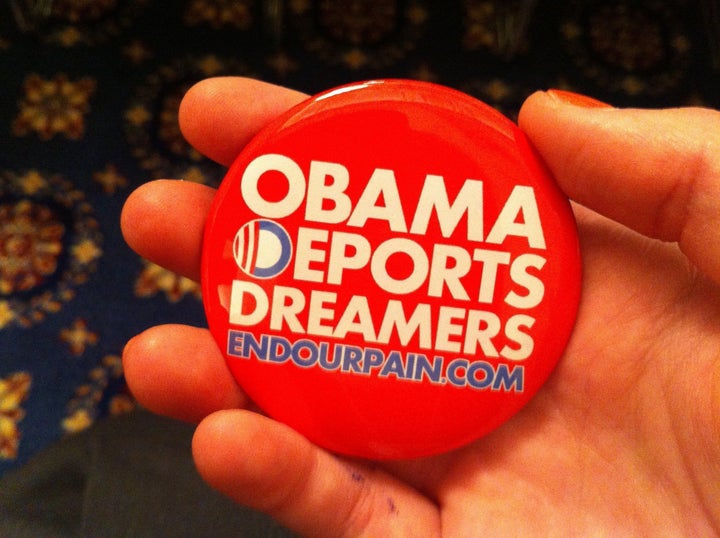 WASHINGTON -- Undocumented journalist Jose Antonio Vargas and other young people without legal status called on Wednesday for the president to stop deporting students who entered the United States as children as part of administrative relief for a limited number of undocumented immigrants.
Vargas -- a former editor for The Huffington Post -- and seven other men and women shared stories of being undocumented immigrants in the United States, including facing deportation to native countries they have not lived in since childhood. They were partially speaking in support of the DREAM Act, a bill that would provide legal status to some undocumented young people in exchange for two years of military service or college, saying those who do not support the bill simply do not understand it.
"We need to take this conversation to the people who think they hate us, because they don't hate us, they just don't know us," said Vargas, who "came out" as an undocumented immigrant in a New York Times Magazine article last week.
The DREAM Act has little chance of passage in the next two years, after it failed in a Democratic-controlled Senate last year. But Democrats in the Senate have reignited a push for the the act anyway, arguing it could be paired with enforcement measures such as mandatory E-Verify, an employment verification system used by federal agencies and contractors.
"We're not quitting," said Sen. Richard Durbin (D-Ill.), who is been behind a decade-long push for the bill. "I have not given up on you and you shouldn't give up on me."
In lieu of the bill, would-be DREAM Act beneficiaries are advocating for President Barack Obama to use his executive power to block deportations of some young people, giving them deferred action or parole rather than sending them back to their native countries.
Although the administration has repeatedly said that DREAM Act students are not its priority for deportation, even specifying as much in a recent policy memo, young people are still facing deportation.
One of them, University of California-Davis student Mandeep Chahal, shared her story with the crowd on Tuesday. She was granted a one-year stay last week after being nearly deported to her native India. Chahal, an honors student who plans to attend medical school, said she was treated like a criminal by Immigration and Customs Enforcement, but was granted a stay after thousands wrote to lawmakers requesting a reprieve.
"If it took this for me to stay in my country, something is wrong," she said. "[Obama] can end our pain, but he still continues to deport DREAMers."
Obama insisted he still supports the DREAM Act in a press conference on Tuesday, saying the U.S. should "make sure those kids can stay." But he has flatly rejected the idea of administrative action, Department of Homeland Security Secretary Janet Napolitano said in a DREAM Act hearing on Tuesday.
"The policy of the department is there can be no categorical amnesty and there will not be, and that is why Congress needs to act," Napolitano said.
REAL LIFE. REAL NEWS. REAL VOICES.
Help us tell more of the stories that matter from voices that too often remain unheard.