A Mexican father who took refuge in a North Carolina church for nearly a year to avoid deportation was arrested Friday while attending an appointment with immigration officials.
Samuel Oliver-Bruno, 47, agreed to appear at an immigration office to be fingerprinted and discuss his petition to stay in the U.S. He was taken into custody when he arrived for the appointment, CNN reported.
A protest immediately broke out outside the U.S. Citizenship and Immigration Services office in Morrisville. A video shared by Alerta Migratoria, an immigrants rights advocacy organization in North Carolina, appears to show Oliver-Bruno being dragged out of the building by plainclothes officers.
Faith leaders, family members and immigrant rights advocates who had accompanied Oliver-Bruno to his appointment led a protest around the vehicle he was placed in, leading to the arrest of 27 people, according to the Morrisville Police Department. Oliver-Bruno's 18-year-old son was among those arrested, according to multiple outlets and Alerta Migratoria.
Democratic Reps. David Price and G.K. Butterfield of North Carolina suggested in a statement that Friday's biometrics appointment may have been a trap set by Immigration and Customs Enforcement to lure Oliver-Bruno out of the church. ICE generally will not arrest anyone who is inside a church, hospital or school.
"It appears ICE has acted in concert with officials at USCIS, who instructed Mr. Oliver-Bruno to appear at local USCIS offices to discuss his deferred deportation," the congressmen said. "He was then apprehended by plainclothes ICE agents upon entering the building. At best, Mr. Oliver-Bruno was presented with a catch-22 dilemma; at worst, he was entrapped."
Oliver-Bruno moved to the U.S. in 1994 and met his wife, Julia Perez Pacheco, two years later, according to a website affiliated with the CityWell United Methodist Church in Durham, where the Mexican national had taken refuge. Perez Pacheco had a work permit to be in the U.S., the Durham Herald Sun reports.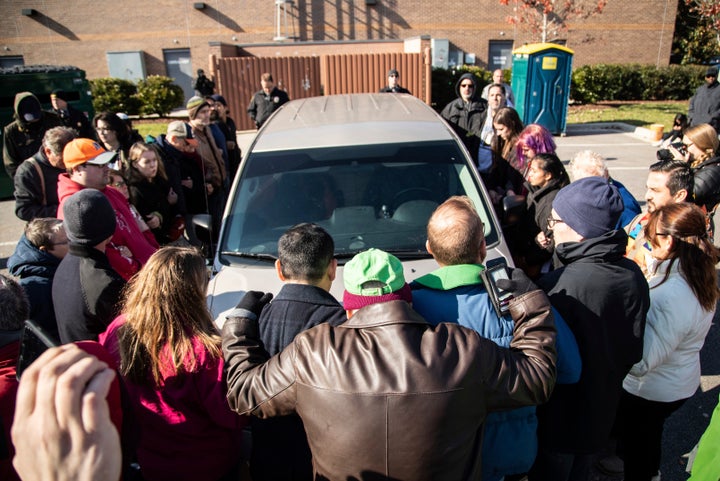 Oliver-Bruno and his wife moved back to Mexico in 2011 to take care of his sick father. While there, Perez Pacheco, who has lupus, fell ill and returned to the U.S. for open heart surgery, according to the CityWell website. Oliver-Bruno tried to follow her but was stopped at the border. ICE reported he had fraudulent documents, and Oliver-Bruno was convicted of entering the country illegally.
Oliver-Bruno first sought sanctuary at the Durham church, which his family has attended since 2005, last December, according to the church's website.
Butterfield, speaking to Joy Reid on Sunday morning, said the fight to ensure Oliver-Bruno's release is not over.
"We are going to continue to insist that deferred action is granted to this man based on humanitarian reasons and the fact that he is law-abiding," he said on "AM Joy."
Oliver-Bruno will reportedly remain in U.S. detention for the duration of his case.
Popular in the Community