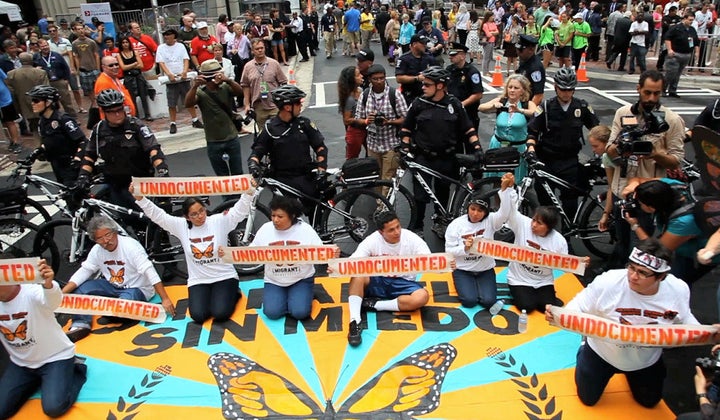 Ten undocumented protesters from Arizona were arrested late Tuesday afternoon outside of the Time Warner Arena in uptown Charlotte, as Democratic National Convention delegates watched.
Chanting in Spanish and English, the protesters -- surrounded by media and conventioneers with smart phone cameras -- quickly marched toward the arena where First Lady Michelle Obama was scheduled to speak.
As throngs of convention delegates bustled down the sidewalk, the small band of Latinos laid a large yellow mat decorated with butterflies in the middle of the intersection and sat in protest of US immigration policies. Just as quickly, they were surrounded by police on foot and on bicycles. Although it was difficult for passersby to see them, we could hear their stories and feel the passion. Krzysztof Piotrowski captured footage from the event:
Although before the convention Charlotte police said any undocumented protesters who were arrested would be turned over to Immigration and Customs Enforcement (ICE), the UnDocuBus protesters were released later that night. According to their press release, supporters mobilized through social media contacted President Barack Obama and others urging them to not pursue deportation proceedings against the detainees and to end federal programs that conscript local police into immigration service.
The protesters have been traveling across the country on the UnDocuBus for six weeks. They started their journey outside of a courtroom in Maricopa County where the infamous "Toughest Sheriff in America" Joe Arpaio was on trial for racial profiling. Four of the "No Papers No Fear" protesters were arrested for civil disobedience in Phoenix that day because they dared to tell the world that they have no citizenship papers or other legal documents that allow them to be in the US.
Since their arrest and release in Phoenix in early August, they have visited 10 states and 16 cities to rally the migrant community, bear witness to the impact of US immigration policies on individuals and families, and challenge proponents of anti-immigrant policies -- like Arpaio, Arizona Governor Jan Brewer, recalled Arizona State Senate President Russel Pearce (the father of Arizona's "papers please" SB1070), and others around the country who have mimicked Arizona's strict immigration laws.
Last night, as it started to rain, I popped up my umbrella and began walking toward the arena. I saw an elderly black woman, dressed to the nines in a bright pink hat, matching jewelry, and her best Sunday dress but no umbrella. Although I could have sprinted ahead of her to the security checkpoint, I came up to her, shared my umbrella, and walked at her pace.
"They're trying to bring Barack down," she said, referring to the Latino protesters.
I told her that they're not trying to bring him down. They're encouraging him to do the right thing. I explained that they like what the President has done with delayed deportation for DREAM Act eligible youth, but they want him and the Congress to be more progressive on immigration reform.
Everyone in Arizona knows someone who is undocumented. If they come out of the shadows, as the UnDocuBus protesters have, US citizens will realize that migrants are not a lawless hoard, crossing the border -- as Arizona's governor would have us believe -- they are our friends and neighbors.
Popular in the Community