NEW YORK ― Up on stage, standing in front of the entire ninth grade this spring, Deena took a deep breath to quiet her racing thoughts. She willed her mind to go blank and ignored the feelings welling up inside her throat. She reversed the placard around her neck, making visible the side that said "undocumented." She listened for the gasps of her classmates.
Only when she made her way back to her seat did she allow herself to cry.
Deena, whose real name is not being used in this story, was nervous to come out as undocumented in front of her peers as part of a group presentation on immigration. But her worries were limited to adolescent concerns ― about how teenagers can be "cruel" and "judgy." She trusted the adults at her New York City public school to keep her safe and her immigration status a secret. It was only a few years ago that, upon learning she was undocumented, her school's dean of students connected her with an immigration attorney to help her gain legal status.
It's not a luxury all undocumented students share. Around the country, pockets of undocumented students say they believe their school has played a role in getting them on the radar of U.S. Immigration and Customs Enforcement. Depending on the ZIP code, schools can provide a safe haven for undocumented students, or they can be a source of tremendous anxiety and fear.
Around the same time Deena confessed her status to her peers, Oscar was living in a detention center, on his way to being deported. Oscar ― also not his real name ― had been in the process of applying for a green card when he was suddenly arrested and detained by ICE two years ago. Several months prior, a police officer who worked at his Boston public school had shared an incident report with federal agencies, including ICE, in which the officer accused Oscar of gang involvement. Although evidence for such an accusation was scant, it was enough to put him on a path that ended in deportation.
"We are quite well aware of the way that young Latino boys are perceived and targeted," said Sarah Sherman-Stokes, Oscar's lawyer, of the process that got her client deported. "This felt like part of a larger pattern of the way that benign, innocuous, very common teenage behavior becomes criminalized in black and brown communities."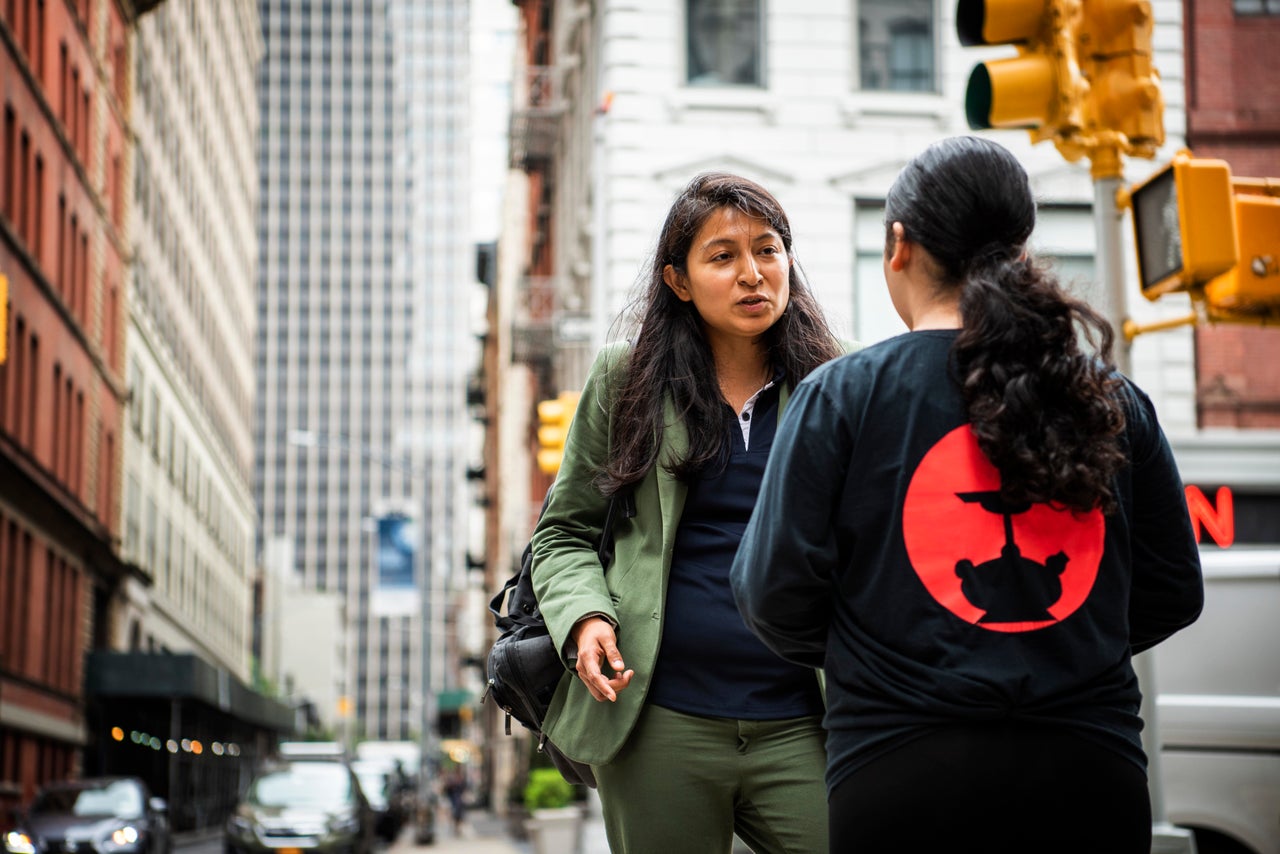 Deena
Deena, a rising sophomore, had no plans to tell her classmates at Washington Heights Expeditionary Learning School her story. She shrinks when discussing what brought her to this country from El Salvador years ago, even when talking to her attorney in the offices of the Safe Passage Project, a nonprofit in New York City that provides legal representation to kids who came to America as unaccompanied minors. Since 2012, the school has worked in partnership with Safe Passage to help its undocumented students get assistance.
"When I came here, I had to bury a lot of experiences and memories because I was like, 'This is a new life,'" Deena said while sitting in the offices of Safe Passage in July.
But then, last year, her class was assigned a unique class project. They were to divide into groups, pick a philanthropy, and try to win $5,000 for that organization through competitive group presentations. One of her classmates, who had heard of the organization's work, floated the idea of supporting Safe Passage. Deena thought it would be dishonest not to reveal her involvement with the nonprofit. A school leader had referred her to the organization as a client when she was in the seventh grade ― a gesture that changed her life. Although Deena's case is still pending, her chances of success are substantially higher with the help of legal representation.
Deena didn't intend to tell her secret to anyone outside of her group. But then she saw how hard her team was working on the project. And also, she wanted to win. The personal touch, she knew, would put her group's presentation over the edge. She wanted Safe Passage to get the money.
"I cannot be selfish and think about myself," Deena recalled thinking at the time.
On stage the day of the presentation, Deena stood in solidarity with her classmates. She spoke to the room of hundreds about her story, trying to keep the bubble rising in her throat at bay. But when she got back to her seat and heard a teacher commend her bravery, she allowed it to burst, tears washing over her face. They weren't tears of relief, though.
"I felt like I was not strong enough, that I was not representing a strong immigrant," Deena said.
But when the dust settled, she felt proud. And she felt supported. Strangers came up to her in the hall and thanked her for her bravery. Old acquaintances told her they had her back.
At home, her immigration status is a source of stress ― a fraught topic she and her family members discuss often around the dinner table. But at school, she didn't have to hide.
"That's like a second home," Deena said of her school. "At home I feel a certain way. At school I'm more free."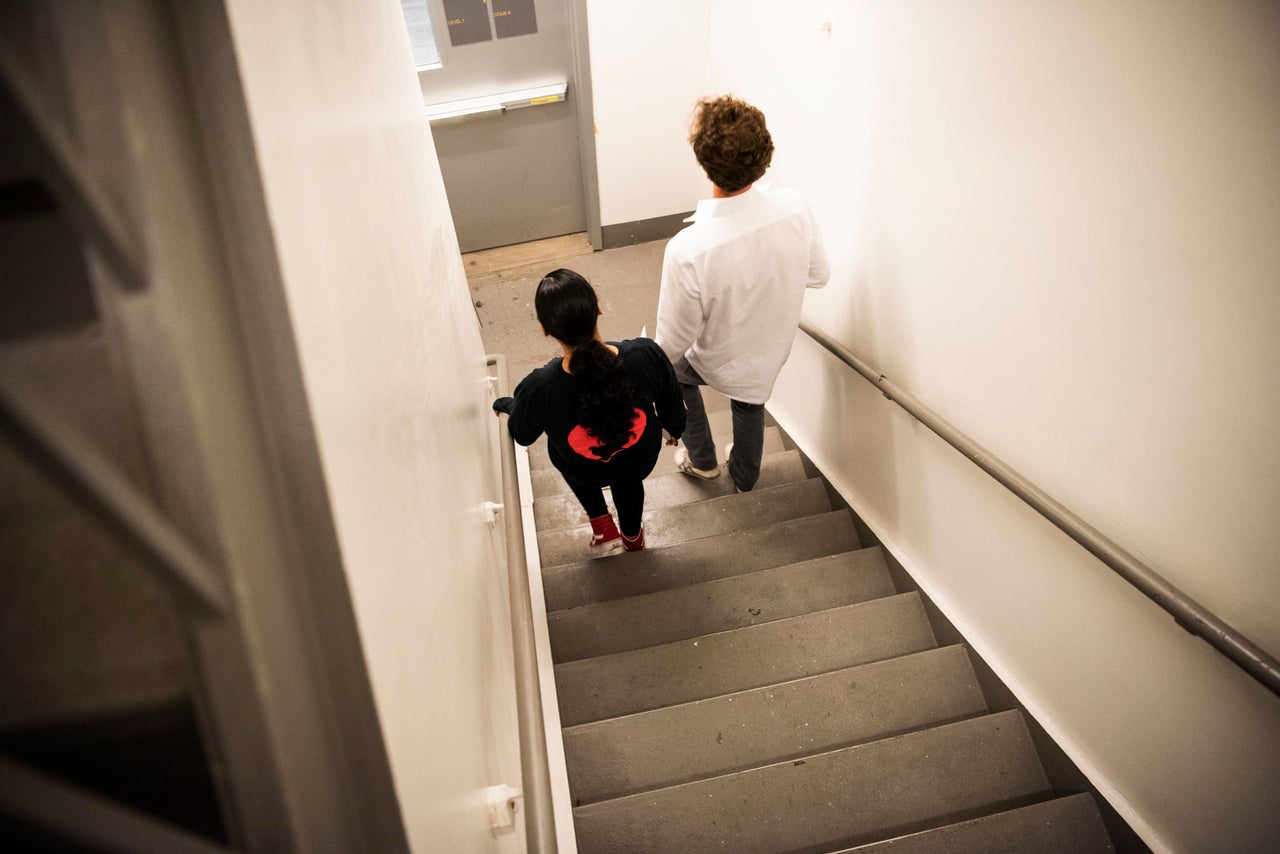 Oscar
Oscar was so close to getting his green card after coming to America as an unaccompanied minor at 17 years old, says his attorney Sarah Sherman-Stokes. His mother had abandoned him as a young child, and as he reached adolescence, he feared forced recruitment by gangs in El Salvador.
He didn't expect for his school ― located in the liberal sanctuary city of Boston ― to be his undoing. It was a fight that never happened, in November 2015, that changed Oscar's course.
A confrontation had been brewing between Oscar and another student, but it never came to fruition. Still, a school police officer wrote up the details of the nonfight in an incident report. The report contained one powerful allegation, and a life-changing order: that Oscar was involved in the international gang MS-13, and that the the report be "sent to the BRIC."
The BRIC ― the Boston Regional Intelligence Center ― is an intelligence hub that shares information with federal agencies like ICE.
Government officials already knew Oscar was undocumented as he worked his way through the court system in an attempt to gain status. But several months after the fight that never was, he was suddenly taken into police custody and put in detention, where he spent his 19th and 20th birthdays. He became depressed, and at one point expressed suicidal ideations, according to Sherman-Stokes, who is associate director of the immigrants' rights and human trafficking clinic at the Boston University School of Law.
The government used the school incident report as evidence of Oscar's gang involvement in deportation proceedings against him, Sherman-Stokes said.
Oscar's green card application was denied, and Sherman-Stokes believes the incident report was critical to the government's case. Oscar also applied for asylum, but that request was denied as well. Oscar chose not to appeal because he could no longer mentally handle living in detention. It was too much for the teen, whom Sherman-Stokes describes as shy, soft-spoken and sweet.
"He was one of the younger people in the detention center," Sherman-Stokes said. "He was nervous he would be hurt, physically or sexually assaulted. He became withdrawn."
He was sent back to El Salvador in the spring, leaving his two older brothers and father behind in Massachusetts.
Oscar dreamed of finishing high school, said his older brother Jamie, who is 24.
"He had a dream of working and earning enough money to get his own car and own his own house and a family," said Jamie ― a pseudonym. "He didn't do anything wrong. It felt unjust the way they did this to him."
A number of advocacy groups like the Lawyers' Committee for Civil Rights and Economic Justice are now suing Boston Public Schools, the city of Boston and Boston School Police for information about how many school incident reports have been shared with the BRIC.
In response to a request for comment, officials from Boston Public Schools emphasized the pains they take to make sure immigrant families feel welcome in the district. They also said they do not share student records with law enforcement authorities or request immigration status from families.
Records created by school police officers are a different story, though.
"BPS School Police can share school incident reports, which are different than student records and are considered police reports, with their partners at the Boston Police Department when it is a matter of public safety," according to a statement the district provided. "Examples of this includes records related to potential suspects involved in gang-related homicides or possible threats to public safety."
Oscar now works in the fields in El Salvador. He never got to finish high school. His brothers don't know when they will see him again.
Deena is looking forward to going back to school in several weeks. Last year, she had an average of 87 in her classes, and she's determined to get it higher. She hopes for a future in America. One where she can pursue her dream of becoming a police officer.
CORRECTION: A previous version of this story misstated Deena's country of origin. She came to the U.S. from El Salvador, not Honduras.
Support HuffPost
The Stakes Have Never Been Higher
Popular in the Community