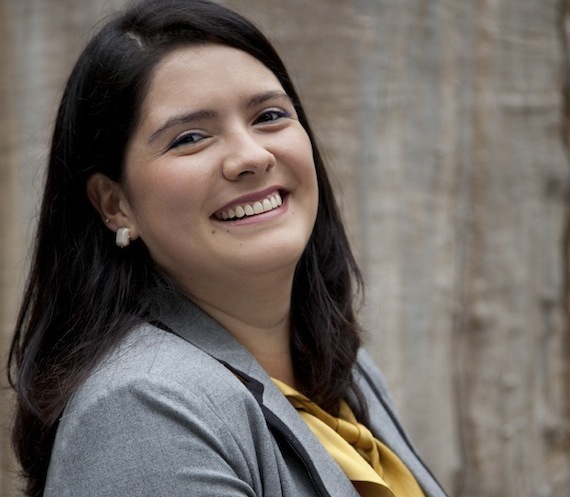 Alejandra Ruiz, photo courtesy of Julie Hassett-Sutton/Frantic Studio via Global Kids
Once I started high school I knew that I was undocumented. My best friend at the time was also. We were trying to figure out how we were going to get to college. We were both very good students and worked hard but it was just a space that we didn't know how to navigate. We were definitely trying to find people that could support us in that process.
We had a career day at school. That's where I met Carly Fox, a trainer with Global Kids. She showed me a pamphlet about the Dream Act, a legislation that would provide a pathway to citizenship for undocumented immigrant youth. That was the first time that I heard about it. I realized I would be eligible for it so I started going to Global Kids meetings.
What I remember from the first meetings was that we realized that a lot of us were undocumented. Everyone decided that we wanted to be proactive about trying to pass the Dream Act. I collected about a thousand signatures through my high school and requested to have a town hall meeting. We, Global Kids, were informing the community within our schools about the Dream Act.
Global Kids was really the first space where I received support to be comfortable and open about being undocumented and to take that identity and use it as a way to empower myself.
I started going to Washington, DC to advocate for the Dream Act. We had people coming in to teach us about the policy process, to teach us about media, to teach us creative ways to tell our stories.
As a senior in high school, I was applying to college. I was the valedictorian of my class. For undocumented youth in many places, you're not eligible for any financial aid, you're not eligible for most scholarships. I researched scholarships that did not require legal status. I applied to all of them. I received three, which was enough to cover tuition at the City University of New York (CUNY).
During my freshman year, I was offered a scholarship that gave me the opportunity to apply to any school of my choice. My former trainer Carly Fox was doing her Master's at Cornell University. She said, "You should come up to Cornell and check it out." I ended up applying and got in.
Even though I am now documented, I never stopped doing work to change the lives of undocumented youth, even while I was at Cornell. I just felt that was really my calling. Since the mid 2000's, immigrant youth, Dreamers, have been at the forefront of the immigrant rights movement, sharing our stories and humanizing the debate.
Today, we have the opportunity to win administrative relief for our undocumented parents, siblings, aunts, cousins and neighbors. Today, we have the opportunity for millions of families to live without the fear of losing a loved one to deportation and to come out of the shadows. Today, I continue to advocate for the rights and dignity of the immigrant community, regardless of immigration status in my role as Development Director at the United We Dream Network.
Before Global Kids, I didn't know you could be an organizer or an advocate on policy for young people. Global Kids opened my mind to the possibility of professions dealing with issues that I was passionate about and that were about empowering others.
Popular in the Community