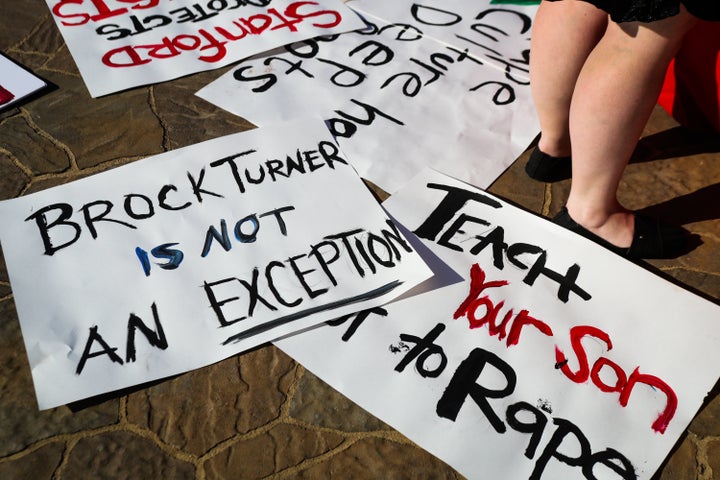 Tragedy brings opportunity ― opportunity to refocus our priorities, to raise our level of awareness. So when the Stanford rape case unfolded, I found myself looking for the opportunities. There are many striking elements to the case. There is the privilege on display, the ridiculously lenient sentencing and subsequent backlash. There is the powerful and emotional victim's statement, which has reverberated across the country. And there are the exceptional Swedish graduate students, Carl-Fredrik Arndt and Peter Jonsson, whose example has served as a heartwarming testament to the kindness of strangers, but also as a damning indictment on a culture that sees their actions as heroic when they should be the norm.
Their example presents an opportunity to help rewrite the narrative of rape culture and the role men can play in combating it. Men are needed. Not everyone can be like the Swedes, who were at the right place at the right time, who saw a vicious sexual assault taking place and intervened in spectacular fashion, chasing the rapist down and pinning him until police arrived. Or can they?
Men like them are needed, men who truly see women's basic humanity. Across the United States, men represent a small number of those involved in combating sexual assault. In Michigan, I work as a Sexual Assault Nurse Examiner (SANE). In the state's capital city, in the shadow of Michigan State University, I assess, treat and document injuries, collect forensic evidence, provide acute and psychosocial care to sexual assault patients, and prepare to testify in court on their behalf. I also happen to be a man.
Every day I confront normalized male sexual violence and the women blamed for it. I initially came to SANE work because I saw it as a natural extension of my career dedicated to women's health. My work as a SANE has brought increased awareness of the tremendous cultural forces shaping our actions, including my own. Now, it is as if a stagehand has pulled the curtain back on our culture, allowing me to see the actors, props and scripts used to glorify male sexual violence and impugn women.
"I confront victim blaming, whispered repetitively from the mouths of those savagely assaulted sitting before me. I let them know that no man has the right to do that to them. I hope it helps start the healing process.""
Awareness is imperative. It must be thoughtful and deliberate. It must compel men to think outside of themselves and see the scene playing out onstage for what it really is. Consider a mundane comparison: I started SANE work around the time my wife and I replaced the roof on our house. I knew sexual assaults occur just as I knew every house has a roof. But I could not tell you much of either until I set my mind to it. I have been introduced to two new worlds that have always been around me if I had only paid attention. I have learned new vocabularies, I have learned about damage and about emotional tolls because life circumstances literally brought one to my doorstep and figuratively brought the other.
Awareness has helped inform my practice. I confront victim blaming, whispered repetitively from the mouths of those savagely assaulted sitting before me. I let them know that no man has the right to do that to them. I hope it helps start the healing process; that it resonates differently with them than if they heard it from a woman, from whom they might expect to hear the same words. I encounter hostility from women who question my motives in working with this population, as I recognize the deep wounds and divisive nature of rape culture and as I recognize that patients want mostly to be believed and treated with competence and compassion.
There are other men who have chosen to be aware. One is Matt Lynn. He is the Prevention Education Outreach Coordinator at Our Voice, the rape crisis center in Asheville, North Carolina, and a good friend and roommate of mine in college. He came to sexual assault advocacy serendipitously, following a stint in the Peace Corps and almost 10 years running an NGO overseas. His husband requested a tour of Our Voice and Matt went along to be supportive. "The Executive Director gave us a tour," he says, "and I was blown away by their innovative programs" that address the cultural forces that normalize and perpetuate sexual violence. He ended up getting hired himself and now speaks to middle and high school students about sexual assault, passionate about cultivating "a culture of consent and respect", as he calls it.
Steve Kwasnik is another male involved in combating rape culture, having at one point seen up close the victim blaming and family shaming associated with sexual assault earlier in life. That experience served as a driving force to become a sex crimes prosecutor in Lansing, Michigan, motivating him to help victims today. Steve speaks with sincerity and conviction. "I make the case to my juries that all of us have fundamental human rights and one of those is who you have sex with and when. You cannot give that right away."
Awareness of rape culture can move men toward empathy and understanding. It brings fresh perspective and the realization that we can no longer deny how male behavior dictates female lives. Men can go anywhere, anytime, and can drink or do anything, largely unencumbered by the threat of male sexual violence. We know the same is not true for women, who avoid certain areas at night, travel in groups and are perpetually aware of their behavior and surroundings. We can no longer deny that the attention for male violence is deflected from the men who perpetrate the violence onto the women affected by it.
And we can no longer deny the role men can play in combating sexual violence.
It is said that the wings of a butterfly can cause a storm thousands of miles away―a fitting metaphor for the efforts of men who recognize, confront and aim to defeat the culture that gives rise to sexual assault.
A storm is needed. As men, we can help. Until we do, our sisters, daughters and friends will fill my hospital's exam room, Matt's crisis center and Steve's courtroom. We can be the butterflies that create a storm, but only if we collectively become more aware. We can become an active part of the solution and not just an overwhelming part of the problem. There are many ways to become more aware and engaged in combating rape culture. We can have formal training as victim advocates, prevention education outreach coordinators, prosecutors, or SANEs. Or we can simply be graduate students on a bicycle, like Carl-Fredrik Arndt and Peter Jonsson. We can be professionals or ordinary men who recognize without qualification that women do nothing to deserve to have their humanity stolen. We can believe victims, who overwhelmingly tell the truth. We can stop to intervene rather than be complicit with rape culture. We can add more of our voices to the chorus of dedicated women who have long worked to bring about change. We can ask the women with whom we share our lives and homes what they think about the realities of life on both sides of the curtain.