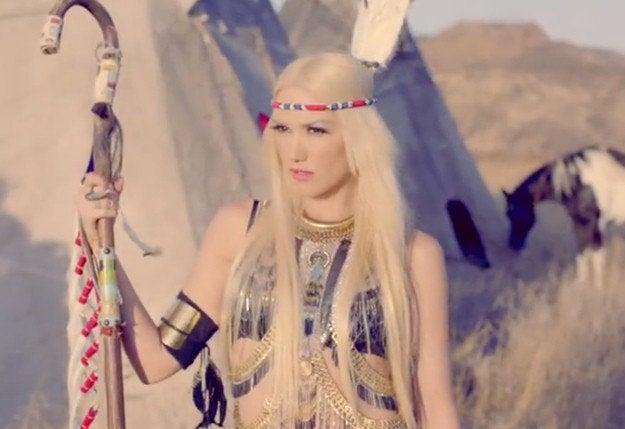 At first glance, No Doubt's music video for their new single, "Looking Hot," looks like a glossy piece of pop-rock -- Gwen Stefani & Co. find themselves playing cowboys-and-Indians, with the lead singer rocking feathered headdresses, beaded necklaces and native prints galore. The band runs around a Wild West set, rides some horses, and even partakes in a tribal dance around a fire. Set to a blazing soundtrack, it's all meant to be a colorful good time. You can watch it here.
But within 48 hours of releasing the video last week, No Doubt pulled it off of YouTube and issued this apology:
"As a multi-racial band our foundation is built upon both diversity and consideration for other cultures. Our intention with our new video was never to offend, hurt or trivialize Native American people, their culture or their history. Although we consulted with Native American friends and Native American studies experts at the University of California, we realize now that we have offended people."
While I find it hard to believe that No Doubt didn't anticipate this controversy, I can relate to their naïveté and well-meaning apology.
I started NATIVE(X) as a fashion brand inspired by the Chief Joseph wool print. With the story of the great Nez Perce leader in mind, I wanted to make clothes that started a conversation not just about the Native-inspired pattern, but also about Chief Joseph and his people. However, as the non-Native owner of NATIVE(X), I didn't fully understand the historical implications of my idea when I started the business.
Just like No Doubt, I launched a product that didn't sit well with the Native community. I intended to use fashion as a catalyst to promote cultural awareness, but overlooked the involvement of the very culture that I was attempting to create awareness around. In hindsight, this seems like an obvious component of the idea.
I received a complaint from Ojibwe tribe member Caleb Dunlap who saw my ad for the Native-inspired shorts. In a heated debate, Caleb turned to the NATIVE(X) Facebook page, venting his concerns about the exploitation of Native people, stereotyping Native America as one culture, and Native portrayal in fashion and film. After an hour, our conversation ended amicably with the thought that maybe NATIVE(X), with a few adjustments, could help do good and increase awareness. From here, there were two options; ignore Caleb and continue selling the popular shorts or rethink the NATIVE(X) concept altogether.
I look at NATIVE(X) today and more than anything, the conversations with members of the Native community have shaped what we do. I wasn't told what to do, but instead, through these conversations I have a better understanding of the culture and why they take offense to videos like No Doubt's. The majority of Native depictions, historical or contemporary, are a product of a non-native's mind. The Native community wants to represent their true identity in pop-culture and history instead of being stereotyped as noble savages dawning a headdress and throwing spears. It's not a matter of being overly sensitive as many people think.
At NATIVEX we work with Native artists to produce a collection of accessories. We help market their art and story to a larger audience while educating from a Native perspective. The authentic Native voice that I had originally excluded is now driving the brand.
Giving back to the community in a sustainable fashion permeates everything we do. The goal is twofold:
As part of our mission to build a platform for Natives to share their story, we spoke with five influencers in the design, art, and blogger community to build awareness around Native American Heritage Month. It gives us a chance to highlight the diverse culture and resilience of the first inhabitants of the land we now reside on. The interviews focus on the potential of Heritage Month, educating the greater public about Native culture, and developing the next generation of Native influencers. Each week during the month of November, you can read these interviews on the NATIVE(X) site.
Calling all HuffPost superfans!
Sign up for membership to become a founding member and help shape HuffPost's next chapter