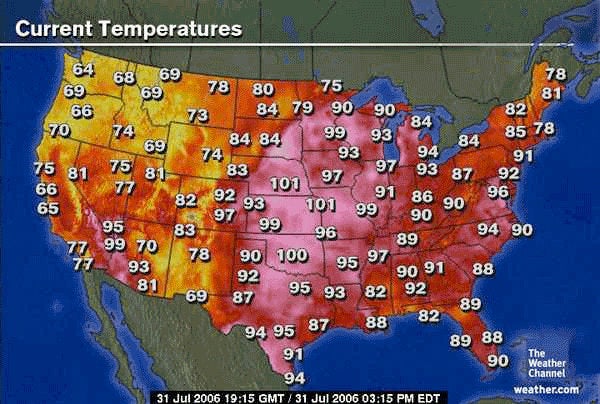 Karl Rove Flees the Country, Skips Compelled Testimony Before Congress
Karl Rove failed to appear under subpoena for his scheduled July 9 testimony before the House Judiciary Committee to discuss the Bush administration's role in the firing of nine U.S. attorneys in 2006 and the prosecution of former Alabama governor Don Siegelman. Instead of appearing in front of the committee, Rove left the country. His lawyer continued to claim that Rove is "immune" and protected by executive privilege, reminiscent of last year's episode when Rove ignored a subpoena from the Senate Judiciary Committee to discuss similar politicization of the Justice Department. The House Judiciary Committee intends to vote later this month on whether to charge Rove with civil and criminal contempt for evading the most recent Congressional subpoena.
Schwarzenegger Calls Bush Administration Approach to Global Warming "Bogus"
California Governor Arnold Schwarzenegger told reporters the Bush administration's failure to act on cutting emissions proved that it did not believe in global warming, and that any last minute attempts to act before Bush leaves office would be insincere.
"If they would have done something this year, I would have thought it was bogus anyway," Schwarzenegger said. "You don't really have an effect by doing something six months before you leave office ... it doesn't sound to me believable at all. The sincerity is not there."
Schwarzenegger's strong criticism of the failed climate policies of the Bush administration came just hours after the Environmental Protection Agency issued a report promising no new action to cut emissions and calling for 120 days of public comment, cementing Bush's legacy as an obstacle to progress in solving the climate crisis.
Antarctic ice shelf on verge of collapse

Scientists warn that a massive ice shelf near the base of the Antarctic Peninsula is hanging by a thread and could disintegrate very rapidly once it breaks off, despite the fact that it is now the middle of winter in the southern hemisphere.
Satellite images from the European Space Agency show that the Wilkins shelf - the largest to be threatened so far - is "hanging by its last thread." The thin ice bridge connecting the 5,600 square mile ice shelf to Charcot Island is currently fracturing. The fact that it is continuing to melt in the depths of winter worries scientists, who believe that warm ocean water is contributing to the melting from underneath.
Scientists previously predicted the shelf would not collapse until the early 2020s, providing further evidence that the planet is warming more quickly than previously thought. A recent collapse in the same area caused a loss of roughly 520 square miles of ice, the first-known collapse to occur during the Southern Hemisphere winter. So far seven shelves on the peninsula have collapsed due to climate change.
Bush Library Fundraiser Solicits Cash for Access to Administration Inner Circle
Bush-Cheney campaign fundraiser and lobbyist Stephen Payne was caught on tape offering access to key members of the Bush administration in exchange for "six-figure donations to the private library being set up to commemorate Bush's presidency," according to the UK Sunday Times. Seeking to confirm rumors that library fundraisers are offering favors in exchange for hefty donations, the Times launched an undercover investigation and taped Payne dangling the promise of private meetings with Dick Cheney, Condoleeza Rice and other Bush insiders - perhaps even Bush himself - in exchange for $250,000 donations to the planned library. Southern Methodist University (SMU) in Dallas, TX announced in February that it would host Bush's $200 million presidential library, a decision immediately met with widespread protests from faculty, administrators, staff, and Methodist ministers. The library plan includes a think tank designed to "promote the vision of the president" and "celebrate" Bush's presidency. Karl Rove will serve as a key advisor to the library, which will be guided by a design firm rather than by historians who typically oversee the set-up of outgoing presidents' archives. Payne promised the undercover reporter that he could set up a D.C. meeting with Bush insiders for an exiled Asian politician in exchange for a fee of roughly $750,000, of which $250,000 would go to the library with the rest pocketed by Payne's own lobbying firm, Worldwide Strategic Partners.
U.S. Terrorism Watch List Tops 1 Million Records
The American Civil Liberties Union announced that the FBI's watch list of terrorism suspects just surpassed 1 million records, corresponding to about 400,000 people. The ACLU asserts that the number of records renders the list ineffective.
The government's "no-fly" list prior to the September 11 terrorist attacks contained just 16 people considered threats to aviation. The TSA's list swelled to over 100,000 names last year and now stands at about 50,000 names after a reluctant cleanup. Targeted passengers face additional screening, travel bans or even arrest, and currently have no right to challenge their inclusion on the list, the ACLU said.
"Members of Congress, nuns, war heroes and other 'suspicious characters,' with names like Robert Johnson and Gary Smith, have become trapped in the Kafkaesque clutches of this list, with little hope of escape," said Caroline Fredrickson, director of the ACLU Washington Legislative Office.
Mukasey Suggests Officials Behind Torture Authorization 'Cannot and Should Not' Be Investigated or Charged
Attorney General Michael Mukasey testified before the Senate Judiciary Committee July 9 that he "cannot and should not" prosecute Bush administration officials who authorized torture even though they violated federal and international law. Mukasey said any investigation of CIA interrogators who tortured detainees or the officials who authorized torture would be ill-advised. "I think what lawyers have to do is focus on what's legal and not be concerned with what is politically acceptable later on. And if we go after them and prosecute them that's exactly what they will be concerned about," he told the committee. Less than a year ago, Mukasey had a different outlook, stating the Bush administration's infamous torture memo was "worse than a sin, it was a mistake."
McCain Adviser Phil Gramm Describes U.S. As "A Nation of Whiners"
Phil Gramm, former Texas senator and current advisor to Sen. John McCain's presidential campaign, told the Washington Times he thinks Americans are overly pessimistic about current economic conditions and claims there's no recession in sight.
"We have sort of become a nation of whiners," he said. "You just hear this constant whining, complaining about a loss of competitiveness, America in decline," said Gramm.
"We've never been more dominant; we've never had more natural advantages than we have today," he said. "We have benefited greatly" from globalization in the last 30 years. "Thank God the economy is not as bad as you read in the newspaper every day," Gramm said. McCain responded to the remarks by saying that Gramm "does not speak for me," although McCain remarked in April that "A lot of our problems today, as you know, are psychological." The Center for American Progress points out that Gramm played a key role in gutting many of the institutions designed to keep the economy sound and that financial maneuvers enabled by Gramm's legislative measures would become "the heart of the subprime meltdown."
Arlington Cemetery Whistleblower Canned For Exposing Limits on Media Access to Soldiers' Funerals
"Had I not put my foot down, had I just gone along with it and not said regulations were being violated, I'm sure I'd still be there," Gray told the Post recently. Gray blew the whistle after observing that the cemetery's deputy superintendent, Thurman Higginbotham, had moved the media area 50 yards away from funeral sites, obstructing photography and making the service inaudible. Through at least 2005, reporters were stationed so that they could hear the prayers and the eulogies and film the handing of the folded flag to the next of kin. Gray says that cemetery officials began calling the families of the dead to encourage them not to allow media coverage at the funerals.
War Coverage Buried by Networks, Reporters Say
Data compiled by Andrew Tyndall, a television consultant who monitors the three network evening newscasts, reveals that coverage of the Iraq war has been "massively scaled back this year." The three major newscasts have shown 181 weekday minutes of Iraq war coverage so far this year, compared with 1,157 minutes for all of 2007. The "CBS Evening News" has devoted the fewest minutes to the war, 51, versus 55 minutes on ABC's "World News" and 74 minutes on "NBC Nightly News."
The networks have also pulled reporting staff out of the war zone. CBS News no longer stations a single full-time correspondent in Iraq after being "drastically downsized" in the spring, according to CBS News correspondent Lara Logan. No American television network has a full-time correspondent in Afghanistan.

Send tips about other stories the mainstream media forgot to report: unearthednews@gmail.com
Related
Popular in the Community