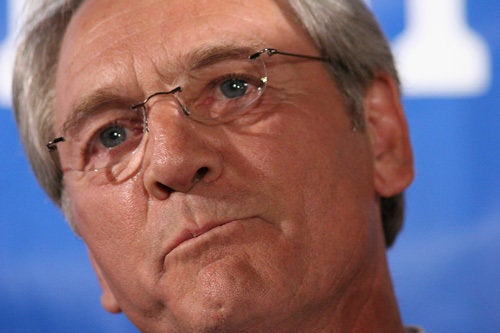 War Profiteering/War Propaganda
In a superb example of print journalism, the New York Times reported last Sunday the sordid story of how television network military analysts with undisclosed financial ties to Pentagon contractors had been used by the White House and Pentagon to sell the Iraq War to the American people. In a sophisticated propaganda effort that would make Joseph Goebbels and Edward Bernays green with envy, the Pentagon had turned some fifty former officers, posing as independent experts, into hand puppets mouthing pro-war talking points on Fox News, ABC, CBS, CNN and NBC. "It was them saying, 'We need to stick our hands up your back and move your mouth for you,'" Robert S. Bevelacqua, a retired Green Beret and former Fox News analyst described the process.
The officers, most of whom were connected to military contractors with a direct financial interest in the war, were granted favorable treatment including special access to the Pentagon brass, valuable business and military information and paid junkets to Guantanamo and Iraq. Those who veered from Pentagon talking points were swiftly blackballed or fired.
Corporate Spies
A private security firm employed former Secret Service and CIA agents to spy on Greenpeace, U.S. PIRG, Environmental Media Services and other environmental organizations on behalf of corporate clients including Monsanto, Halliburton, Wal-Mart and Allied Waste. Documents obtained by Mother Jones, which broke this explosive story, reveal the spying lasted from the late 1990s at least through 2000. The company paid private spies to collect phone records and other private information on prominent activists, to root through dumpsters and infiltrate the staffs of environmental organizations.
Dead Fish
In an unprecedented move, the Pacific Fisheries Management Council voted recently to cancel the salmon fishing season off the coast of California and much of Oregon because of shockingly low chinook salmon populations in the Sacramento River. Don McIssac, a council member, stated that, "Collectively, from Canada to Mexico, this will be the worst ever season off the West Coast." California Gov. Arnold Schwarzenegger has declared a state of emergency and requested federal funding to rescue the state's fishing industry.
Captured Media
Predictably, none of the Sunday morning talk shows mentioned this critical story. They instead focused on important national issues like Obama's refusal to wear a flag lapel pin (Face The Nation) (Tim Russert, Meet The Press, Fox News Sunday with Fox News Analyst Karl Rove) and his bowling scores (Meet The Press with Tim Russert), and his patriotism (McLaughlin Report).
Voter Fraud, Right Wing Justice
Alabama Governor Don Siegelman, fresh out of jail, talked to us about his Karl Rove-induced prosecution. Siegelman now has clear proof that his 2002 gubernatorial election was stolen by the GOP. After Alabama's votes were counted and Siegelman had won, Republican thugs sent home poll workers and "recounted" the Baldwin County election results and then declared the Republican challenger Bob Riley the new winner. State and county Democrats quickly requested another recount but Alabama's notorious Republican Attorney General William Pryor had the ballots sealed and illegally certified. With Pryor's help, Siegelman was then jailed for nine months on trumped up charges manufactured by two Bush-appointed U.S. Attorneys under the direction of Karl Rove. On March 28th, an Appeals Court ordered his release pending appeal of his conviction. Watch the interview with Don Siegelman on GoLeft.tv.
Killing Buffalo
The federal government and Montana state officials have slaughtered nearly one third of Yellowstone's buffalo herd so far this year, according to the Natural Resources Defense Council. NRDC has called for a moratorium on the unnecessary killing and hazing of buffalo that venture out of the western boundary of the park during the annual migration into the herd's traditional calving grounds on the Horse Butte peninsula. The purported aim of the slaughter is to keep Horse Butte's private cattle herds safe from potential disease transmission. The problem with this explanation is that there are no cattle in the Horse Butte area and local residents support the wild migration. Furthermore, NRDC reveals that "there are no documented cases of cattle contracting brucellosis from Yellowstone buffalo, and cattle in the vicinity have been vaccinated against the disease."
Record Oil Profits
The U.S. Department of Energy estimates that Saudi Arabia and other OPEC member nations are poised to collect $1 trillion from oil exports this year, with the largest chunk of the cash flowing from the world's biggest oil consumer, the United States. The U.S. imported 5.8 million barrels per day of OPEC oil in January, the highest level for any month since July 1977. U.S. oil demand is expected to average 20.6 million barrels a day this year.
Screwed Again by the Saudis
Meanwhile, despite Bush's years of pandering and handholding with Saudi's Crown Prince (now King) Abdullah, the Saudis have refused Bush administration requests that they increase oil production to ease America's fuel crisis. Saudi Arabia's King Abdullah has ordered that newly discovered oil deposits be left in the ground to preserve oil wealth for future Saudi generations. "Our children need it," the King explained. The Kingdom stated in the late 1990s that fossil fuels would meet energy demands "for only about another 200 years. "
Corporate Welfare
Meanwhile, riding the gravy train of OPEC's artificially manufactured shortages, ExxonMobil announced the largest profits in the history of the world in February, causing some in Congress to question whether the oil industry should continue to be lavished with billions in subsidies. Oil industry toadie Glenn Beck responded to Congressional criticism of the oil industry's record profits, saying we should "be thankful for Big Oil."
Poisoning Our Water
PA Administrator Stephen Johnson has proposed further weakening America's drinking water protections, in ways that would most severely impact the country's poorest communities. Under direct pressure from the White House and acting against the advice of EPA's own scientific advisers, the EPA has cut funding for water infrastructure, opposed strong health standards for rocket fuel and other chemicals in our water supply, and decided to derail regulation of the growing levels of pharmaceuticals and chemicals from personal care products in America's drinking water.
Katrina Refugees
Nearly three years after Hurricane Katrina, roughly 40,000 families are still living in mobile homes and trailers throughout the Gulf Coast, many erected in their driveways next to destroyed homes. The government issue "temporary" shelters are known to be contaminated with toxic formaldehyde fumes. The urgency for action is escalating with hurricane season less than 2 months away.
Corporate Welfare
The biggest U.S. companies are largely safe from IRS audits, according to a study by TRAC, a research group affiliated with Syracuse University. TRAC points to "a historic collapse in audits" of major corporations, which are at a 20-year low. Only one in four large corporations (those over $250 million) are now being audited compared to three out of four in 1999. Meanwhile, audits of middle class and working families have increased dramatically with 10% now enduring IRS audits, more than double the odds in 2000.
Miserable Media
One of the reasons you many not have heard these news items in the mainstream media -- after years of dramatic cuts that have eliminated all investigative reporters and foreign news bureaus at the major networks -- CBS has now announced additional deep cuts across its editorial, technical operations and news bureau desks. The total cuts amount to 1 percent of the meager remaining network's news staff.
Global Warming Lawsuit
Eighteen states, three cities and 11 environmental groups recently sued to force EPA to regulate greenhouse gases under the Clean Air Act, accusing Administrator Johnson of failing to live up to his promise that EPA would respond to the April 2007 Supreme Court decision requiring EPA to limit global warming pollution from new cars and trucks.
Protesting Coal Plants
Eight people were arrested on April 1st while protesting the expansion of Duke Energy's Cliffside coal-fired plant. Two of the protesters were shocked with Taser guns after chaining themselves to bulldozers during the peaceful protest, which was part of an international series of actions called Fossil Fools Day designed to call attention to the urgent threat of catastrophic global warming.
Send tips about other stories the mainstream media forgot to report: unearthednews@gmail.com

Related
Popular in the Community