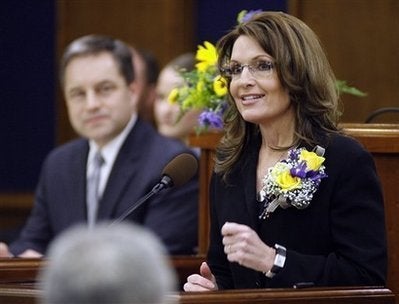 This recurring blog series features a collection of recent news stories about threats to public health, our democracy and the planet which are ignored or underreported by the handful of corporate mainstream media conglomerates, TV pundits, and radio shock jocks who've turned the "news" into little more than an entertainment and product placement opportunity and let down the American public.

Rep. Conyers Subpoenas Karl Rove: "It's Time For Him to Talk"
House Judiciary Committee Chairman John Conyers issued a subpoena to Karl Rove requiring him to testify about his role in the Bush Administration's politicization of the Justice Department, including the U.S. Attorney firings and the prosecution of former Alabama Governor Don Siegelman.
"I have said many times that I will carry this investigation forward to its conclusion, whether in Congress or in court," Conyers said in a statement announcing the subpoena.
Rove refused to appear in response to a Judiciary Committee subpoena in the last Congress, claiming that executive privilege protects even former presidential advisers from compelled Congressional testimony. That position was supported by then-President Bush, but rejected by U.S. District Judge John Bates.
Rove's attorney, Robert Luskin, forwarded the subpoena to the Obama White House, asking the President's opinion on whether Bush administration officials retain their ability to assert executive privilege. President Obama has previously dismissed the claim of "absolute immunity" as "completely misguided."
Fox News' Bill O'Reilly interviewed Rove Wednesday night, portraying the subpoena as a "witch hunt," and offered Rove a spot in the Fox News bunker. "Now, if you need a place to hide out, we have it here at the Factor. We have all kinds of tunnels and places we can put you," O'Reilly said.
"I don't need to hide," Rove replied. "I don't need to hide."
The subpoena requires Rove to testify in front of Conyers' Judiciary Committee next Monday, February 2nd.
"Change has come to Washington, and I hope Karl Rove is ready for it. After two years of stonewalling, it's time for him to talk," Conyers added.

King Coal and Nuclear Set to Benefit from Senate stimulus package
The coal industry's indentured servants in the Senate managed to include more than $4.5 billion in benefits for King Coal in the Senate version of the economic stimulus package. West Virginia Senators Robert Byrd and Jay Rockefeller, whose state has been devastated by mountaintop removal coal mining, injected several of the so-called "clean coal" projects into the bill.
Sen. Rockefeller already secured $2.8 billion for the coal industry in last year's massive Wall Street bailout.
Coal-friendly provisions in the latest Senate draft include $2 billion for "near-zero emissions" power plants designed to capture and sequester carbon dioxide; $1 billion for the Department of Energy's Clean Coal Power Initiative; and over $1.5 billion for carbon capture at industrial plants.
The bill also aims to secure billions in loans for new nuclear plants and coal-to-liquid fuel plants. Coal-to-liquid fuels would double greenhouse gas emissions over conventional gasoline and require up to seven gallons of water for every gallon of fuel produced.
"Clean, carbon-neutral coal can be a 'green' energy," Byrd said in a statement announcing his contributions to the stimulus package.
As the New York Times editorialized last week, the myth of "clean coal" has collapsed in the wake of a recent billion-gallon spill of toxic coal ash at the TVA Kingston coal plant, which buried 300 acres of land, destroyed several houses and devastated the Emory River and other local waterways in Tennessee.
The editorial skewered "the coal industry's cheery 'clean coal' campaign, whose ads would have us believe that low-polluting coal is here or just around the corner. It is neither," the Times' editors wrote.

Obama blocks some of Bush's last-minute environmental rollbacks but others may survive
Several other controversial, late-term environmental regulations issued by the Bush administration remain to be addressed, including a major assault on the Endangered Species Act, initial approval for oil shale development on Western lands, oil and gas drilling leases near several national parks, a rule allowing mountaintop removal mining companies to fill stream beds with toxic mining wastes and debris, and initial steps toward opening new offshore oil rigs off the Atlantic, Gulf, Alaska and California coasts.
Although the Obama administration retains the ability to review many of those 11th-hour decisions, it appears that on several fronts the outgoing administration explicitly tried to finish its rule-making early enough to tie Obama's hands and make overturning them increasingly difficult. Since some of the measures - such as the oil shale regulations - were published in the Federal Register and cleared a statutory waiting period before taking effect, it could take months or years to reverse them.
"The number of examples where they succeeded far exceeds the examples where they failed," according to John Walke, clean-air director for the Natural Resources Defense Council.
Study Confirms that Clean Air Regulations Work, Extend U.S. Life Expectancy
A new study confirms that laws aimed at reducing air pollution in the U.S. have added nearly five months to average U.S. life expectancy over the past two decades. Between 1978 and 2001, Americans' average life span increased almost three years to 77, and as much as 4.8 months of that can be attributed to cleaner air, researchers from Brigham Young University and Harvard School of Public Health reported in a federally funded study published in the New England Journal of Medicine.
Dr. Joel Kaufman, an expert on environmental health at the University of Washington, said the study "shows that our efforts as a country to control air pollution have been well worth the expense."
Passage of the Clean Air Act and the creation of the Environmental Protection Agency have helped to protect people from particulate matter, carbon monoxide and other pollutants. Scientists have long known that particulate air pollution from factories and coal-burning power plants raises the risk of lung disease, heart attacks and strokes.
"We saw that communities that had larger reductions in air pollution on average had larger increases in life expectancies," said the study's lead author, C. Arden Pope III.
Palin Administration Plans to Sue Federal Government Over Endangered Whales
Alaska Governor Sarah Palin's administration announced plans to challenge the listing of the Cook Inlet beluga whale under the Endangered Species Act, the second time in a year that her administration has sparred with the federal government over an ESA listing. Last summer, Alaska sued the Interior Department for listing the polar bear as threatened, at the behest of the oil industry.
NOAA scientists estimate there are only 375 Cook Inlet belugas left, almost half the 1994 population estimate. The whales have been protected under the Marine Mammal Protection Act since 2000, but that alone was not enough to help the species recover from dwindling numbers. A 2005 government estimate put the number at an all-time low of 278 Cook Inlet belugas, prompting federal officials to list the species as endangered last Fall.
The Palin administration argues that the belugas show signs of recovering and that additional regulation is unnecessary. "The State of Alaska has worked cooperatively with the federal government to protect and conserve beluga whales in Cook Inlet," Palin said last week. "This listing decision didn't take those efforts into account as required by law."
Echoing last summer's challenge over the polar bear, the Palin administration's objections are based on the fear that additional safeguards will interfere with oil and gas development. "I am especially concerned that an unnecessary federal listing and designation of critical habitat would do serious long-term damage to the vibrant economy of the Cook Inlet area," Palin said in 2007.
In the ongoing fight over the polar bear listing, the Palin administration has tried to cast doubt on the underlying science by citing the work of global warming skeptics, one of whom acknowledged receiving funding from the American Petroleum Institute and ExxonMobil for his work.
In this latest legal challenge, Palin's administration has attacked the accuracy of beluga population estimates, citing the "questionable use of computer population modeling." And it has challenged "the contention that the belugas in Cook Inlet are a separate and distinct population from other belugas." Meanwhile, the state's claim that Cook Inlet beluga's are recovering is at odds with the judgments of federal scientists, whose systematic surveys indicate this population is not recovering."

NSA Whistleblower Reveals Bush Administration Snooping on U.S. Citizens, Journalists

Former National Security Agency analyst Russell Tice came forward less than a day after George W. Bush left office to reveal that the Bush administration's warrantless surveillance program targeted U.S. journalists and the domestic communications of all Americans, not just those suspected of communicating with overseas terror suspects.

Tice revealed the details to MSNBC 'Countdown' host Keith Olbermann in two interviews last week, and confirmed his role as one of the anonymous sources who spoke with The New York Times for its 2005 story on the government's illegal wiretapping program.
Tice described his own role in the spying program as trying to "harpoon fish from an airplane." He was charged with monitoring U.S. journalists, ostensibly to eliminate them as suspects for further scrutiny, but Tice soon discovered that the NSA was stockpiling news organizations' communications "24/7, you know, 365 days a year -- and it made no sense," Tice said.
James Risen, a Pulitzer Prize-winning New York Times reporter and co-author of the 2005 NSA spying story, joined Tice on 'Countdown' to reveal that he was targeted for surveillance during his investigations. "What I know for a fact is that the Bush administration got my phone records ... we know for a fact that they showed my phone records to other people in the federal grand jury, and we have asked the court to investigate that," he said.
Risen asserts that the point of the program was to intimidate whistleblowers inside the government from speaking to journalists about the illegal spying on Americans, rather than to intimidate the journalists themselves. The effect, Risen said, is to "frighten people in the government from talking ... to have a chilling effect on potential whistle-blowers in the government to make them realize that there's a Big Brother out there that will get them if they step out of line."
President Bush asserted after the 2005 Times story that the NSA only targeted those in the United States who were communicating with terrorists overseas, and that a court order was required to monitor Americans' communications. Tice confirmed that, in fact, "the National Security Agency had access to all Americans' communications," including "faxes, phone calls and their computer communications."
"It didn't mater whether you were in Kansas in the middle of the country and you never made any ... foreign communications at all. They monitored all communications," Tice explained.

Related
Popular in the Community