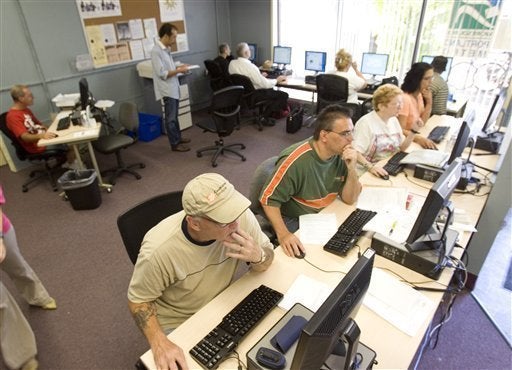 Unemployment can be lonely. "It's isolating to be unemployed and at home while most of the rest of the world is working," said Jennifer Hong, a mother of three in South Carolina. So she did something about it.
"I've been unemployed for two years. I couldn't find a forum or a place for people like myself to discuss unemployment issues so I created one," said Hong, who launched www.unemployed-friends.com last July. "I didn't think it would take off, but people started coming and it really grew."
Hong said the site gets about 5,000 unique visitors a day and that there are 200 to 300 members online at any given time. People write in the forum not only about the frustrations of the jobless life, but also about what's going on in Washington, D.C. with extensions of unemployment benefits -- and how they can get involved.
Hong's may be the only site specifically designed as a forum for casualties of the recession, but the unemployed pool their emotional and logistical resources in lots of places online. At www.opencongress.org, a Sunlight Foundation site that enables readers to track legislation, bills regarding unemployment benefits frequently top the "most viewed" box on the site's "issues" page.
"One of the things that surprises us is the number of people who comment on and follow closely bills to extend unemployment benefits," said Sunlight's Bill Allison. "Some of whom are almost like self-organizing self-help groups where people share information on benefits in their states."
That's certainly the case with the page for a previous unemployment benefits extension -- the page has 57,000 comments, many of them from people explaining to each other how the law might affect them where they live.
Before adjourning for its two-week Easter break at the end of March, Congress failed to extend the Emergency Unemployment Compensation program, which provides up to 53 weeks of unemployment benefits on top of the 26 weeks provided by states. The program lapsed on April 6, and some benefits recipients have been told they will soon stop receiving checks (though it's unclear that state workforce agencies have actually stopped their EUC programs since people generally expect Congress to get its act together next week).
HuffPost readers: If you prematurely lost or expect to lose access to Emergency Unemployment Compensation because of the lapse, tell us about it -- email arthur@huffingtonpost.com.
Mike Thornton, a freelance writer in Rochester, N.Y. has been blogging for the Examiner about every incremental development since Congress began its game of chicken with unemployment benefits before the break.
"It just happened to hit me that what Congress is doing is using the unemployed as pawns for their political battles," said Thornton in an interview with HuffPost. (Thornton himself is not receiving unemployment benefits.) "I get a little obsessed with things and I found a niche."
Thornton said his readership has grown steadily and that he receives 15 to 20 emails a day from people desperate to know what Congress might do -- and also just to tell him what's happening on the ground. "I'm getting some really heartbreaking stories from some people who are really going through some difficult times, and it would seem to me I'm more of a venting source," he said. "I respond to every letter I get."
Hong said that at www.unemployed-friends.com, readers are most interested in whether Congress will add an additional "tier" of benefits to the four tiers (consisting of several weeks each) available under the Emergency Unemployment Benefits program. In some states, laid-off workers can get 99 weeks of benefits.
Just before the break, Sen. Tom Coburn, the Oklahoma Republican who has led the party's stand on deficit reduction and blocked Democrats' efforts to extend benefits, said that Congress would push the lifeline to 103 weeks and beyond -- but neither Democratic nor Republican leadership has confirmed that that will happen.
Hong said she ran out of benefits last week. Fortunately, her husband found work after they both lost their jobs in the Michigan automotive industry and moved to South Carolina. They have three young children. "I don't know how long I can hold on," she said.
REAL LIFE. REAL NEWS. REAL VOICES.
Help us tell more of the stories that matter from voices that too often remain unheard.