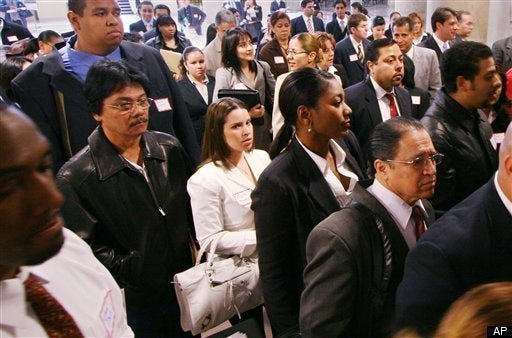 When Catherine Gettings was laid off last year, she didn't just lose her source of income. She entered a seemingly irreversible purgatory, in which the longer she remained unemployed the more likely she was to stay that way.
She'll never forget the day she was fired, she said -- August 14, 2009 -- because it marked the start of an entirely new phase of her life. Once a store manager at a Dress Barn in Midlothian, Va., earning $21 an hour, she is now barely scraping by on unemployment benefits. As she has gradually shed health insurance, a 401(k), credit cards, a car and even a bank account, she is now two months behind on her mortgage and says she could lose her house when her benefits expire in January.
Gettings' situation is all too familiar. Of the nation's unemployed workers, nearly six in 10 have been job-hunting for more than a year, according to a survey released Thursday by the John J. Heldrich Center for Workforce Development at Rutgers University. A third have searched for more than two years.
The unemployed, which comprise nearly 10 percent of the nation's workers, are seeing their financial situation worsen. A full 80 percent of the survey respondents said they've had to spend less on something formerly fundamental in their lives -- things like food, housing or health care -- with 40 percent having to forgo essentials entirely. By a margin of nearly two to one, most unemployed workers believe they will not return to the condition they were in before the Great Recession began.
Like many in her position, Gettings foresees no improvement in her situation, despite almost daily job-hunting and despite her natural optimism. She won unemployment benefits after making a case that she was fired through no fault of her own: The sales associates who worked under her weren't properly recording their hours, she said. But those benefits, which now sustain her, also carry a crippling stigma.
"I've been on multiple interviews," she said. "The first thing they ask: 'Why did you leave your last job? Tell me exactly what happened.' When you explain to them what happened, nobody wants to hire you."
Unemployment tends to be a self-perpetuating condition. When the survey began in August last year, 25 percent had been unemployed for more than a year. In March this year, that figure had increased to 48 percent. By November, it was 64 percent.
"As people get further away from their last experience with employment, their most important asset deteriorates, and that is their network," said Carl Van Horn, director of the Heldrich Center and a co-author of the study.
As the unemployed lose job contacts, the contacts they do have turn against them.
"Employers sometimes become suspicious, of what's wrong with this person," Van Horn said. "A stigma attaches to them."
Gettings, 54, said she searches the Internet daily for job openings. She contacts people two or three days a week. She even went to a resume class and re-designed her resume -- all to no avail. During a recent interview, she said, her prospective employer told her she was "overqualified."
"I didn't care. Let me be a cashier. Let me be a sales associate," she said. "Nobody's hiring. Nobody's hiring. Nobody's hiring."
The jobs crisis has become an epidemic. According to Van Horn, three out of four adult Americans have a family member or close friend who has experienced a job loss. In Gettings' case, almost every member of her family, she said -- her husband, her sister, her brother-in-law and her 31-year-old step son -- is also unemployed.
This has taken a psychological toll. The Rutgers survey found a widespread disillusionment among the unemployed: 57 percent said they believed hard work does not guarantee success. What's more, 41 percent said they doubt the ability of either the president or the soon-to-be Republican Congress to fix the problem.
As Van Horn pointed out, this pessimism, which makes people less willing to take the risks that are necessary for financial improvement, poses a serious threat to the economy.
"Something that lasts this long and is this widespread tends to have much more profound effects long-term," he said. "This may be very much like the effect of the Great Depression."
Gettings, for her part, tries to look on the bright side. The one positive thing to come out of her situation, she said, is that she has learned to sew. She has made place mats and table scarves, which her family members will receive for Christmas.
"We weren't going to put a Christmas tree up this year. But we had to," she said. "The only thing that has kept us going is family."
Gettings, who said she has been working ever since she was 15 years old, now has no retirement savings to look forward to. When her benefits expire in January, she said, she could end up on the street.
"I just need a chance," she said. "I just need somebody to give me a chance."

Related
Popular in the Community