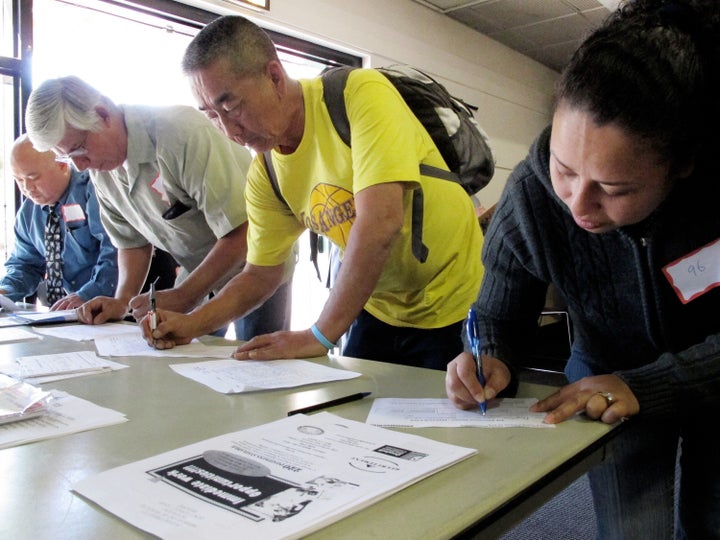 Jennifer Sunseri lost her job as an assistant professor in 2009. Now, after nearly three years of unemployment, no health insurance, and diminished hopes of finding a new job, she's earning money by anonymously writing "model papers" for college and graduate students -- in other words, helping them cheat.
"It's highly unethical, though completely legal," Sunseri said in an email when she first started writing for an essay mill in February. "As a former professor, this is the equivalent of prostitution to me. However, I'm behind on my rent and I have not seen a doctor in three years. Moreover, I am 53, have no kids or spouse or inheritance to help me out when I can no longer work, and I've already dipped into my retirement."
Since 1998, she'd taught at Texas Tech, where she developed a course on Slavic folklore that traced the history of vampires in popular fiction from their roots in Eastern Europe centuries ago, when people would dig up dead bodies because bad things had happened among the living.
"The thought was, 'If he isn't decomposing, he must be leeching life out of others,'" Sunseri is quoted saying in a 2006 profile of her course on the school's website.
Now Sunseri is leeching the best life she can out of an academic system from which she couldn't earn a living the normal way. She didn't publish scholarly articles when she was at Texas Tech, she said, so when it came time to apply for tenure in 2009, she knew she wouldn't be a strong candidate and probably wouldn't be successful. So she left.
She immediately moved from Lubbock, Texas to Eugene, Ore. partly to be closer to her mom and sister. She said she's living with two cats in a studio apartment above a garage.
When she first lost her job, Sunseri -- who has master's degrees in technical communications and Slavic linguistics as well as a Ph.D. -- wasn't worried.
"I thought for sure my skills as an educator and writer would see me through," Sunseri said. "I am still in shock at how many applications for writing instructor at the local community college, for GED tester, for office manager, for adjunct this and that at the local university, even for substitute teacher resulted in naught ... I am astonished when I hear that those with college education are faring better than those without."
The unemployment rate for workers with college degrees is 4.2 percent. For workers who graduated high school, it's 8 percent, and for those with less than a high school diploma, it's 12.6 percent.
But advanced degrees can lose their talismanic power. Once they become unemployed, college-educated workers are just as likely as high school grads to wind up unemployed for an extended period of time. During the year ending last June, 12.4 percent of jobless workers with high school diplomas had been out of work 99 weeks or longer, according to a Congressional Research Service report. Among unemployed Americans with a bachelor's degree, 11.3 percent had been jobless 99 weeks or longer -- a statistically insignificant difference. And unfortunately for Sunseri, workers older than 45 are more than twice as likely as workers younger than 35 to wind up jobless for that long.
What gives? It could be that workers with just a high school education are more likely to leave the labor force -- i.e., stop actively searching for work for whatever reason and therefore reduce the proportion of workers who count as officially unemployed. Or, it could be that since a majority of new jobs created during the economic recovery are lower-paying and lower-skilled, they are easier for less-educated workers to learn, while higher-educated workers are simultaneously being more selective about the jobs they're willing to work.
Sunseri is not being picky. She was searching for an online editing job when she fell into the paper-writing work. The company she has been working for most recently asked her to send writing samples; since being accepted, Sunseri said, she gets to bid on jobs in an online forum.
Some of her recent assignments have included a six-page paper on fiscal policy and public debt, an eight-pager on a medieval polity in Europe, two pages on white privilege in the United States, and a gig editing somebody else's 40-page paper. Altogether, the four assignments brought in just $130. Sunseri said she figures that if she keeps writing papers, she could eventually improve enough to earn $12,000 in a year.
Sunseri first realized she could earn steady income ghostwriting after she read a November 2010 article in the Chronicle of Higher Education by an anonymous writer who claimed he made $66,000 a year ghostwriting graduate and undergraduate papers.
"In the midst of this great recession, business is booming. At busy times, during midterms and finals, my company's staff of roughly 50 writers is not large enough to satisfy the demands of students who will pay for our work and claim it as their own," the ghostwriter claimed in his story. "You would be amazed by the incompetence of your students' writing. I have seen the word 'desperate' misspelled every way you can imagine. And these students truly are desperate. They couldn't write a convincing grocery list, yet they are in graduate school. They really need help. They need help learning and, separately, they need help passing their courses. But they aren't getting it."
One benefit of the work, Sunseri said, is that she feels it keeps her from getting rusty.
"Ethics be damned: You gotta kind of look after yourself," Sunseri said. "You really do get afraid that your skills are deteriorating. It definitely is hard work. It's challenging and it forces you to make deadlines. It's kind of a training run to succeed at things I'd be proud of doing."
Sunseri's intuition that her skills might deteriorate during a long unemployment spell may be correct. A 2008 study by Swedish economists found that workers performed worse on reading and writing tests the longer they were unemployed.
One assignment was just too much for Sunseri to complete: She said she discovered it was for a business class at her former employer, Texas Tech University. She pulled out of the assignment partly because of the weirdness factor and partly because she felt she couldn't actually complete the work.
"And I was angry at the Tech kid I imagined partying in Florida," she said, "while I slaved away on his or her assignment for his or her MBA from the university I used to serve at as a faculty member."
Sunseri's goal remains to find Russian translation work, which comes in dribs and drabs. She said she's also earning a little more than $100 from landscaping work one day a week. But she's not quitting the paper-writing business, even though it will make her virtually unemployable in academia.
"Ironically, the paper mill seems to be the only company that understands the value of my extensive education, and, really, two masters and a doctorate, well, I guess I've been training for a job like this all my life."
Related
Popular in the Community