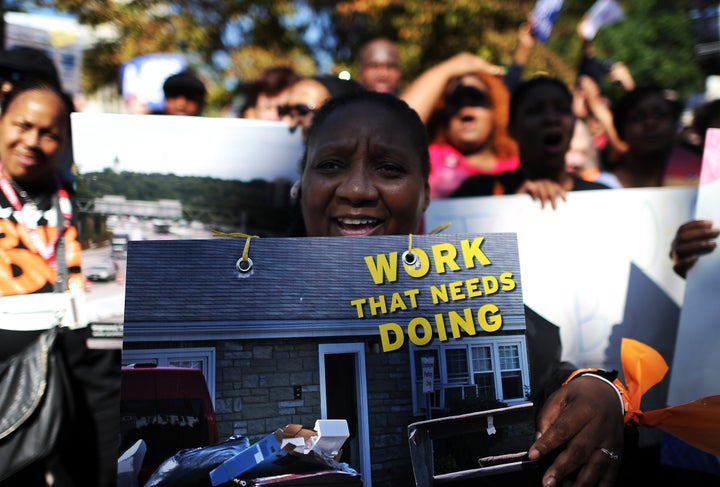 WASHINGTON -- Linda Evans cried Wednesday outside the U.S. Capitol building as she described the unemployment crisis and her own struggle to find work in Washington, D.C.
"I've lived here my whole life, I've never seen anything like this, and it's scary," said Evans, who has now been unemployed for three years. "People have lost their homes, people are hungry, people are living in boxes. It's a shame. It's sad -- it hurts my heart."
Evans spoke to The Huffington Post outside of the U.S. Capitol at a "Jobs, Not Cuts" rally, organized by the "Rebuild the Dream" movement recently launched by former White House adviser Van Jones. Other progressive advocacy groups like MoveOn.org, Our DC, and AFSCME brought out members as well to cap off the Take Back the American Dream conference this week.
Evans cried out on stage she wanted to "make a difference," to which the crowd shouted back, "You are!" Evans used to be a home health care provider, but she said her company's finances failed. Since then, she helped start a program to teach at-risk youth about music and theater.
Dozens of unemployed and underemployed waved signs demanding jobs over cuts. A sense of pure frustration flowed through the crowd that there hadn't been more focus by politicians inside the Beltway on getting people back to work.
"We voted for people in politics thinking they were going to fight for us and we're not getting that," Evans said. "Just help us out, believe in us, give us a chance."
Bob Patrician, who came from Virginia for the rally, criticized Congress for spending time fighting over the debt ceiling, the deficit and tax issues, while people continued to struggle in the economy.
"There's a lot of things government could've done and they've chosen to argue about things that aren't relevant to the average person," Patrician said.
After the rally, groups of unemployed split up to turn in job applications to the offices of the 12 members of the super committee. The committee is tasked with finding at least $1.2 trillion in spending cuts over the next decade, but Democrats and outside groups have been pressuring its members to focus on job creation as well.
Tiffany Miller told HuffPost she planned to tell the super committee to pass on President Obama's jobs bill, and to "understand that the tax breaks for the rich and the corporations, that needs to end; give that money back to our communities so we can start getting back our good jobs."
Miller said she is an unemployed military veteran with two children and a husband who is struggling to find work. Despite having worked for major Fortune 500 companies like Morgan Stanley, Chase Bank and Bank of New York, she said she's had no luck finding a job. The military has held events similar to jobs fairs and has led her to websites for job postings, but she said she hasn't found anything she is qualified for with a background as a civil affairs officer.
Ginger Heatter, an unemployed teacher from New Jersey who was laid off from Cornell University in 2010, also visited the super committee members to express her frustration.
"My story was supposed to be the American Dream," she told HuffPost. "[I was the] first in my family to go to college, I did so at the time as a single mom and worked really hard. I was a high school dropout, got my GED … went on to get my bachelor's degree at Boston College and my master's degree at Cornell University. I got to the end of the finish line and the economy crashed. I was teaching briefly at Cornell, got laid off, been out of work since then."
Heatter said she has applied for "everything up and down the spectrum" in her attempt to find employment, but "can't even get a job as a secretary."
House Progressive Caucus co-chairs Rep. Keith Ellison (D-Minn.) and Rep. Raul Grijalva (D-Ariz.) told the crowd that their movement would make a difference.
"We have an opportunity here in Congress to lend a voice to the energy you bring us," Grijalva said. "With your energy, with your organizing ability, this is going -- not only to turn around -- we are going to fundamentally change the political culture of the system."
Evans told HuffPost she was hopeful the rally would change things.
"If we keep fighting," she said, "somebody's going to listen."

CORRECTION: An earlier version of this story stated that Rep. Raul Grijalva was "(D-N.M.)"; he represents Arizona.
Calling all HuffPost superfans!
Sign up for membership to become a founding member and help shape HuffPost's next chapter