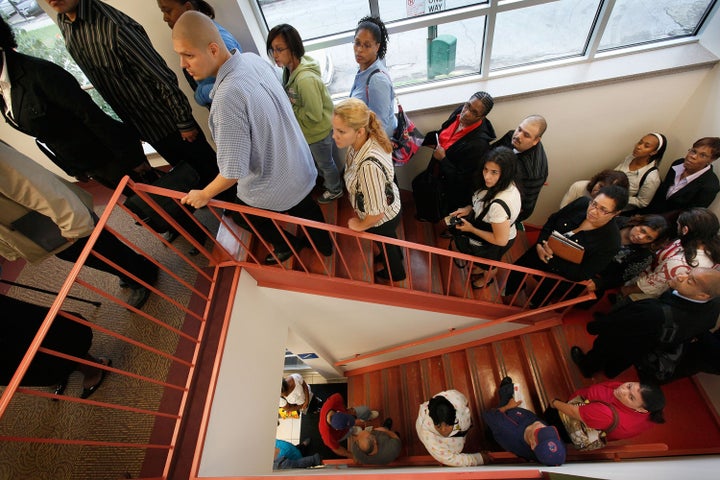 Wanda DuVall has been collecting unemployment benefits since she lost her job back in February 2009, saying that she filed her most recent claim on Monday. On Wednesday, she did not receive the deposit she expected and called the Florida Agency for Workforce Innovation to find out what happened.
"They informed me that, unless a miracle occurs in Congress, my unemployment benefits would end. The 19th would be the last check," said DuVall, 69, a former employee of the Occupational Safety and Health Administration.
DuVall had been receiving Emergency Unemployment Compensation benefits, which provide up to 53 weeks of federally-funded compensation on top of the initial 26 weeks provided by states. The program will lapse on April 5 -- after that date, people like DuVall will lose eligibility for additional "tiers" of benefits after their current tier expires.
Last week, Republicans and Democrats in the Senate played a game of political chicken with a temporary extension, failing to extend eligibility for another month before adjourning for a two-week break. Republicans took a stand on deficit reduction, blocking a Democratic measure to extend benefits on an emergency basis without paying for them; Democrats voted to adjourn, gambling that people will simply blame the GOP for the lapse.
"They just failed to pass it and they went on their vacation," said DuVall.
Despite the lapse, the disruption to benefits recipients is expected to be minimal. Many states offer an additional 20 weeks of "Extended Benefits" after EUC; those benefits are not affected by the lapse. And because it has strong bipartisan support despite all the posturing, it's likely that Congress will pass a retroactive extension quickly when it reconvenes. People should get the money they expect to get, though there may be a delay -- and lots of confusion.
State workforce agencies can't operate based on a wink and a nod from Congress. The Florida Agency for Workforce Information confirmed to HuffPost that it's telling benefits recipients they will lose eligibility for additional tiers of EUC after April 5. But people receiving benefits -- people like DuVall -- would surely be happier without the uncertainty. Even a delay can cause problems.
"It's the insecurity because you're committed to certain payments," said Duvall, whose husband passed away two months ago. "It's a little scary... going through the emotional trauma of losing a husband. You just keep thinking, 'How am I going to do this?' ... I don't want to feel like the government has to give me anything... I'm a little bit -- it's difficult. I don't have a husband to lean on. I don't have anybody to lean on."
A spokesman for the Florida agency said:
"The Florida Agency for Workforce Innovation frequently corresponds with our customers to keep them informed on which Unemployment Compensation program they are currently in and the potential expiration date. These mailings include notices of pending final payments as well as information about and/or actions customers may need to take if they are potentially eligible for a new program. We also regularly update our Web site with congressional changes that may affect them: http://www.floridajobs.org/unemployment/hottopics.html."
HuffPost readers: Heard from your state workforce agencies that you'll soon be ineligible for Emergency Unemployment Compensation? Tell us about it -- email arthur@huffingtonpost.com.
Calling all HuffPost superfans!
Sign up for membership to become a founding member and help shape HuffPost's next chapter