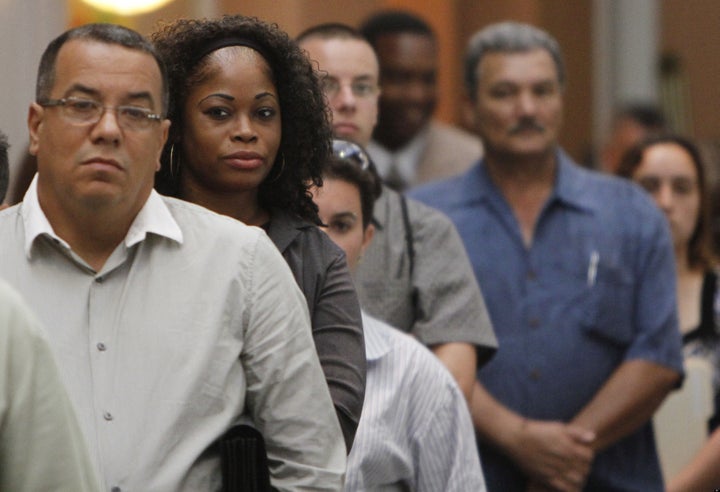 Since he lost his job as a senior project manager at a pharmaceutical company in August 2008, Peter Kieselbach of Bucks County, Pa. has devoted more and more of his time to volunteering as a technical adviser at FIRST, helping oversee events where teams of high school kids build competing robots.
"It's a lot of fun, it's really exciting -- really high pressure but in a good way," said Kieselbach, whose supervisor estimates he's given 40 days so far this year.
"I've said to him now since he lost his job that I hope he calls me and says, 'Donald, I can't do it anymore because I got a job,'" said Donald Bowers, a regional director for U.S. FIRST in New Jersey and eastern Pennsylvania. "He continues to give to us while he deals with his own issues. A lot of people wouldn't do that."
The New York Times reported in March 2009 that the Great Recession had created a "flood" of volunteers from the ranks of the unemployed. Data released by the government in January showed a that 22.9 percent of the unemployed volunteered in 2009, up from 22.3 percent in 2008.
Volunteering is a smart thing to do during an unemployment spell. Folks who've been out of work for a long time are "very aware they need to be able to answer the question, what have you been doing?" said George Wentworth of the National Employment Law Project, which lobbies Congress on matters relating to unemployment.
"With so many candidates and with so few jobs right now volunteering is a must," said Doris Applebaum, a resume consultant in Milwaukee. "Learn something, take courses in something, preferably IT, and volunteer. There isn't a nonprofit out there that isn't looking for help."
Volunteering during a layoff is especially smart since Republican candidates and members of Congress -- even some Democratic members -- are looking for reasons to say unemployment insurance isn't worth the expense, and anecdotal stories about the "lazy jobless" make excellent fodder.
Since her June layoff from a PR company, Nicole Rattless of the Bronx has been volunteering several hours every week with God's Love We Deliver, chopping vegetables and doing other food-prep tasks to prepare meals for needy folks. "Since I'm not a cook, it's gotten me more comfortable in the kitchen, it gives me purpose, it gives me something to do when I'm not looking for a job, and it keeps me connected," said Ratless, 33.
"It kinda sucks being unemployed, of course," said Jennifer Filipski, 30, who volunteered with Habitat for Humanity between jobs this year. Aside from being passionate about the work she was doing, building houses for families kept her out of the layoff doldrums. "When you're unemployed there's not a whole lot to do especially because you have to watch what you're spending, just spending the money on gas."
Kyle Klebba of Redford, Mich., said the animal rescue volunteer work he did during a 17-month bout of unemployment kept him sane. "It keeps your head right," said Klebba, 39.
Kieselbach, for his part, has a sense of humor and is optimistic that he'll get a job sometime soon, despite the difficulty of his search for the past two years. "It's frustrating because I have a couple strikes against me," he said. "I'm 57 years old. I have 31 years of engineering experience. Not too many companies want to hire somebody with that much experience."
Until then, he'll keep on volunteering. He said he first got involved with the robotics nonprofit when his daughter joined a team nine years ago as high school freshman. "It's great working with the kids -- that's the best part of it."
Calling all HuffPost superfans!
Sign up for membership to become a founding member and help shape HuffPost's next chapter