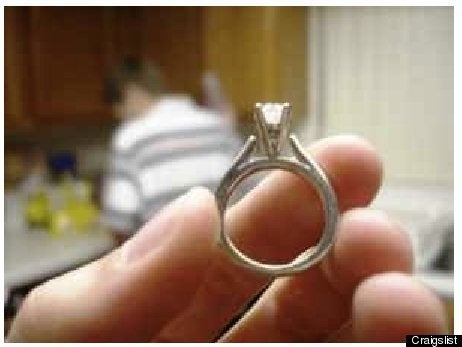 Since her fiancé passed away in 2004, Victoria Crass, a 39-year old mother of three from Surprise, Arizona, has hung onto the 1.1-carat oval diamond engagement ring he gave her when he proposed. But when she lost her job last year and eviction loomed, Crass felt she had to decide between keeping the ring and supporting her three children.
"I don't want to sell my ring, seeing as how it means so much to me, since my fiancé is no longer with me," Crass told HuffPost. "But Alexandrea, my 13-year-old, needs braces and glasses. She's been complaining because she can't see the board at school. I've been trying to sell the ring for a year, but people want to offer me so little for it. It's worth at least seven thousand, and I'm offering it for $2,800. The sentimental value is just too much to let it go for pennies."
To sell the ring, Crass went to Craigslist. Here's how she pitched it: "I am selling a gorgeous engagement ring.... It has a ton of sentimental value, but just can't afford to keep it right now. I really hate to get rid of this ring but the economy has left me no choice.... It's a really beautiful ring and you have to see it to appreciate it. Please respond, only if you are serious!!"
There are thousands of ads on Craigslist for things like used appliances, furniture, and cars from people who need a little quick cash to get by, with the seller frequently revealing a glimpse of the problems necessitating the sale. For upfront desperation, few ads are more poignant than the ones for wedding or engagement rings from people in financial straits. When contacted by HuffPost, sellers typically said they posted their ads in an effort to take care of their children.
"It is a big sacrifice but what else am I suppose to do at this point?" emailed one woman whose ad said she was "beyond sad that I have to sell this but bills need to be paid somehow." The woman was not interested in sharing her name.
"It is really the only thing I have that is worth anything and of course I do not want to sell it but tough times call for tough decisions," she wrote. "My son is who I need to look out for and when you put it in perspective it is only a material item and although I still have emotional ties with it it really comes down to what is more important. We are losing our home and where are we suppose[d] to go? This ring is hopefully a little lifeline to get into a place so we can have a roof over our heads. This is why I am trying to sell my ring on craigslist and yes it breaks my heart but hearts mend right?"
A single mom named Liz Dunda, a 44-year-old in Milan, Md., also put a ring up on Craigslist for her kids' sake. She told HuffPost she needed money to make the bathroom accessible for her handicapped son.
"I used to lift him into the bathroom, but he's 15 now and weighs as much as I do," Dunda said. "He has to shower at my parents' house. We can't fit the wheelchair into the bathroom."
Dunda works in a law office as a legal assistant, but she says her health insurance doesn't cover wheelchairs, and she can't afford a better policy to cover her son. "My son is now on a Medicaid waiver that covers medical, but they came to visit my home and explained to me that I had to hire an architect to redesign the room and that I had to pay 40 percent of the cost up front. They told me to get a second mortgage. I couldn't do it, so we're struggling and selling things to make it work."
In addition to her wedding ring, Dunn also sold her bed and exercise equipment on Craiglist to pay for a handicap-accessible van.
"The government said they would install a lift in the van if it was less than a year old," Dunda told HuffPost. "I was trying to hold onto the wedding ring for emergencies, but if I don't sell it now, my son has no way of getting around."
Sometimes the ring is the absolute last thing to go. Michele Rok of Grove City, Ohio, told HuffPost she sold her freezer, her stove and a number of other appliances on Craigslist before finally having to sell the wedding ring she was planning to pass on to her daughter.
"I've had to sell things like you wouldn't believe throughout the year just to maintain," Rok said. "I've mainly been selling appliances to help with rent and utility bills. I just listed the ring last week for the first time, because I need to have surgery on my back.
Rok said she has an accounting degree and several years of mid-level management experience at Deloitte and KPMG in New York, but she had to leave her job about a year ago and return to Ohio to take care of her sick mother. By the time she started looking for work again, the recession was in full swing, and she lost her house and was unable to find a job.
She said: "When I first came here and realized the situation that was happening, I actually worked for a major builder cleaning newly constructed homes, but was making less than I am now making on unemployment. I'm constantly searching Craigslist or Monster or Hot Jobs for any opportunity I can find, but they don't want to give someone my age a job."
Although Rok's ring has still had no takers, she says that the ability to sell her jewelry and appliances online, even when the items have sentimental value, has been a lifesaver for her. "The people that bought my freezer, those people are miracles to me because they helped me pay my gas bill and my rent. People talk a lot of bad stuff about Craigslist, but it does have the ability to help people."
Victoria Crass in Arizona said that, after she lost a fairly lucrative job as a loan officer in 2008, she and her three children were evicted from their house. Her autistic son, who was 16 at the time, was personally served the eviction notice. "He was completely freaking out," she said.
Crass claims that she has since had to home-school him so he wouldn't have to worry about getting picked on because she can no longer afford to buy him clothes or school supplies.
"I couldn't even afford to get him pants," Crass said. "High school kids can be so cruel -- he was coming home with bruises. Your kids expect you to be able to pay for everything, you know -- food, clothes. But I'm a 40-year-old, unemployed single mom. It's not easy."
Arthur Delaney contributed to this report.
HuffPost readers: Seen a compelling local story? Have a neighbor going to bizarre lengths to get through the recession? Tell us about it! Email lbassett@huffingtonpost.com.
Calling all HuffPost superfans!
Sign up for membership to become a founding member and help shape HuffPost's next chapter