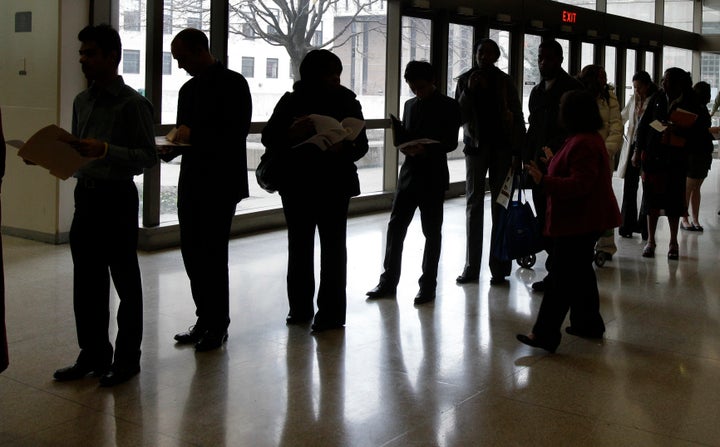 WASHINGTON -- Americans are more pessimistic than ever about their retirement prospects, with 27 percent of all workers saying they are "not at all confident" about retirement, according to a yearly survey released Tuesday by the Employee Benefit Research Institute, a nonpartisan think tank. That's a 5 percent increase from a year ago.
What's worse is that some of the people who should be looking forward to retirement the most don't even want to think about it.
Jayne Dunn, 55, said she's been out of work since December 2008, when she lost her job as a landscape designer in Cheshire, Conn. She described her job search as "demeaning, demoralizing, just desperately awful" and said thoughts of retirement are forbidden. "You just don't do that," she said. "You just think kind of day to day."
Dunn told HuffPost she's already used up the $5,000 that remained in her 401k when she tapped it in 2009. The EBRI survey found that 34 percent of workers said they'd dipped into savings to pay basic expenses in the past year.
Americans Dunn's age are less likely to lose their jobs than younger folks. But once they lose their jobs, they are more likely to be out of work for a long, long time.
The unemployment rate for Americans ages 55 and up stands at just 6.4 percent, compared with 8.9 percent for the population as a whole. But according to the AARP Public Policy Institute, the average jobless spell lasts 45.5 weeks for Americans older than 55, compared with 35.2 weeks for those younger than that.
As of October, according to the Congressional Research Service, more than one in 10 unemployed workers older than 55 had been jobless for longer than 99 weeks, which is the cutoff point for unemployment benefits in the hardest-hit states. Just 6 percent of unemployed workers younger than 35 have been out of work that long.
And according to the Bureau of Labor Statistics, among displaced workers -- people who lost their jobs after three years with the same employer -- folks older than 55 were much less likely than their younger counterparts to have found new jobs between 2007 and 2010.
Many long-term jobless in their fifties say unspoken age discrimination is the reason they can't find work.
Bonnie Krewson of Folsom, Calif., told HuffPost she passed the two-year mark of her unemployment spell on Sunday. Krewson, a 58-year-old former office administrator, said that when she does manage to get an interview, she feels her age is as large an obstacle as her lack of a college degree. When she recently interviewed for an administrative position at a law firm, she said, "I just felt they were going to want to hire somebody a little younger."
She said she's applied for jobs at places like Home Depot, Sam's Club and In-N-Out Burger, but almost never gets an interview. Several big retail stores, including Home Depot and Target, require online job applicants to disclose their age. (Walmart, which owns Sam's Club, does not.)
Krewson said her job search has been demoralizing. "It's making me feel like, 'What is wrong with me?'" she said. "People tell me all the time, 'It's not you, per se. The difference is you're now competing against 10 times as many people and more than half of those are probably going to have better qualifications.'"
Her unemployment benefits ran out in February, Krewson said, so her only monthly income is $190 from General Assistance and $200 in food stamps. Even with the occasional help from family members, she said she doesn't have enough to cover expenses. She's got no savings. As for retirement, she said, "I'm really not trying to think about it, although it's always in the back of my mind."
Sandra Lazzinnaro of West Milford, N.J., told HuffPost she'd worked as a flight coordinator for the past 25 years when she lost her job in November 2008. Now, she said, she works two days a week as a bartender. She said she's now studying to become a paralegal after spending her entire career in aviation. She recently turned 50.
"They could keep telling us 50 is the new 40, but now when it comes to trying to find work ... I had to throw out 27 years of experience and reinvent myself. It's pretty scary," she said. "We're in a full-fledged depression. They're just telling us we're coming out of a recession, but we're really not."
As for comfortable retirement, Lazzinnaro said, "I'm thinking it's like a pipe dream that's never going to happen."
Dunn, the former landscape designer, is also studying up for a career change. She said she's taking business classes and wants to start a food pantry that emphasizes confidentiality and dignity for its clients. She said she homed in on her new career goal the moment a volunteer at a food pantry (where Dunn herself previously volunteered) took back from her a can of unsweetened applesauce that pushed her allotment above the 10-pound limit for a single person.
"It was the last thing I put on the scale and they took it back out," she said. "My opinion is, there's a more dignified way to do that."
Instead of worrying about her retirement, Dunn said she's focused entirely on getting her business going and is in the midst of a grant-writing effort. "It just feels like that's what I would love to do for the rest of my life," she said.

Popular in the Community