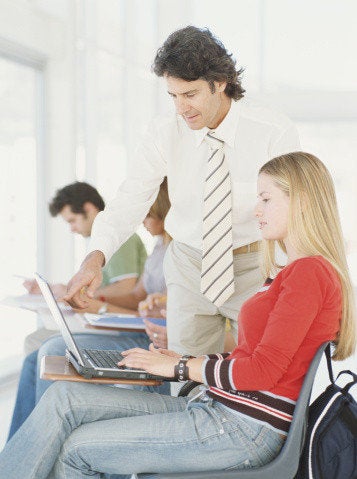 A surprising list of things increase along with unemployment: vasectomies (for obvious reasons), chipped and broken teeth (because the unemployed grind more), and applications to substitute teach.
Following the economic downturn that began in 2007, USA Today wrote that school districts nationwide were flooded with applications from people who wanted to work as substitute teachers. Those applying included a laid-off finance manager for Harley-Davidson and a vice president of a collapsed financial institution, willing to work for a national average of $105 per day. In fact, so many people from other walks of life began to beat down the doors for this historically undesirable job that the nation's three largest school districts -- New York, Los Angeles and Chicago -- took the unusual step of closing applications.
I remember that era well because I sat in a classroom of substitute teacher wannabes, 40 women and ten men who all held bachelor's or master's degrees in unteacherlike areas such as hotel and restaurant management, public relations and sports medicine. They had careers as realtors, information and technology specialists and sales people. There was one midwife and one disc golf promoter. Everyone wanted the work and it was clearly going to be a dog-eat-dog world.
This summer, 9.2 percent of Americans find themselves unemployed, just as school districts across America are putting out their calls for substitute teachers.
If you're thinking of joining the nation's 500,000 subs, here are four things you really need to know to get to the front of the class.
One: Take responsibility for your own training.
Seventy seven percent of school districts don't train their substitute teachers, so be prepared to train yourself. How? Get your hands on books or work online with training specialists. I recommend STEDI.org or EdTrainingCenter.com. Both offer online modules for individual learners. They also will keep a record of your training. Another recommendation? Give the school district administration your training record; it could help you skip to the front of the line for jobs.
Two: Consider liability insurance.
You could be sued if you give CPR to a student and you're not CPR certified. You could be sued if a child gets hurt on the playground while you're on playground duty. Lawsuits have been brought when substitute teachers have put children on the wrong school buses and when they failed to recognize the signs of an asthma attack.
Find out if your school district provides liability insurance to its substitute teachers. Districts protect themselves, but not necessarily their substitutes. If you need insurance, start with your state's teachers association or homeowner's insurance.
Three: Expect the unexpected.
Sixth-grade boys will switch desks and names. Third-grade girls will present you with a crayon drawing of their pet hamsters and dogs. That is, if you're lucky. Students have also set their substitute teachers' hair on fire, punched them and poisoned their coffee with hand sanitizer. Just saying.
Four: Don't eat the teacher's candy.
You laugh, but when I sat in that classroom of substitute teacher wannabes, I asked a school district's substitute teacher coordinator for the ultimate tip. After all, she fielded most calls from teachers who needed subs and surely knew the inside scoop. What did they want? What did they not want? Her inside tip: Never, ever, eat the teacher's candy.
Related
Popular in the Community