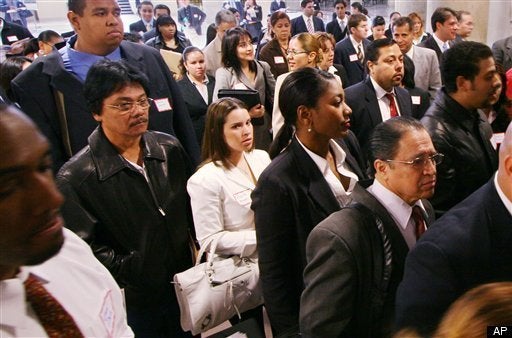 Even as Congress debates whether to extend emergency unemployment checks for more than six million Americans who are approaching the 99-week limit, some four million others are facing the certain end of their benefits over the next year, unless an entirely new program is crafted.
This is the sobering conclusion of a report released by the President's Council of Economic Advisers on Thursday. The study forecast that the exhaustion of unemployment benefits for so many will curb spending power enough to significantly impede an already weak economic recovery.
The typical household now receiving emergency unemployment benefits would see their income fall by a third should they lose their checks, according to the report. Among the roughly 40 percent of households in which the person receiving a check is the sole breadwinner, income would fall by 90 percent.
The existing emergency unemployment program, which extends benefits for nearly two years, expired on Wednesday. Without an agreement to extend the program, the economy will lose about 600,000 jobs, as the spending enabled by continued unemployment checks ceases. National economic output--which expanded at an annual pace of 2.5 percent during the summer months--would fall off by 0.6 percent.
That disturbing prospect does not even account for the roughly four million people who would exceed even the extended limits in the emergency program. Were that many jobless people left to fend themselves without unemployment checks, that would pose significant risks for the broader economy, say economists. They cite the fact that consumer spending accounts for roughly 70 percent of all economic activity.
"If you're looking for economic recovery supported by consumers, it's discouraging," said Henry J. Aaron, an economist at the Brookings Institution, a research institution in Washington. "It's drag on the economy."
Many economists argue that paying unemployment benefits is among the most effective ways the government can spur the economy: Jobless people tend to spend nearly all of their unemployment checks, distributing those dollars throughout the economy.
"There's very few things we can spend money on that probably have such an immediate impact on household consumption as unemployment benefits for the long-term unemployed," said Gary Burtless, a former Labor Department economist and now a fellow at Broookings.
But even as the White House pushes Congress to reauthorize the existing emergency program, little discussion centers on what to do to prevent another four million jobless people from losing public assistance. If any active proposal exists to support this group, it remains well hidden.
"That's not where the war is being fought right now," said Aaron. "Given the current configuration of political forces, nobody is proposing to do anything about it."
A senior administration official, who spoke on the condition of anonymity, said the White House is now focused on trying to persuade Congress to reauthorize the existing emergency unemployment program, which would protect 6.7 million unemployed workers from losing their checks over the next year. (See the below chart from the CEA's report.)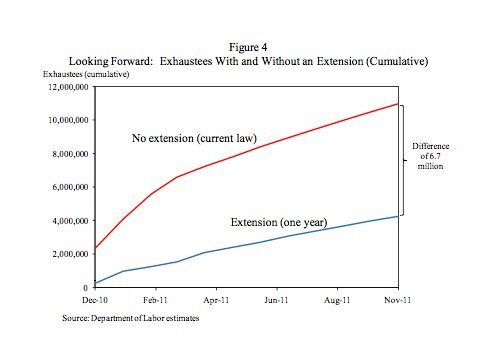 Given that even this goal is now uncertain, seeking yet another program for the four million jobless people at risk of exhausting emergency assistance seems futile, the official said.
"The President will continue to work to ensure that Americans fighting to find a job can keep food on the table and make ends meet," White House spokeswoman Amy Brundage said in an e-mailed statement.
The diminishing support for the growing ranks of the long-term unemployed seems certain to add to demands on an already strained social safety net. Research shows that the longer a worker has been without a job the harder it is to find a new one, raising the likelihood that many of those losing their checks at the end of their 99-week term will have great difficulty securing a paycheck.
Yet even those who lose their unemployment checks will not necessarily qualify for other forms of aid, like food stamps, said Burtless.
"Only a pretty small fraction of the people who exhaust benefits are going to qualify," Burtless said. Many of these workers have long been employed and have accumulated savings and assets such as houses, which makes them ineligible for support, he said.
More than 6.3 million workers were out of a job for at least 27 weeks in November, comprising nearly 42 percent of all unemployed Americans, according to Labor Department data released Friday.
The Federal Reserve forecasts that the unemployment rate will still be as high as 9 percent this time next year, and about 8 percent at the end of 2012, according to minutes from the central bank's Federal Open Market Committee meeting last month.
"What we're seeing right now is the Christmas present from Scrooge," said Aaron, the Brookings economist. "Merry Christmas, we're cutting off your benefits."
*************************
Related
Popular in the Community