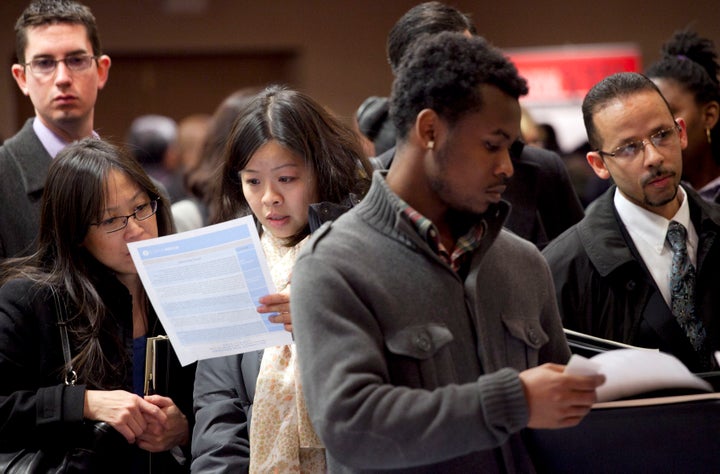 WASHINGTON -- Republicans and Democrats have clashed frequently over federal unemployment insurance ever since the unemployed first became eligible for 99 weeks of benefits at the end of 2009.
Despite the high-profile disagreements, which have repeatedly led to lapsed benefits for millions of people, Republicans and Democrats broadly agree on what to do next: reduce the duration of benefits and make sure their cost isn't added to the federal budget deficit. But unless Congress reaches a compromise in the next week or so, federal unemployment benefits will lapse again for nearly 2 million people come January.
In December, Republicans proposed reducing the number of weeks available by 40. Democrats are willing to meet them halfway by cutting 20 weeks, albeit in a backdoor fashion: Congress would reauthorize the two federal unemployment programs, but the second would automatically phase out in one state after another over the course of 2012.
The phaseout would begin under a bill that passed the Senate on Saturday per a deal between Senate Majority Leader Harry Reid (D-Nev.) and his GOP counterpart, Sen. Mitch McConnell (R-Ky.). Democrats in the House of Representatives want the House to pass the Senate bill immediately.
Although the Senate legislation would keep the federal programs in place for just two months, the second Extended Benefits program would phase out in 11 states during that time. It's a "wholly inadequate" outcome, said Rep. Sander Levin (D-Mich.), the top Democrat on the committee overseeing unemployment, because "with very little warning, tens of thousands of long-term unemployed Americans will be cut off unemployment insurance." Levin did not say, however, that he opposed the bill.
The Extended Benefits program, which provides help for up to 20 weeks, kicks in after workers exhaust up to 53 weeks of federal Emergency Unemployment Compensation following 26 weeks of state benefits. The program is restricted to states with high and rising jobless rates. If a state's jobless rate isn't significantly higher than its rate three years ago, the program is not triggered.
Democrats in both the House and Senate initially proposed reauthorizing Extended Benefits to allow states to extend their "lookback" period to four years ago, which would have meant more states kept the benefits through 2012. Those proposals have been pushed aside.
As Republicans have noted, the Obama administration was the first to suggest letting Extended Benefits dwindle in 2012.
Cynthia Rogers of Minneapolis received a letter last week telling her that Extended Benefits would end on Jan. 8. Rogers, 55, has been drawing unemployment benefits since September 2010, after she lost her job as a registered nurse due to an injury. She's currently on the third "tier" of Emergency Unemployment Compensation, which lasts only 47 weeks in Minnesota (the duration of federal unemployment programs varies by state). Rogers will be eligible for 13 weeks of Extended Benefits starting in January -- if Congress renews the program and allows states to change their triggers.
Rogers could use the money. "I'd be able to pay my medical premium for another month or two, and my car insurance and my rent," she said. "But I still need a job."
She said she has already sold her house and is grateful her children are grown. She's applied for pet store jobs as well as nursing positions. She's planning to enroll in dog grooming school and launch a new career in Texas as soon as she can.
"At age 55, no one wants to hire you," she said in an email. "So, unless a Christmas miracle happens, I am at the mercy of Congress and the Lord Himself. I place my trust in God, not Congress."
As recently as 2010, Democrats insisted that the cost of federal unemployment compensation not be offset with spending cuts or tax hikes elsewhere in the budget, arguing that deficit spending stimulates the economy. They've since abandoned that stance and only disagree with Republicans on how the benefits should be paid for.
Another area of agreement: Both parties support making millionaires ineligible for unemployment insurance. If such a policy had been in place in 2009, it would have saved $20 million out of $135.9 billion spent on benefits, according to the National Employment Law Project. The worker advocacy group argued in a recent report that cutting off higher earners could undermine what is supposed to be an entitlement for anyone who loses a job through no fault of his or her own: "[E]xaggerating the extent to which millionaires, a group of potential beneficiaries who garner little or no public sympathy, are drawing UI [unemployment insurance] benefits opens the door to means-testing of unemployment benefits at any level of income by essentially eliminating UI for certain workers at the highest income levels."
Republicans are on their own, however, when it comes to allowing states to drug-test the jobless and require layoff victims who haven't finished high school to enroll in GED courses as a condition for receiving benefits.
Neither Democrats nor Republicans have said they'd be willing to drop extended unemployment compensation altogether, something Congress has never done with a national jobless rate above 7.2 percent. But the latest deal has fallen apart, and most members of the House and Senate have returned to their districts for a Christmas break that ends in late January. As many as 1.8 million long-term jobless will lose assistance over the course of the month.
Calling all HuffPost superfans!
Sign up for membership to become a founding member and help shape HuffPost's next chapter