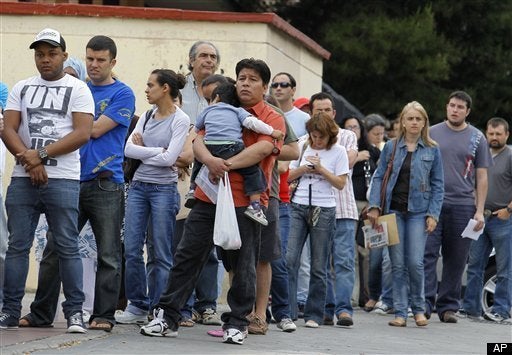 Three-quarters of registered voters think Congress should forget about the deficit and preserve extended unemployment benefits and health insurance subsidies for laid-off workers, according to a new poll commissioned by the National Employment Law Project.
Citing deficit concerns, Democrats in both chambers of Congress have said it's time to start thinking about how to wrap up the extended unemployment benefits put in place to fight the recession. But 74 percent of people surveyed said they agreed with the statement that "it is too early to start cutting back benefits and health coverage for workers who lost their jobs."
"We cannot let a handful of misguided deficit hawks pull the plug on benefits that are precisely the kind of stimulus needed for economic recovery and deficit reduction," said NELP director Christine Owens in a statement. "Given the choice, the vast majority of the American people would provide unemployed workers and their communities the benefits they continue to need -- Congress should be listening to them."
Sixty-seven percent said they either "strongly favored" or "somewhat favored" continuing federal unemployment benefits. The poll did not mention the fact that federally-funded extensions, in combination with the initial 26 weeks of state benefits, give the unemployed up to 99 weeks in some states. (There is no proposal on the Hill to help the "99ers" -- the hundreds of thousands of people who've been through all available benefits and still haven't found work.)
Congress is currently considering a bill that would preserve extended unemployment benefits for the rest of the year. To appease conservative Democrats worried about the trillion-dollar deficit, leadership in the House nixed subsidies for laid-off workers to pay COBRA health insurance premiums, among other things. The Senate will begin considering the bill on Monday evening.
House Democrats from conservative districts have said their constituents are antsy about the deficit, and they've expressed skepticism that anyone needs 99 weeks to find a job.
But only 21 percent of 803 voters surveyed by polling firm Hart Research Associates agreed with this statement: "With the federal deficit over one trillion dollars, it is time for the government to start reducing spending on health care subsidies and unemployment benefits for the unemployed."
Seventy-four percent said they preferred this statement: "With unemployment close to ten percent and millions still out of work, it is too early to start cutting back benefits and health coverage for workers who lost their jobs."
That's a view shared by many economists, including Mark Zandi, chief economist for Moody's Economy.com, who testified during a congressional hearing that preserving jobless aid is more important than deficit reduction in the short term.
Calling all HuffPost superfans!
Sign up for membership to become a founding member and help shape HuffPost's next chapter