WASHINGTON -- Democrats want House Speaker John Boehner (R-Ohio) to cancel an upcoming recess so lawmakers can restore unemployment insurance to more than a million workers whose benefits stopped in December.
"The clock is ticking," says the letter, written by Rep. Gary Peters (D-Mich.) and signed by 85 other Democrats. "This is why we urge you to cancel the pending district work period and keep the House of Representatives in session until both the House and Senate have sent legislation to the President to extend emergency federal unemployment benefits."
The House will skip town after this week for a weeklong "district work period." House Democrats thus far have been unable to convince Boehner to hold a vote on unemployment, so the speaker is unlikely to cancel recess in order to hold one. His office didn't immediately respond to requests for comment.
Apparently lacking the will or the leverage to force votes on unemployment insurance, Democrats have maintained near-constant media pressure on Republicans since last month. The benefits, which the federal government puts in place during recessions, are available to workers who use up six months of state compensation. The federal benefits lapsed on Dec. 28 for 1.3 million Americans.
Legislation to restore the long-term jobless aid failed in the Senate on Tuesday. Democrats in the upper chamber said they'd keep pushing for the benefits but didn't offer a specific plan. Asked Tuesday whether they should still go on recess with the benefits still lapsed, Sen. Jack Reed (D-R.I.) said the Senate should have already approved the compensation. Congress is expected to pass an omnibus spending bill to fund government operations before skipping town this week. The House passed its version on Wednesday; the Senate is expected to vote Saturday.
"I believe that the House of Representatives can find common ground to do the right thing and extend unemployment insurance, but there is no chance if everyone goes on recess," Peters said in a press release. "We need to cancel this recess now and get to work."
Peters is running for Senate in Michigan. Asked if Peters would protest the recess by staying in Washington, a spokeswoman said the congressman would wait to see what Boehner does before deciding.
This post has been updated to clarify comments from Peters' spokeswoman.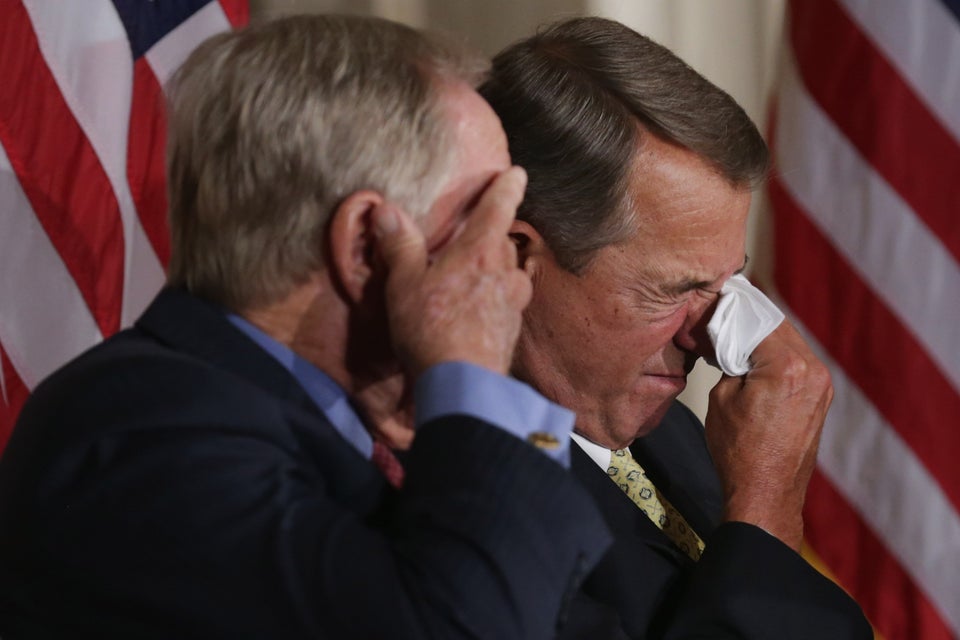 John Boehner Cries
Popular in the Community