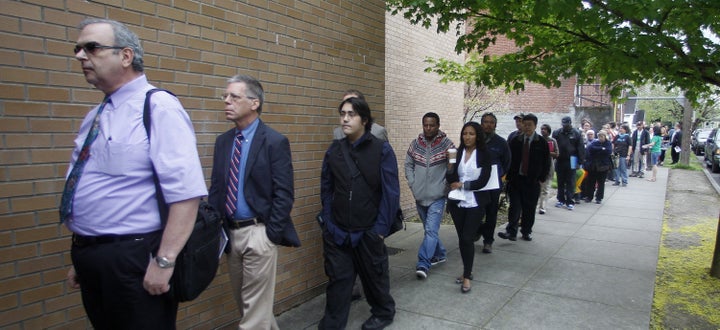 WASHINGTON -- The long-term jobless will be eligible for fewer months of benefits as congressional cuts take effect this month.
By June, the federal Extended Benefits Program will be phased out in most of the states that used it, according to an analysis by the National Employment Law Project, a worker advocacy group. The program, fully funded by the federal government since 2009, gives the long-term jobless their final 13 or 20 weeks of benefits, depending how the unemployment rate is in a given state.
"The final 13 to 20 weeks of jobless insurance that workers in high-unemployment states have been relying on is now being stripped away as a casualty of the legislation Congress passed in February reauthorizing the federal unemployment programs," NELP director Christine Owens said in a statement. "These cuts are coming faster than the economy is improving, which means more workers will have to survive without any jobless assistance and families will have less money to put back into the economy."
HuffPost readers: Losing your benefits? Tell us about it -- email arthur@huffingtonpost.com. Please include your phone number if you're willing to do an interview.
Extended Benefits kick in for workers who use up 53 weeks of aid under another federal program called Emergency Unemployment Compensation, in effect since 2008 for people who exhaust the standard 26 weeks of benefits provided by states since the 1950s. The three sources of benefits combined to give the unemployed in hard-hit states 99 weeks of benefits.
Even though the government is offering less help to the long-term unemployed, their population is almost as big as ever. In April, 1.8 million people had been out of work for 99 weeks -- barely changed from 1.9 million the previous year.
Over the weekend, eight states lost eligibility for Extended Benefits because the states' unemployment rates had not risen from a corresponding three-month period in the previous three years. More than 200,000 workers will be cut off, according to NELP. In 2010, Congress changed the the formula for triggering eligibility for Extended Benefits to allow states to keep the assistance through 2011. In February, lawmakers declined to change the formula again.
"The Extended Benefits program is being phased out because state unemployment rates have stopped climbing, but unemployment is still exceedingly high in many places. Job openings are not taking the place of these cuts," Owens said.
Congress also said states could drug test some unemployment claimants and allowed states to create programs that could allow businesses to test out workers without having to pay them.
By the end of the month, Extended Benefits will have been phased out in 27 states. The remaining nine states where workers can receive Extended Benefits will lose eligibility in the fall. According to NELP, the share of jobless workers receiving benefits will drop from two-in-three in 2010 to less than one-in-two later this year.
REAL LIFE. REAL NEWS. REAL VOICES.
Help us tell more of the stories that matter from voices that too often remain unheard.