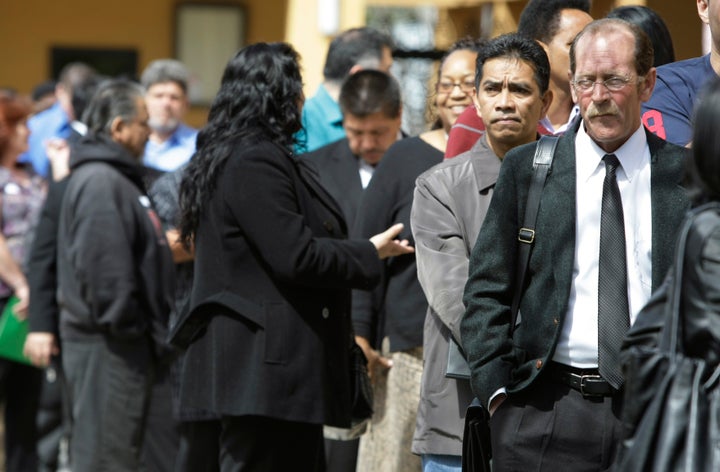 While some states have been cutting unemployment insurance for the long-term unemployed, Oregon has made its benefits more generous.
People laid off through no fault of their own are eligible for up to 99 weeks of aid in 25 states. But last month, Oregon lawmakers gave the long-term unemployed an additional six weeks of benefits. That means that in Oregon, where the unemployment rate stands tall at 10 percent, so-called "99ers" -- people who've burned through all 99 weeks without finding work -- can now theoretically become "105ers."
Last week was the first payable week of the brand-new Oregon Emergency Benefits program. Portland resident Harold Treinen told HuffPost he'd started receiving the benefits last week after joining the ranks of the 99ers about a month ago.
"It's saving me, is what it's doing," said Treinen of the new program. Treinen, a 57-year-old financial analyst, said he was laid off in in March 2009 and had relied on unemployment insurance during his fruitless job search. When his benefits stopped last month, he found himself in survival mode. "I had like a two or three week gap. You just have to shut everything down. You have to say, 'I can't do anything.'"
The Congressional Research Service estimated that as of last October, 1.4 million Americans had been out of work for 99 weeks or longer.
For those who receive maximum aid, the benefits cycle like this: The state initially provides up to 26 weeks and the federal government provides the rest through two programs. The first is Emergency Unemployment Compensation, which provides up to 53 weeks of benefits broken into four "tiers," and the other is the Extended Benefits program, which provides the final 20 weeks. (Recent efforts to provide more weeks of federal benefits have stalled.) The programs can combine to provide fewer than 99 weeks depending on a state's unemployment rate.
The Oregon Employment Department expects 17,000 Oregonians to qualify for the Oregon Emergency Benefits program, which is funded with $30 million from the state's unemployment trust fund, according to spokesman Craig Spivey. The program will last until July 2 or whenever the money runs out. The extra benefits in place today actually represent the third time Oregon lawmakers have given an extra boost to the super-jobless, with previous programs in 2010 providing up to 6 or 13 weeks of aid.
At the same time Oregon is taking steps to increase aid, other states are effectively cutting it. Several are allowing the federal Extended Benefits program to expire by choosing not to update the arcane "trigger" used to determine a state's EB eligibility. A high unemployment rate is one condition; the other is that the rate must be 10 percent higher than in either of the two previous years. When it reauthorized the federal unemployment benefit programs in December, Congress invited states to modify their triggers to encompass an additional previous year, since unemployment rates in most states have risen dramatically from what they were three years ago but have held relatively steady over the past two years.
North Carolina, Tennessee, and Wisconsin let the program die on April 16, and the Arizona State Legislature has adjourned for the year without taking up the issue. Arizona, Pennsylvania, and Washington, D.C. are expected to "trigger off" EB come May.
Lawmakers in Michigan and Missouri acted to preserve EB, but at the same time they cut state benefits to 20 weeks, making them the only states that provide fewer than 26 weeks for newly unemployed people. Twenty weeks will be all that remain once the federal programs expire in January, unless Congress decides to reauthorize them, which is an open question.
Treinen, for his part, said he's been participating in monthly networking sessions with other unemployed workers organized by Working America, an affiliate of the AFL-CIO, where he's had some interview coaching and a chance to polish his resume. He suspects his age is a significant barrier to finding a new job.
"Because I'm middle aged -- you can't prove it, but there's definitely a bias there, even though you would think experience would carry some weight," he said. "There's no way to prove it. It's sad for a lot of reasons. I'm a team player."
Popular in the Community