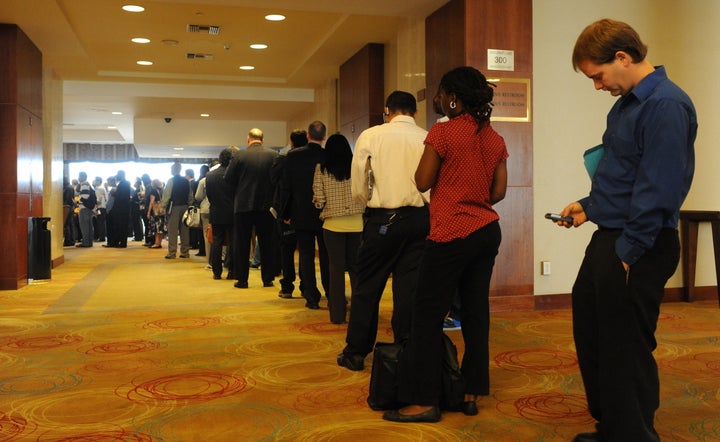 Robert Lovejoy and his wife are losing sleep because they're unexpectedly losing their unemployment benefits.
"We get up earlier -- we can't sleep in because our minds are racing," said Lovejoy, who told HuffPost he'd received his final check on Wednesday, six months after losing his job as a video colorist for a production company in Philadelphia. "It's the difference between having health insurance, having an automobile and not being in default with my creditors."
The Lovejoys are among 42,800 long-term unemployed who will stop receiving benefits from the Pennsylvania Department of Labor & Industry by the end of this week, according to U.S. Labor Department data. Across the country, 323,400 will prematurely exhaust their benefits this week because Congress failed to reauthorize several domestic aid programs before they lapsed on June 1, after the House and Senate left Washington for a Memorial Day recess.
The House passed its version of the "tax extenders" bill to preserve the unemployment benefits -- along with money to help states administer Medicaid programs and extra reimbursement for doctors who see Medicare patients, among other things -- on May 28, after the Senate had already skipped town. Now senators are fighting over the cost of the package and will probably not get it done until next week. The stimulus and several subsequent bills had given the unemployed extra weeks of benefits on top of the standard 26 weeks made available by states. In some areas, laid-off workers could get 99 weeks of benefits.
People like the Lovejoys will receive any benefits they missed after the president signs the bill, whenever that happens. Until then, they'll have to make do. Even one missed check can make life difficult for people who have already gone six months on only $320 week, the average size of an unemployment check.
"I think it's terrible that families, on top of everything else, are going through an emotional roller coaster," said Sen. Debbie Stabenow (D-Mich.) when asked by HuffPost Wednesday about the people missing checks. "Up and down. What's going to happen to them? Are they going to be able to make the house payment? Are they going to be able to put food on the table?"
"I think this is outrageous," said Sen. Jack Reed, Democrat of Rhode Island, where the unemployment rate is above 12 percent. "We have never failed to extend emergency benefits while the unemployment rate in the country is above 7.4 percent. This goes back several decades, several different administrations, it was done routinely, it was done because these people need our help."
There are fifteen states where unemployed folks receiving benefits should not be affected by the lapse. But even people in those states can become confused and panicky when they hear Congress allowed extended benefits programs to lapse. That's what happened to Stabenow constituent Erin Jones, 33, who lost her job as a civil engineer last October and thought she'd be ineligible for more unemployment benefits after her first 26 weeks ran out at the end of May.
"I won't have any money coming in until the bill is passed," wrote Jones in an email to HuffPost. "My savings have been spent, I don't know where I'm going to get the money for my next mortgage payment."
But Michigan is one of the states where people who otherwise could get benefits through the federally-funded Emergency Unemployment Compensation program can instead switch over to the "Extended Benefits" program, which provides up to 20 weeks. After Jones checked back with the Michigan Unemployment Insurance Agency, she learned that she had panicked prematurely. "They were late getting my last payment out and when it didn't show up when it was supposed to, I assumed all was lost."
Up and down the roller coaster.
Jones' case shows another cost of the congressional delay: the administrative burden on state workforce agencies fielding calls from panicked layoff victims. "It certainly causes some confusion on the part of unemployed workers in this state who are receiving these benefits," said Michigan UIA spokesman Norm Isotalo. "It creates additional work for the agency."
The Lovejoys, for their part, already planned to move from Cherry Hill, N.J., a Philadelphia suburb, to Sylva, N.C., where they can live for less in a trailer. Robert Lovejoy, 63, told HuffPost they'd been unable to make the $2,700 monthly house payment when he lost his job and began drawing less than $500 a week in unemployment benefits. A significant chunk of the money went instead to monthly payments to maintain health insurance from his former employer via the federal COBRA program, which even with a 65 percent subsidy -- a subsidy that is on the congressional chopping block -- cost more than $500, according to Lovejoy. He said his wife is a cancer survivor.
"I don't want anybody to be in our situation, and we're relatively well-off," he said. "I don't think the senators are realizing how much of a personal vital link it is."
States where the long-term unemployed should still be eligible for further benefits (at least through June) despite the lapse: Arkansas, Connecticut, Kansas, Massachusetts, Michigan, Minnesota, Montana, North Carolina, New Hampshire, New Jersey, New Mexico, Oregon, Rhode Island, Vermont, Washington.

Popular in the Community