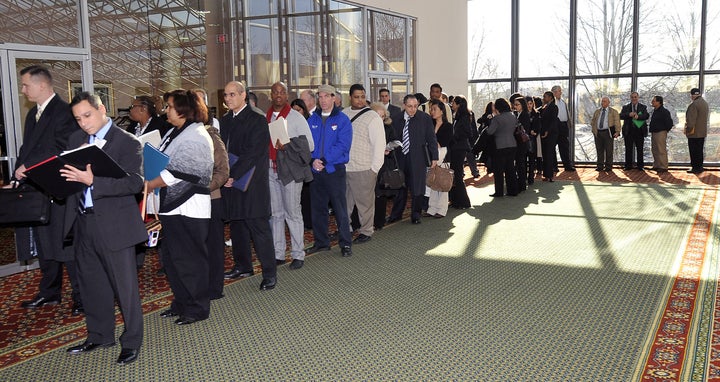 Senate Majority Leader Harry Reid (D-Nev.) plans to introduce a bill later this week to push back by an extra 15 days the eligibility deadline for extended unemployment benefits. But advocates for extending unemployment benefits say that the two-week extension will be "a disaster for everybody."
The problem is that even though Congress will likely push back the deadline before extended benefits expire at the end of the month, state unemployment agencies still have to send out letters to benefits recipients informing them that they will be ineligible for the next "tier" of benefits starting after Feb. 28. Without an extension, more than 1 million people will run out of unemployment benefits in March, according to the National Employment Law Project.
And the shortness of the extension guarantees that, in two weeks, workforce agencies will once again have to prepare to send out letters and Congress will once again scramble for another extension.
"Unemployment offices are really really going to have a huge problem," said Judy Conti, a lobbyist for the NELP. "They can't handle this two-weeks-at-a-time stuff. It keeps them in a constant state of flux. This is going to create more work for them when they can least afford it."
Rich Hobbie, director of the National Association of State Workforce Agencies, agreed.
"They definitely prefer a significantly longer extension to help them avoid this on-again, off-again extension, so it's a bit disappointing," Hobbie said. He added that the 15 day extension could be problematic because unemployment insurance is a weekly program, and state agencies might be confused by that extra 15th day. "We'd much prefer a six-month extension."
It's not great for the people relying on extended benefits, either, some of whom may be receiving letters informing them they are about to lose their eligibility. "It just prolongs the anxiety for unemployment insurance claimants who might or might not be eligible for unemployment extensions," Hobbie said. "It's just very unsettling."
A year ago, Congress passed a stimulus bill providing up to 53 weeks of additional tiers of federally-funded extended unemployment benefits for people laid off between September 2008 and December 2009. The bill also provided an additional $25 in every UI check and a 65 percent subsidy of COBRA health benefits. In December, Congress scrambled to put together a temporary extension, pushing eligibility to the end of February. (The deadline extensions do not allow a person to stay on unemployment benefits for longer than provided by the stimulus bill.)
Now here we are again. After February 28, anyone currently receiving benefits will be ineligible for the next federally-funded tier after his or her current tier expires.
Sen. Reid decoupled UI and COBRA from a broader jobs bill before Congress adjourned the week before last. The jobs bill will be taken up on Monday afternoon, while UI and COBRA will have to wait until later this week. Since there's no real opposition to extending benefits -- not even from Republicans -- NELP's Conti suspects Reid wants to keep UI separate in order to use it as a vehicle for future jobs measures.
"If Senator Reid's office is doing this so they can continue to have a legislative vehicle to move the rest of their jobs agenda, it's very, very shortsighted in terms of what the unemployed need, as well as what state agencies need," said Conti. "It will be a disaster for everybody."
The progressive Economic Policy Institute's Ross Eisenbrey reminded Sen. Reid in a statement that the unemployment rate is in the double-digit range in most parts of the country.
"Given this grim reality, Senator Reid's announcement that the Senate will debate a 15-day extension of unemployment benefits was disheartening," said Eisenbrey. "The extended benefits program will be needed for another year at least, so a 15-day extension makes no sense. The American people may not be familiar with the arcane rules that are grinding the Senate to a halt, but they are all too familiar with the hardships that this recession has imposed on their families, friends, and neighbors. Senators have got to find a way to move forward to provide help to Americans who are out of work, starting with a 12-month extension of unemployment benefits.

"Waiting until the last minute to vote on an extension has already cost the states millions of dollars and forced them to send cut-off notices to workers receiving unemployment checks. Extending the program for only 15 days will force the states to twist themselves into knots to re-start the program while simultaneously preparing to shut it down again. This is waste and abuse."
HuffPost readers: Have you received a letter telling you that your benefits will be terminated? Tell us about it -- email arthur@huffingtonpost.com.
The House of Representatives, for its part, passed a jobs bill in December that would extend COBRA and UI benefits through the first six months of 2010.
On Feb. 12, NASWA sent a letter to congressional leaders urging them to avoid delay. The letter explains why:
Dear Majority Leader Reid, Minority Leader McConnell, Chairman Baucus and Ranking Member Grassley:


The authorization for the Emergency Unemployment Compensation (EUC) program expires on February 28. A delay beyond February 28 in reauthorizing the EUC program will impose needless uncertainty and anxiety on unemployed workers, especially as State Workforce Agencies provide notice to claimants of the phase-out of their benefits.

Beginning next week, the following sequence of events in states will occur:

-- Formal notices will be mailed to the roughly 5.4 million workers currently collecting EUC benefits, advising them their benefits will be terminated at the end of their current tier of entitlement. (Entitlements are in 4 tiers of EUC providing up to 20, 14, 13 and 6 weeks of benefits, respectively.)

-- These notices will generate hundreds of thousands of telephone calls from confused and upset workers to state Unemployment Insurance (UI) Call Centers that - in many states - are already struggling to keep pace with record claim activity.

-- State UI agencies will need to re-program their systems quickly to implement the phaseout of EUC to prevent the issuance of payments to claimants beyond the end of their EUC entitlements. During the same timeframe, states will be required to re-program systems governing the Federal Additional Compensation (FAC) program (the additional $25 per week).

-- And, some states will need to develop and implement contingency procedures for claimants whose benefits are cut off after February 28 to take account of uncertain future Congressional action. Most states will try to set up systems that will enable these workers to continue filing weekly claims that are effectively held in suspension until the EUC program is reauthorized.

To help mitigate the devastating impact for both unemployed workers and States, the National Association of State Workforce Agencies (NASWA) requests the Congress extend EUC immediately for six months. If Congress determines six months is too long at this time, three months would be a second best option. In no event should Congress enact a series of one-or-two week extensions of EUC as it tries to reach agreement on a job creation bill. This would cause undue uncertainty and anxiety for unemployed workers and excessive administrative costs for state workforce agencies. If an extension of EUC must be linked to a job creation bill, NASWA asks for a minimum six-week extension of EUC to lessen the short-term burden on unemployed workers and state programs as Congress tries to pass the bill.

We greatly appreciate your consideration of our request.

Sincerely,

Karen Lee
Commissioner, Washington State Employment Commission, NASWA President.
Calling all HuffPost superfans!
Sign up for membership to become a founding member and help shape HuffPost's next chapter