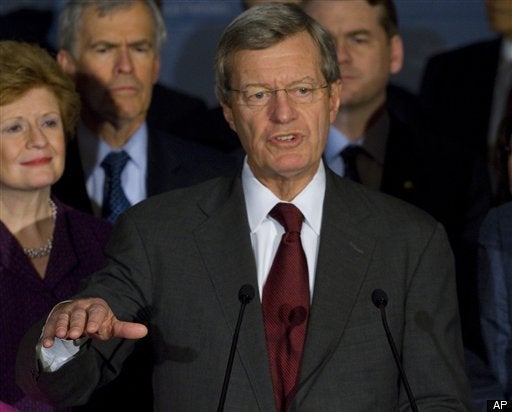 Sen. Max Baucus (D-Mont.) on Wednesday evening unveiled a scaled-down version of the jobs bill that failed in a key vote earlier when a dozen deficit-wary Democrats joined the Republicans in voting against it.
"We voted on an earlier version today but this is a new one," Baucus said. "It still addresses many of the same issues as the last substitute but it is smaller. That is, it's -- there are fewer dollars involved here, and it is more paid for. The majority of this amendment is now offset."
The bill reauthorizes several expired stimulus bill programs, including extended unemployment benefits, increased Medicare reimbursement for doctors (this provision, known as "Doc Fix," postpones a scheduled 21-percent pay cut), aid for state Medicaid programs and several tax breaks for businesses and families. To appease the deficit hawks worried about the measure's nearly $80 billion deficit cost, the new version saves $16.4 billion by shortening Doc Fix from 19 to six months and it saves $5.8 billion by cutting $25 per week from every unemployment check.
Baucus's cuts have won over at least one hawk: An aide to Sen. Evan Bayh (D-Ind.) told HuffPost the senator would support the new version on Thursday after voting against the old version on Wednesday.
Bayh's primary concern was the deficit, but Baucus added another sweetener: $91 million in low-income tax credits for housing construction in Indiana and 13 other Midwestern and Gulf states impacted by natural disasters. "Essentially, the bill will allows Indiana to access extra funding it received to build low-income housing after the 2007 floods," the spokesman said in an email. "The bill would create up to 1,700 jobs in Indiana."
Other Democrats and moderate Republicans who voted no said they like where the bill is going but not that they'd vote for it.
"There are elements that look like they're paid for that weren't, so it's getting better," said Sen. Russ Feingold (D-Wisc.).
"It is moving in the right direction but I have not had an opportunity to look at it more thoroughly yet," said Sen. Susan Collins (R-Maine). "I'd like to see more of the bill paid for."
Moderate Republican Sen. Scott Brown (Mass.) said he remained a firm no. So did Sen. Ben Nelson (D-Neb.). "There's still parts of it that are not funded, that are not offset," said Nelson (D-Neb.). "I want to see it all offset."
A reporter pointed out that only the unemployment benefits and state Medicaid assistance retained the "emergency" designation that would exempt them from budgetary pay-as-you-go rules.
"I think they're important -- I don't think they're emergencies," Nelson said. "It's not like a hurricane loss, or a drought, or something that's typically referred to as an act of God outside the control of the government."
Unless some of these folks change their minds -- or the bill changes significantly during an amendment process -- it's unlikely the measure in its current form will be approved before next week. Democrats defeated an alternate proposal from Sen. John Thune (R-S.D.) that would have offset the costs of extending the programs by dropping the "costly $24 billion state bailout" for Medicaid and slashing budgets for federal agencies.
By the end of this week, 903,000 long-term unemployed miss checks they would have received had the stimulus bill provisions been reauthorized on time, before they lapsed on June 1.