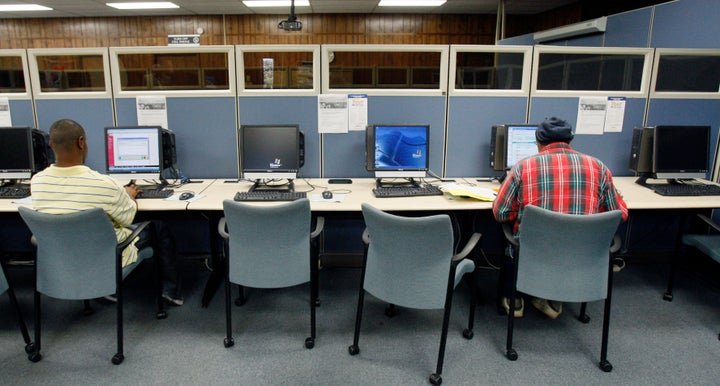 WASHINGTON -- Since Republicans proposed drug testing the unemployed last week, both Republican and Democratic leaders in Washington have been quiet on the controversial proposal.
Spokesman for House Speaker John Boehner (R-Ohio) and House Majority Leader Eric Cantor (R-Va.) have repeatedly referred questions on specific parts of a broader Republican jobs bill to the office of Rep. Dave Camp (R-Mich.), chairman of the House committee that oversees unemployment insurance. A Camp spokesman referred drug testing questions to Rep. Jack Kingston (R-Ga.), author of a different drug testing proposal unveiled last week. And Kingston's office has said only that local businesses complain of drug use among the jobless.
A White House official pointed out drug testing was not part of the president's jobs bill, but declined to say the administration opposed it. Congressional Democrats have focused their criticism of the Republican plan on its provisions to slash the duration of federal unemployment benefits by 40 weeks. Since 2008, federal programs expiring in January have provided up to 73 weeks of compensation for workers who use up 26 weeks of state benefits.
Both the administration's jobs bill and the Republican proposal would phase out the federal Extended Benefits program, which provides up to 20 weeks of compensation for the long-term jobless. The Republican version would slash an additional 20 weeks of federal Emergency Unemployment Compensation and it would let states reduce benefits even further. It would also impose a uniform federal work search requirement and disqualify high school dropouts not actively pursuing GEDs and millionaires from receiving benefits.
The unemployment reforms, sweeping as they are, may be lost amid other features of the Republican package -- particularly the part that calls for a speedy construction of the controversial Keystone XL oil pipeline, which has already drawn a veto threat from the White House.
Worker advocacy group the National Employment Law Project on Monday described the drug testing element the "most disturbing" part of the GOP's unemployment reforms. "Devising new ways to insult the unemployed only distracts from the current debate over how to best restore the nation's economy to strong footing and the discussion over how to best support the unemployed and get them back to work," NELP said in a report (PDF).
"Drug testing unemployment insurance recipients is part of a strategy of blaming the jobless for their predicament, rather than economic conditions," Lower-Basch said. "It's an insult to unemployed workers -- and a massive waste of taxpayer money -- to test millions of people for drug use with no reason other than stereotype to believe they are using drugs."
Tom Ballard of Lexington, Ky., said he doesn't care about the drug testing. He just wants Congress to strike a deal, otherwise he'll be one of nearly 2 million whose benefits will prematurely expire in January. Ballard said he lost his job as a supervisor for a thoroughbred racing company in August 2010 and that his current tier of Emergency Unemployment Compensation will run out at the very beginning of 2012. "I'll pay my rent in January but as of February 1, I'm homeless," Ballard said.
Ballard, 59, said his job search has been dismal. He said that when he omitted his earlier years of work from his resume, he landed several interviews, but managers didn't want to hire him after meeting him. "I'm too young to retire but too old to hire," he said.
He said there may be "bad apples" not sincerely looking for work, but the vast majority of the jobless are in their predicament through no fault of their own. "There are those of us sincerely looking for employment, and the jobs aren't there," he said. "And if you're my age, even if the job is there, you're probably not going to get it."
Popular in the Community