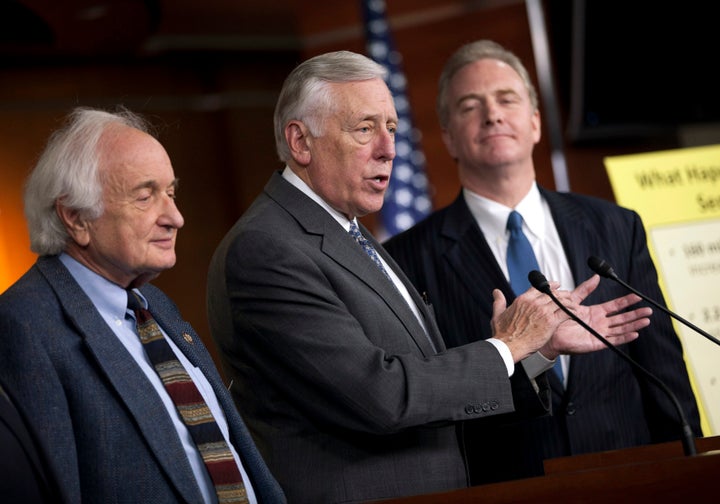 WASHINGTON -- A top ranking Democrat in the House of Representatives on Tuesday defended his party's support for cutting 20 weeks of unemployment benefits, a position that has escaped much notice in the payroll tax cut debate consuming Washington.
Democrats want the House to pass a Senate bill that would postpone the January expiration of federal unemployment programs for two months. But even if it is reauthorized, one of those programs will automatically phase out next year, unless Congress changes federal law to allow states to keep it, a provision not included in the Senate bill.
"There are things in this bill as we pointed out that we had to make concessions on," House Minority Whip Steny Hoyer (D-Md.) said Thursday in response to a question from HuffPost.
"That's the process. We understand that," Hoyer continued. "Unfortunately there are an awful lot of tea party activists who were elected to the Congress who don't understand compromise. That provision is one of the provisions that [Rep. Sander Levin (D-Mich.)] has concerns about."
When the Senate on Saturday passed its 60-day bill, which would also extend a payroll tax cut first enacted last year, Levin, the top Democrat on the House committee that oversees jobless aid, criticized the measure as "wholly inadequate."
"During this two-month period, workers in some of the hardest-hit states -- including Michigan, Ohio, Indiana and Missouri -- are projected to lose access to the 20-week Extended Benefits program and with very little warning tens of thousands of long-term unemployed Americans will be cut off unemployment insurance," Levin said in a Saturday statement.
The Extended Benefits program is the last stop on the unemployment insurance train for the very long-term jobless. It provides up to 20 weeks of assistance to workers who exhaust 53 weeks of federal Emergency Unemployment Compensation and 26 weeks of state benefits. But the Extended Benefits program is only available in states where the unemployment rate has risen significantly over the past three years. Unemployment has remained stubbornly high since 2008, but it hasn't risen, which will make most states ineligible for Extended Benefits early in 2012.
Earlier this year congressional Democrats introduced bills to allow states to keep Extended Benefits through 2012, but those proposals have been ignored.
Republicans support letting Extended Benefits expire; they have also advocated cutting an additional 20 weeks from Emergency Unemployment Compensation. And they want a sweeping reform of the unemployment system that would give states the power to reduce benefits further and to drug test the jobless, among other things.
As Republicans have pointed out, the White House was the first to support an Extended Benefits phaseout, per the president's American Jobs Act. Asked about how the bill would reduce the total duration of benefits from 99 to 79 weeks, a top Obama adviser pointed to peripheral parts of the bill targeting the long-term jobless.
"The White House's American Jobs Act, I think, proposed what is one of the most robust extensions of emergency unemployment benefits," National Economic Council Director Gene Sperling told HuffPost. "That included an additional $4 or $5 billion for additional measures that could encourage work sharing, that could encourage people on unemployment insurance to have more ability to try starting their own business. So I think that we have one of the most robust proposals for extension that's been proposed by anyone."
Hoyer suggested congressional Democrats could use a two month extension to revisit parts of the bill they don't like, including the Keystone XL oil pipeline part. Without a compromise of some kind, federal benefits will disappear completely, standing more than a million people in January alone.
"We're prepared to [pass the bill] in the short term, so yes, we can work out a long term solution that does what we think it ought to do," Hoyer said.
Calling all HuffPost superfans!
Sign up for membership to become a founding member and help shape HuffPost's next chapter