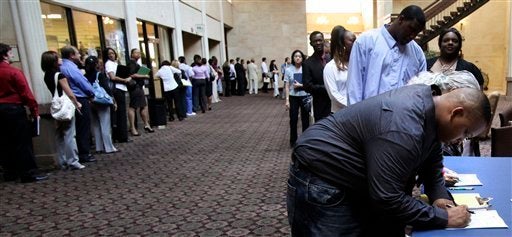 WASHINGTON -- Job advertisements that require applicants to be "currently employed" are easy to find online. Yet attempts to trace the origins of such discriminatory job ads yield plenty of "It wasn't me" responses from the companies involved.
Many of the businesses insist they don't want to screen out the unemployed and blame the discriminatory language on the middlemen directly responsible for placing the ads.
A recent report by the National Employment Law Project, a worker advocacy group, called out 73 businesses for asking in job postings that applicants be currently employed. "This perverse catch-22 is deepening our unemployment crisis by arbitrarily foreclosing job opportunities to many who are otherwise qualified for them," NELP said in the report.
The Huffington Post reached out to half the organizations cited in the report, and nineteen responded. While several staffing firms defended the ads, employers disavowed them, saying they'd been written by a person outside the company and that they were completely unaware of the language used.
For instance, a spokesperson for AIELLO Home Services, an HVAC company based in central Connecticut, said his company would never run a job ad that specified applicants should already have jobs.
"If you like to make money and have a flexible schedule, then a challenging and exciting opportunity awaits you," an online job ad for the company said. "And if you are currently employed, believe enough in yourself and your abilities to make a positive career move...you and your family will be glad you did." (The ad also specified: "NO prior industry experience required!")
After HuffPost forwarded the ad to the spokesperson, marketing manager Phil Clement, he looked into it and then said it was a mistake. "The ad is a pick-up from some consultant who has helped us in the past find sales people," said Clement. "The ad is even copyrighted by him. We've just put our address at the bottom and hoped to uncover one or two experienced sales people along the way."
Clement said his company has no policy against hiring the unemployed. "AIELLO simply wants to hire good people. There is absolutely no policy written or 'understood' that we will only recruit from the employed," Clement said, adding that he himself had been out of work for two months when the company hired him this year.
"As my own hiring should testify," Clement said, "AIELLO definitely hires the unemployed."
Some staffing firms, when questioned by reporters, are upfront about their intention to recruit only people who currently have jobs. Martin Recruiting Partners, a restaurant staffing agency based in Georgia, ran ads which stated candidates "Must be currently working & ready to move for the right reason."
George Seed, the company's vice president of operations, defended the policy.
"When my clients hire me, they want people who are motivated to go to work for the right reasons," Seed said. "And if someone is currently employed in a good position, then their motivation to move to a different company would be that the company offers better benefits or offers more growth for advancement, or whatever. They're not people who have to have a job, they're people who want to move for the right reasons."
Seed, along with representatives from four other staffing agencies listed in the NELP report, said many of his clients will only consider job applicants who are presently employed and claimed they had requested the language.
But when contacted by HuffPost, representatives from some of Martin Recruiting's clients denied having a policy against recruiting the unemployed.
"We hire people all the time that are not employed," said a representative from restaurant chain Golden Corral. "I can tell you that it's not part of our criteria that they be currently employed."
A representative from Cracker Barrel also said it has no policy excluding the unemployed from applying -- nor do they request that such language be included in job postings. A spokesperson for Wendy's, another client, said hiring decisions are made by franchisees and are usually done with local candidates.
When asked to comment on the fact that some of his clients said they did not wish to discriminate against the jobless, Seed did not respond.
NELP policy co-director Maurice Emsellem, who worked on the report, said hiring firms may be amplifying the anti-unemployed message. Emsellem said that since these agencies are one step removed from the hiring decision, they may feel less responsibility to remain open to all applicants.
"I don't think these big employers are saying to these big staffing agencies, 'Do me a favor: just don't send me anyone who's unemployed,' because it's contrary to their interest," Emsellem said. "If you're one day, two days unemployed, how does that make you ineligible for the job? It doesn't."
Roughly half of the companies named in the report were staffing agencies, and many of the ones HuffPost talked to passed responsibility for any discrimination to their clients, since the agencies don't make the hiring decisions themselves. Others defended the screening as legitimate.
Cypress Hospitality Group, a Florida-based staffing agency listed in the report, defended the ads it posted. "I don't see how 'current or very recent tenure' is discriminatory," a spokesperson said.
Express Employment Professionals, a staffing agency based out of Oklahoma City, listed an ad for a "reputable manufacturing firm" which sought a "motivated, self-directed full time receptionist" who was "currently employed."
In response to an inquiry about the NELP report, Express Employment said that the ad was not designed to discourage the unemployed, but to recruit people who will take the job seriously.
"We understand the impact the recession has had on today's workplace," the company said in a statement. "It has always been, and will always be, in our best interest to recruit from the unemployed, underemployed, or those looking for new opportunities. Unfortunately, some people mistakenly view job opportunities with staffing companies as short-term or temporary in nature. The ad in question was meant to define the job as long term. It was not intended to discourage unemployed job seekers."
Three companies said the ads cited by NELP were six months to a year old, but NELP said its review happened during a four-week period in March and April of 2011.
Several non-staffing companies named in the report disavowed the ads completely.
"We have no knowledge of the language [in the job postings]," said a representative for Allstate Insurance in Huntsville, Ala. "Perhaps for a part-time position, we have no problem hiring unemployed people. We actually receive state support to hire the unemployed."
Lakeshore Technical College, whose ad for a teaching job in Cleveland, Wis. called for a "currently employed" applicant, said that campus police officer was the only position for which they would require someone to be currently employed. Human resources director Kathy Kotajarvi explained that this is because of a policy with the local sheriff's department.
"The reason we said that is all our campus police have to be currently certified and employed by our local county sheriff's department," Kotajarvi said. "The sheriff has to certify them, and if they're not currently employed he will not certify them."
Lakeshore Technical College has a large number of unemployed workers who enroll in classes there trying to get retrained. Kotajarvi also said she knows they've hired several people who were unemployed in recent months.
"We hire unemployed persons for student help positions. We serve the dislocated workers, we understand what their needs are," Kotajarvi said. "We would never discriminate against anyone who's unemployed."
The report cited a Craigslist ad for Knight Transportation, a truckload company, that said candidates should be "currently employed" if they did not meet other background and experience criteria, such as 12 months of on-the-road experience in the past five years. A spokesman for Knight told HuffPost they consider all applicants on a case-by-case basis and that current employment is not a requirement.
Though the practice of restricting hiring to only those who are currently employed is legal under federal law, a NELP-commissioned survey, conducted last month by polling firm Hart Research Associates, found that 80 percent of of respondents felt discriminating against the unemployed was "very unfair. Ten percent called it "somewhat unfair."
The survey also found that 63 percent of respondents would support a law "making it illegal for companies to refuse to hire or consider a qualified job applicant solely because the person is currently unemployed."
Unlike race or gender, unemployment is not a protected status in most of the country because it has the ability to change. Helen Norton, associate professor at the University of Colorado School of Law, testified earlier this year before the U.S. Equal Employment Opportunity Commission that discriminating by employment status would only be illegal if it is done to screen out a group like older workers, workers with disabilities, or minorities.
Yet at that same hearing, William Spriggs, assistant secretary for policy at the U.S. Department of Labor, pointed out that because blacks and Latinos have a higher unemployment rate, discrimination against the unemployed could disproportionately affect those groups.
"When employers exclude the unemployed from the applicant pool, they are likely to be excluding Latinos and African-Americans," Spriggs said.
On July 12, Reps. Rosa DeLauro (D-Conn.) and Henry Johnson, Jr. (D-Ga.) introduced the Fair Employment Opportunity Act of 2011. The legislation, if enacted, would prohibit employers and employment agencies from refusing to consider job applicants solely because they are unemployed. (Since that sort of discrimination is difficult to prove, employers would likely retain the ability to discriminate against the jobless, at least covertly.) Sens. Richard Blumenthal (D-Conn.), Kirsten Gillibrand (D-N.Y.) and Sherrod Brown (D-Ohio) introduced the same bill in the Senate last week.
"Losing your job through no fault of your own should never disqualify you from finding a new job," Gillibrand said.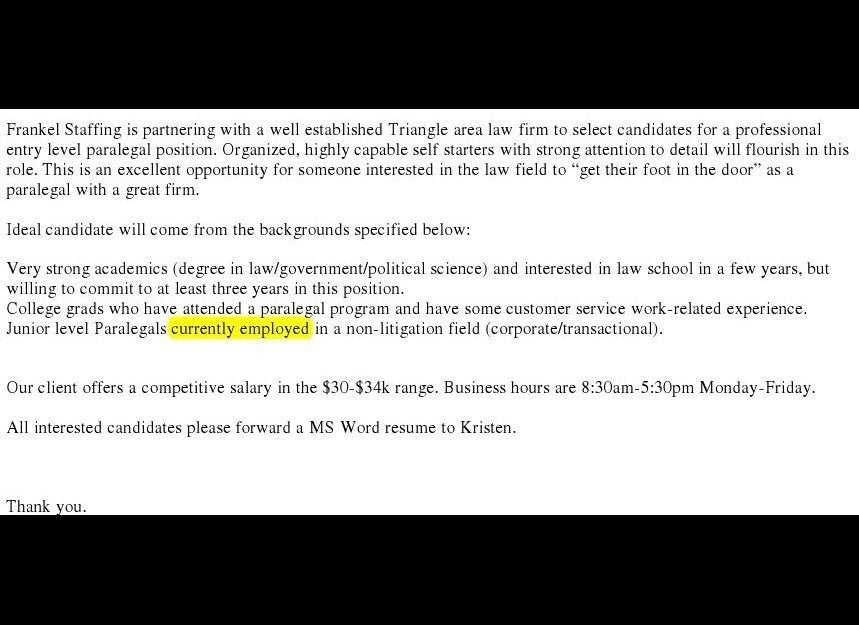 Job Postings
Popular in the Community