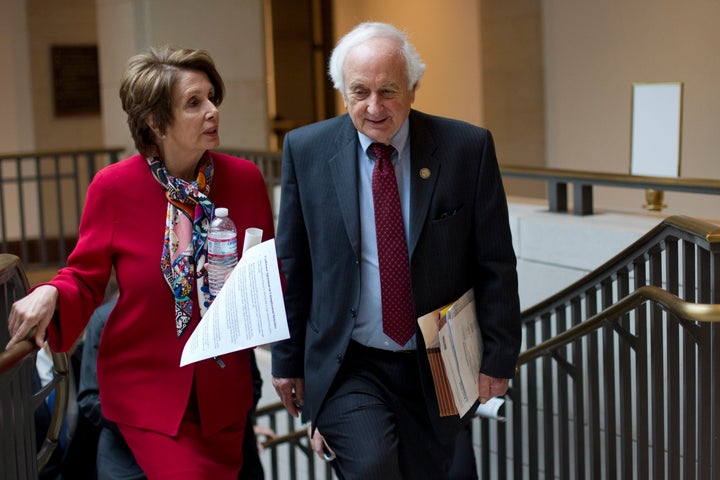 WASHINGTON -- Republicans and Democrats disagree sharply over how many workers will wind up peeing in cups as a result of a payroll tax cut compromise bill that would allow states to drug test the jobless.
Rep. Sander Levin (D-Mich.), the top Democrat on the House of Representatives committee that oversees unemployment insurance, said very few workers would be affected by the GOP scheme.
"I think it's a small percentage," Levin said.
The drug testing is part of a broader bill that preserves federal unemployment insurance, a 2 percentage point payroll tax cut, and Medicare reimbursement rates for the rest of 2012. Democrats have boasted that they beat back a Republican proposal to deny benefits to workers who haven't earned or aren't pursuing the equivalent of a high school education.
But Democrats ceded ground on reducing the duration of benefits; by the end of the year, the longest anyone can claim benefits will have dropped from 99 to 73 weeks. Democrats also gave ground on drug testing, which they completely opposed last week.
Republicans initially wanted to allow states to require everybody who applies for unemployment insurance to prove they're not on drugs. The new version will allow states to drug test only unemployment applicants who lost their jobs because of drug use and those applying for jobs in industries where drug testing is common.
"That's total nonsense," Levin said. "No way 80 percent."
According to the latest data from SHRM, 57 percent of employers required all new hires to pass a drug test in 2011. An additional 10 percent tested only certain candidates, and an additional 4 percent tested when required by state law.
Of 80 recruiters at Fortune 500-sized companies surveyed last year, 53 said they require new hires to pass drug tests, according to Corporate Executive Board, a business research firm. The Substance Abuse and Mental Health Services Administration said it does not track the rate of employer drug testing.
The bill as drafted directs the Labor Department to determine whom states can test. According to a Democratic aide, the legislation says the person must be "an individual for whom suitable work as defined under the state law is only available in an occupation that regularly conducts drug testing as determined under regulations issued by the Secretary of Labor."
Levin said the Labor Department's rulemaking will be favorable. "I have confidence in the present Department of Labor. I think they'll be rigorous and make sure it follows the spirit, and the spirit is where it's really necessary for the pursuit of one's occupation."
The Labor Department could not immediately provide data on how many occupations could be affected.
In the past year, a dozen state legislatures have proposed requiring unemployment claimants to pass a drug test, but federal law currently bars them from denying benefits for reasons unrelated to the cause of a worker's job loss, except for fraud or if a person is earning too much from other work.
UPDATE: This story has been updated to include the most recent drug testing survey data from the Society for Human Resource Management.

Popular in the Community