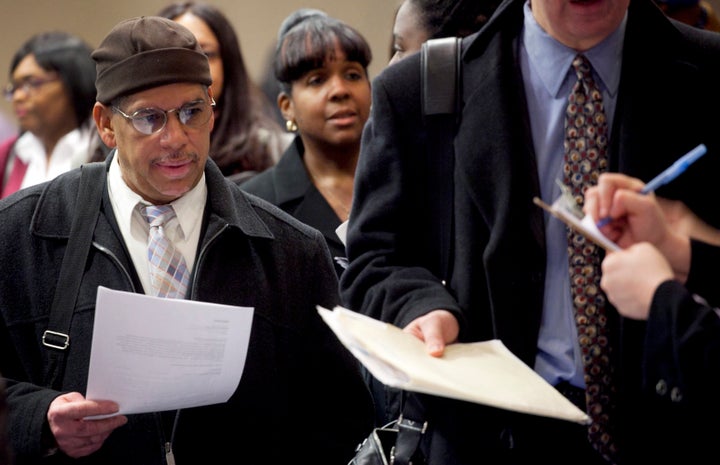 Republican lawmakers in South Carolina want unemployed people to prove they're not on drugs to qualify for unemployment insurance. And they want the long-term jobless to volunteer part-time to continue receiving benefits.
Proposals to drug test poor and unemployed people have ricocheted from state to state over the past year, even landing in the U.S. House of Representatives. The South Carolina proposals, taken together, thus far represent the strictest measures targeted at unemployed people.
"Here's my logic," Bryant told HuffPost. "If you're working, in most occupations you could be subject to a random drug test. Those working, paying taxes have to stay clean and might get drug tested. So I think it only makes sense that those receiving benefits paid for by the taxpayer ought to have the same accountability."
Bryant doesn't care that in Florida, the one state where the legislature enacted a drug testing statute (for welfare applicants), a federal judge quickly halted the policy on constitutional grounds: "I can't make that a determining factor on legislation I would pursue," he said. "I can't go call up a local liberal activist judge and ask if they're going to it throw it out before I put it in a bill."
The federal judge who stopped the Florida drug testing law cited the Constitution's ban on unreasonable search and seizure. When HuffPost asked Bryant if he had any concern about whether testing would be an affront to citizens' constitutional rights, he said, "You also got a duty to protect what you're taking out of the taxpayer's pocket."
When asked about the Florida judge's finding a lack of evidence that the policy saves money, Bryant said, if it prevents unemployed people from spending money on drugs, testing is worthwhile even if it costs the government. "I do think the benefits outweigh the costs. Hopefully folks will choose not to use drugs."
Bryant's bill won the approval of a state Senate subcommittee this week and is on its way to the full Senate Labor Commerce and Industry Committee, along with a measure by state Sen. Paul Campbell (R) that would require claimants to take available jobs and do community service.
"It says if you've been out of work six months and there's a job that you are physically and mentally able to do, you have to take it," Campbell said. "And then it says that if you've been out of work for six months, you need to volunteer for 16 hours a week. And whether we make it mandatory or not, I don't know. We've got to look at how federal law here sets with it."
Federal law may be a problem for both the drug testing and volunteering requirements, since the relevant statute says the only legitimate reasons to deny or reduce eligible workers' benefits must involve a discharge for misconduct, claim fraud or disqualifying income. But the U.S. House of Representatives passed a bill in December that would change federal law to allow states to disqualify unemployment claimants who test positive for drugs.
Campbell, a chemical engineer, said he has had lots of experience hiring people at chemical plants and that people who are already employed, or are at least volunteering, make better candidates. "You're telling your future employers No. 1, I've got good work habits. I can get to work. I get to work on time. I'm not in trouble. I'm working currently," he said. "There's been a couple cases that have been given to me that say that people have volunteered and gotten jobs through their volunteer activities."
Two-thirds of Fortune 500-sized companies make job offers contingent on applicants passing drug tests, according to a 2011 survey of 80 recruiters by Corporate Executive Board, a business research and advisory firm.

While it's true employers can drug test their workers, it's different for the state to do it, said Sue Berkowitz, director of the South Carolina Appleseed Legal Justice Center, a anti-poverty advocacy group. Proposing testing is a deliberate effort to poke the jobless in the eye, she said.
"People who've lost their jobs feel really bad. It's one more message to make them feel even worse," Berkowitz said. It's "the one place they can turn, this insurance they paid for while they were working, and then they have to go through all this indignity in order to help support themselves and their families."
Last year, South Carolina Gov. Nikki Haley (R), a supporter of drug testing unemployed people, said hundreds of local job applicants couldn't pass drug tests. Upon investigation, her claim was proved completely false.
In response to Republicans' drug testing bills, Democrats in several other states have introduced legislation to require drug testing of lawmakers. Both Campbell and Bryant said they would support drug testing for the state legislature. Bryant pointed out that he had supported a 2008 bill that would have allowed drug testing of state legislative candidates. The bill passed the state Senate but not the House.
Calling all HuffPost superfans!
Sign up for membership to become a founding member and help shape HuffPost's next chapter