WASHINGTON -- House Republicans undercut Senate legislation to extend unemployment benefits on Wednesday, pointing to criticism from state workforce agencies that argue the bill would be unworkable.
House Speaker John Boehner (R-Ohio) said the Senate should listen to the workforce agencies and drop its bill.
"We have always said that we're willing to look at extending emergency unemployment benefits again, if Washington Democrats can come up with a plan that is fiscally-responsible, and gets to the root of the problem by helping to create more private-sector jobs," Boehner said in a statement. "There is no evidence that the bill being rammed through the Senate by Leader [Harry] Reid meets that test, and according to these state directors, the bill is also simply unworkable. Frankly, a better use of the Senate's time would be taking up and passing the dozens of House-passed jobs bills still awaiting action."
Boehner's latest comments are consistent with his suggestion last week that the Senate compromise measure wouldn't pass muster in the Republican-controlled House. When asked about the unemployment benefits deal on Friday, the speaker responded, "You mean the one that can't be implemented?"
A leadership aide confirmed that Boehner is concerned that the Senate legislation lacks provisions to "create jobs" and that it would provide benefits retroactive to late December, when the unemployment program expired. (The Congressional Budget Office has repeatedly said that bills reauthorizing unemployment insurance would add hundreds of thousands of jobs to the economy.)
The National Association of State Workforce Agencies, a nonprofit that advocates for state labor departments, said Wednesday that the Senate bill would be hard for state agencies to deal with. It would reauthorize federal unemployment benefits that lapsed at the end of December, making 2 million long-term jobless eligible for the checks they could have received since then. But the bill would restore the benefits only until June, giving states just two months to gear up the system -- apparently not enough time for some.
"Most states are struggling with antiquated and rigid computer systems -- averaging 25 years old -- thus making it very hard to implement program changes quickly and effectively," the workforce agency association said in a letter to Senate leaders on its website.
The Senate proposal would also require states to ban people whose adjusted gross income exceeded $1 million in the previous year from receiving benefits -- another potential problem.
"The 'millionaire provision' would be very hard to administer," the association said. "The UI system is not means-tested and therefore does not collect information on an individual's adjusted gross income. Screening individuals by reported quarterly UI covered wages, rather than income tax information, would be a more feasible approach."
"Based on this report, we don't think the Senate should pass the Senate bill -- let alone the House," a House GOP leadership aide told The Huffington Post.
Last week, the Senate bill had enough Republican supporters to pass, though it's unclear if any of them will change their positions in light of the workforce agency association's concerns. Whether House GOP leadership would ever support an unemployment bill from the Senate has always been an open question.
State workforce agencies have successfully grappled with back benefits and Senate standoffs before. In 2010, Congress let federal unemployment insurance lapse for 50 days before finally reauthorizing the benefits. The current standoff has lasted 79 days. A key difference between then and now is that the pending legislation requires states to make changes to their programs.
On Wednesday afternoon, Democratic leaders in both chambers pushed back against the argument that the Senate compromise would be difficult to implement.
"We believe the concerns that have been expressed are resolvable and we look forward to Speaker Boehner coming to the table to find solutions," Adam Jentleson, a spokesman for Senate Majority Leader Harry Reid (D-Nev.), said in an email. "It is hard to imagine Speaker Boehner simply walking away from the thousands of people in Ohio who lost their jobs through no fault of their own and need this lifeline to make ends meet while they continue to look for work."
Drew Hammill, spokesman for House Minority Leader Nancy Pelosi (D-Calif.), argued that it was obvious the administration would have to issue guidance to the states, as has been the case with past unemployment extensions.
"Using these relatively minor concerns to continue to justify leaving more than two million people out in the cold further illustrates that unemployed Americans are invisible to House Republicans," he said.
Rep. Sander Levin (D-Mich.), the highest-ranking Democrat on the House committee that oversees unemployment insurance, said he's confident that a Senate-passed bill would also pass the House if Boehner let it reach the floor for a vote.
"We have in the past restored these benefits after the program was suspended, and can do so again," Levin said. "As in the past, the Department of Labor will work with the States to ensure they can fully implement this voluntary program. And surely Republicans aren't going to suggest that their insistence on prospectively banning millionaires from getting these benefits is now a reason to block a UI extension."
Sen. Dean Heller (R-Nev.), the Senate's top Republican advocate of restoring the benefits, also called Boehner's criticism a cop-out.
"No matter what solution is reached, there is some excuse to deny these much-needed benefits," Heller said, according to Politico. "I look forward to passing this proposal out of the Senate next week, and stand ready to help the Speaker, as well as any organization or any individual necessary, in order to make this extension a reality."
This story has been updated to include comments from spokesmen for Senate Majority Leader Harry Reid and House Minority Leader Nancy Pelosi, as well as from Rep. Sander Levin and Sen. Dean Heller.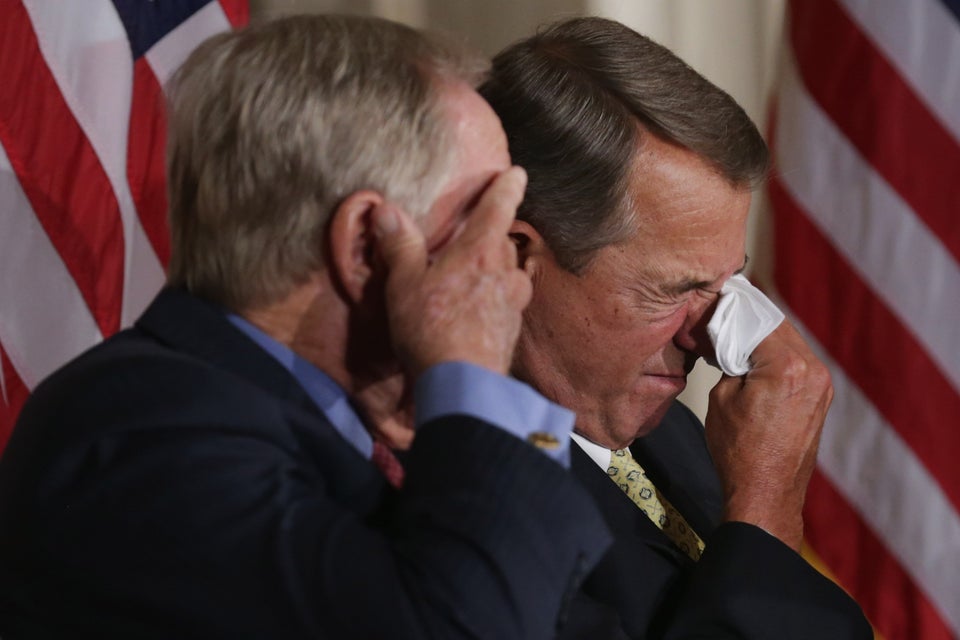 John Boehner Cries