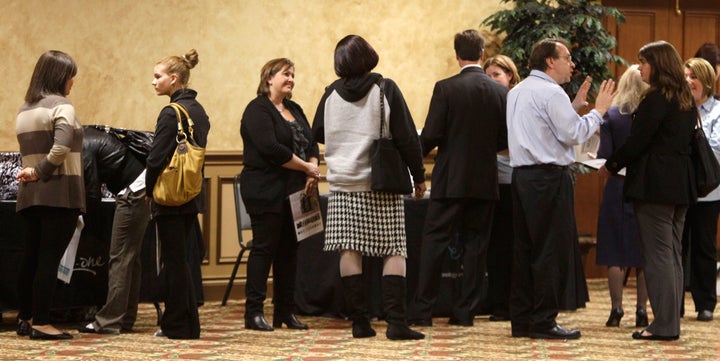 WASHINGTON -- Democrats in the U.S. House of Representatives will introduce legislation on Thursday to reauthorize federal jobless benefits through next year. The bill marks the beginning of what will likely become a difficult battle with Republicans who control the chamber.
"With almost five unemployed Americans for every job opening, too many people remain jobless because of a lack of work, not a lack of wanting to work," Rep. Lloyd Doggett (D-Texas), a sponsor of the bill, said in a statement to HuffPost. "While this Republican Congress fails to support jobs legislation and continues to blame unemployment on the unemployed, more than two million Americans will soon lose their unemployment benefits."
The federal government will stop paying extended unemployment claims starting in January unless Congress reauthorizes the benefits. Since 2008, people laid off through no fault of their own have been eligible for the extended compensation after they use up the standard 26 weeks of payments provided by states. Under current law, however, anyone who exhausts their state benefits or a tier of federal benefits in January will be ineligible for additional checks.
If the benefits are allowed to expire as scheduled, nearly two million long-term unemployed will stop receiving benefits by February, according to the National Employment Law Project, a worker advocacy group. Over the course of the year, the Obama administration has said, at least six million who would otherwise be eligible for the aid will miss out. The administration, which proposed preserving the benefits as part of the president's American Jobs Act, has estimated the benefits would cost $49 billion if kept through next year.
Democrats needed a lot of leverage last time to get deficit-weary Republicans to agree to keeping the extra benefits. The previous reauthorization was attached to an extension of expiring Bush tax cuts. Since the tax cuts were renewed for two years, Democrats will have to find another sweetener this time around. Republicans signaled support for other parts of the president's jobs bill, but those elements are not part of the Democrats' forthcoming benefits bill.
One possible way to renew the extended compensation would be to attach it to the massive deficit reduction deal currently under development in a special 12-member super committee. The committee has been secretive; on Tuesday, HuffPost asked three Senate super committee members if they might include the benefits, and none would say.
The Democrats' legislation would provide tax relief and eliminate the requirement that states pay interest on unemployment loans from the federal government if they agree not to cut benefits, as several state legislatures have done this year.

Doggett said he had received no indication Republicans would support the bill.
"One reason I am introducing this bill is to encourage a serious conversation about how to get this done. The holiday season should bring more than despair to the 6 million Americans who will otherwise lose unemployment coverage next year...We will continue reaching out to Republicans to join this bill, but thus far there is no indication that they are willing to do so."
A spokesman for the Republican leader of the House Ways and Means Committee, which oversees unemployment insurance, did not immediately respond to a request for comment from HuffPost.

Popular in the Community