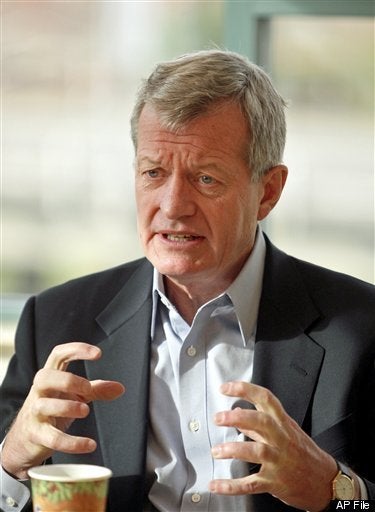 Senate Democrats introduced a bill Monday evening that would reauthorize extended unemployment aid for a full year, setting up a symbolic showdown on jobless benefits one day before they are set to expire.
"Unemployment benefits are the only lifeline many workers in Montana and across the nation have left in this tough economy," said Senate Finance Chairman Max Baucus (D-Mont.), who introduced the bill. "These benefits help millions of Americans put food on the table and roofs over their heads -- pumping money into our economy and helping to create jobs. Continuing the program for a year will provide the certainty our economy and these Americans looking for work need."
The cost of the legislation is not "offset" with spending cuts, meaning it likely faces insurmountable opposition from Republicans and conservative Democrats opposed to deficit spending. Republicans may offer a reauthorization that is "paid for" with spending cuts, though Democrats are unlikely to support such a measure, having dug in on the historical record of deficit spending to cover such emergency measures.
The cost of federally-funded extended benefits during past recessions has never been fully offset with spending cuts. Congress did not use deficit spending to accommodate extended benefits in 1991, but the cost was offset with tax hikes instead.
Without a reauthorization, the Labor Department estimates that 2 million Americans will lose their benefits over the course of December, with 800,000 facing a cutoff this week alone.
Senate Majority Whip Dick Durbin (D-Ill.) said Sunday that Democrats may try to use unemployment benefits as part of a bargain reauthorizing soon-to-expire tax cuts for the rich.
The progressive Economic Policy Institute estimates that reauthorizing the benefits through 2011 would cost $65 billion. That's about 1.7 percent of the White House's projected 2011 budget.
"Democrats are eager to fight to extend unemployment insurance in any way that they can," said one Democratic Senate aide.
A group of 29 senators sent a letter to Reid urging a quick full-year reauthorization.
"For the past six decades, Congress has provided federally funded unemployment insurance benefits during every recession," the letter said. "Further, federal unemployment insurance benefits have always been provided until the economy was on a stable path of growth. In fact, the highest unemployment rate at which federally funded unemployment benefits were not extended was 7.2 percent."
The legislation under discussion will not create additional weeks of benefits; it only preserves the existing 73 weeks of federally-funded aid that kick in after a layoff victim exhausts 26 weeks of state benefits.

Calling all HuffPost superfans!
Sign up for membership to become a founding member and help shape HuffPost's next chapter