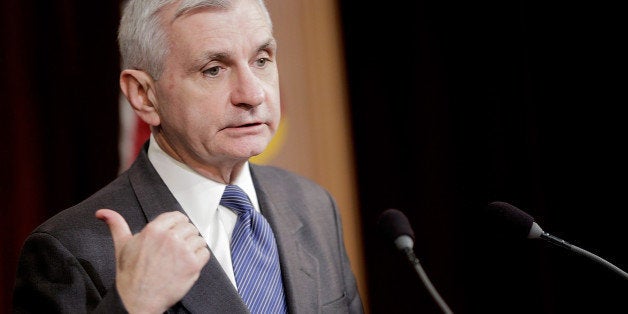 WASHINGTON -- Lawmakers have been eating unemployed people's lunch right and left this year.
On Tuesday, the House of Representatives took another bite, approving a federal highway funding bill with a cost-cutting provision that had been part of legislation for the long-term jobless.
"This is now the second time they've taken offsets intended to help the unemployed and used them to pay for other priorities," Sen. Jack Reed (D-R.I) said in a statement after the vote.
Since December, Reed and Sen. Dean Heller (R-Nev.) have been the chief sponsors of several bills to restore benefits to people jobless longer than six months. Republicans have stifled the bills, partly by demanding their cost be offset with spending cuts or revenue increases. Reed and Heller keep coming up with offsets, and other lawmakers keep taking them.
At the beginning of the year, the bipartisan duo proposed paying for the benefits partly by extending the duration of a Medicare cut that been approved in a recent budget deal. Most Republicans initially scoffed at the idea, but then embraced it in February, when they wanted to undo that same budget deal's cut to military pensions.
Reed and Heller introduced new legislation with offsets that included a budgeting gimmick known as "pension smoothing" and more fees on travelers using U.S. customs facilities -- both of which the House included in its highway bill on Tuesday, with the Senate likely to follow suit.
Roll Call's Steven Dennis suggested Monday that if Congress uses up this latest set of pay-fors, it "may doom any remaining chance for an unemployment extension."
Not that the offsets have ever been enough to please House Speaker John Boehner (R-Ohio), who has insisted since December any unemployment plan include additional Republican-friendly measures. Boehner spokesman Michael Steel reiterated the demand on Tuesday.
"We have no idea why -- in eight months -- the White House and Senate Democrats have not developed such a plan," Steel said.
Nevertheless, Reed said he'll try to revive the benefits, which abruptly ended for 1.3 million workers in December.
"I support our military retirees, I support fixing our roads and bridges," Reed said. "But it is time for the House to finally show a little support for job seekers. We can't afford to turn our backs on the long term unemployed."
REAL LIFE. REAL NEWS. REAL VOICES.
Help us tell more of the stories that matter from voices that too often remain unheard.
BEFORE YOU GO
PHOTO GALLERY
Conservatives Pointing Fingers