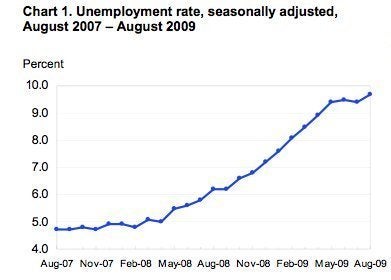 The national unemployment rate rose to 9.7 percent -- the highest level since June 1983 -- as the U.S. economy shed 216,000 jobs in August, the government announced on Friday morning. That's up from 9.4 percent in July.
By a broader measure that includes forced part-timers and people who'd like to work but aren't looking, the national unemployment rate reached 16.8 percent -- up a staggering 6 percent from this time last year.
The pace of job cuts has steadily slowed since the beginning of the year, when monthly losses exceeded 700,000 in January.
The total number of unemployed is 14.9 million, roughly double the number at the start of the recession in December 2007.
The number of long-term unemployed, those out of work 27 weeks or longer, edged up only slightly in August, from 4.96 million to 4.98 million. At the end of the year, nearly 1.5 million of those people will exhaust their extended unemployment insurance unless the government takes action to further extend their benefits.
And the picture isn't so great for people who are working, either. A report released this morning by the Economic Policy Institute concludes that many workers who have not lost their jobs during the recession have nevertheless taken a hit as a result of sluggish wage growth, reduced hours and involuntary furloughs. Private sector wages have grown at a rate of 1.3 percent over the last six months, less than half as fast as wage growth during 2007 and the first six months of 2008.
"It's an implosion of wage growth far beyond what you would expect" in an ordinary recession, said EPI's Larry Mishel, co-author of the report, in a conference call with reporters. Average wages rose 6 cents in August, according to the Department of Labor.
Other economic indicators this week brought better news. Retail sales fell 2 percent in August from a year earlier, the smallest drop since September 2008. And the Washington Post on Monday reported positive signs in the Men's Underwear Index, the metric reportedly favored by former Federal Reserve Chairman Alan Greenspan. (The MUI outlook was less positive in April.)
Asked for his thoughts on the MUI, Mishel scoffed. "If Alan Greenspan were so wise, we wouldn't be in this mess," he said.
Click here to read the Huffington Post's stories about regular people dealing with the recession.
Calling all HuffPost superfans!
Sign up for membership to become a founding member and help shape HuffPost's next chapter